SOUTH ST. LOUIS COUNTY, Mo. - Janel Reeves calls it her second chance. Her second chance to care for her newborn daughter and six-year-old son. Her second chance for her and her husband to achieve their goals. Her second chance at life.
At the age of 31, just one month after Janel delivered her daughter, Mela, Janel suffered two heart attacks. She required open-heart surgery and a valve replacement to repair the damage. The cause was a rare condition called spontaneous coronary artery dissection (SCAD).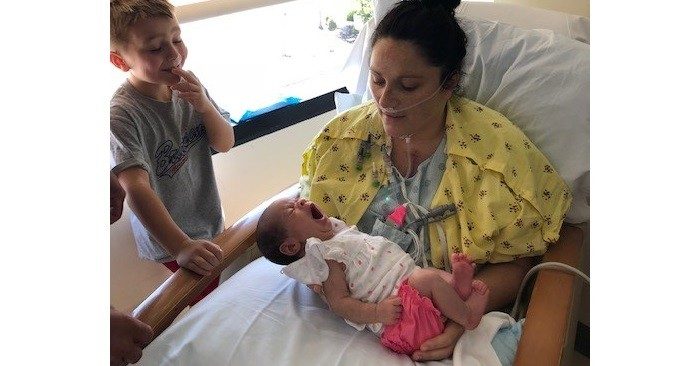 Janel Reeves holds her newborn daughter, Mela, while her son, Mason, looks on at Mercy Hospital South.
"I had lower back pain, then it was my left shoulder blade. I had an intense, sharp, stabbing pain in my left shoulder blade. Then it would radiate to my right shoulder blade. It just kind of stuck around," said Janel. "It became paralyzing. I was to the point I couldn't pick Mela up because it hurt so bad. I thought my body was just out of whack from having my baby."
But when Janel experienced excruciating chest pain, she knew there was something seriously wrong.
"We went to Mercy Hospital Jefferson and when I got in there, they did the EKG and the nurse announced, 'I have a 31-year-old female with possible STEMI.' I couldn't believe it," said Janel.
A cardiac catheterization was insufficient to repair the damage, so her physicians transferred Janel to Mercy Hospital South for bypass surgery.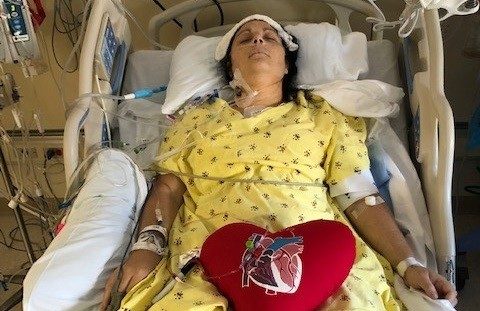 Janel Reeves suffered two heart attacks at age 31 before undergoing a bypass and valve replacement at Mercy Hospital South.
"The two nurse practitioners, Jackie Reinagel and Molly Twellman, were absolutely wonderful. They were the ones who came and got me off the ambulance and immediately grabbed my hands, told me that they had me and made me feel at ease," said Janel. "And then, when I got back into the ER, it was Dr. Umraan Ahmad, Dr. Seiichi Noda and Dr. Ed Coverstone. They just were so compassionate. They treated me like I was their only patient, like I was the only one who mattered."
Janel's cardiothoracic surgeons, Dr. Ahmad and Dr. Noda, wanted to wait five days to perform the open-heart surgery to ensure her body was prepared to handle it.
"They went through everything with me. They would come into my room daily, sit with me, because I was terrified. I was having open heart surgery at 31," said Janel. "I was scared to death and they would put my fears at ease and go over the surgery four or five times a day. They were amazing."
But it turns out, she didn't have five days. On the third day, Janel moved from the Intensive Care Unit to the heart hospital at Mercy Hospital South. The move allowed Janel to take the shower she requested. But as she sat down after her shower, she felt the chest pain again. She was having another heart attack. Her heart attack caused her heart valve to tear and her body to go into shock.
All three of her physicians, Dr. Ahmad, Dr. Noda and Dr. Coverstone, were on her floor at the time. Within a few minutes, they were in her room and quickly wheeled her into surgery where they performed a bypass and a valve replacement.
Dr. Umraan Ahmad (left), cardiothoracic surgeon, Dr. Ed Coverstone (center), cardiologist, and Janel Reeves (right) discuss her recovery during an office visit.
 "This is a rare condition," said Janel's cardiologist, Dr. Coverstone. "There was no reason for her to expect this to happen."
Dr. Coverstone says while SCAD is rare, it is being recognized more frequently as the cause of heart attacks in younger adults, particularly women. And when it does occur, frequently it happens shortly after pregnancy, likely due to the boost in the hormones in a new mother's body.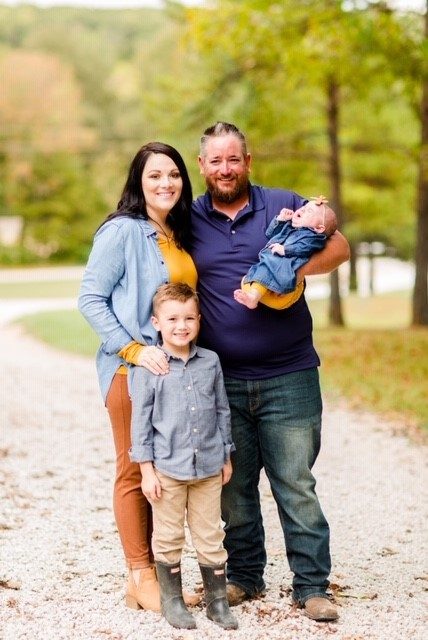 Janel Reeves with her husband, Justin Cody, their daughter, Mela, and their son, Mason.
Just three months after her frightening experience, Janel says she feels better and is getting stronger every day. She says if she did not have the scar to prove it, most people would not believe she underwent open-heart surgery. She does suffer some anxiety and fear, but she is trying different ways to overcome it, including writing a blog.
"I'm letting people know, sharing my story, getting it out there, and maybe I will help somebody else who could have this," said Janel.
Thanks to her second chance, Janel is able to enjoy time with her family, baby Mela, six-year-old Mason, and her husband, Justin Cody, who she says has worked tirelessly to keep their family together and moving forward.
"My husband says it's not right that I love my doctors more than him. Which isn't true. But they're right up there with him."
In the News