What happens when you combine a tried and true piece of medical equipment, with ideas from an innovative and patient-focused orthotist? The result is a spinal brace that exceeds our patient's expectations, makes it easier for caregivers to use and receives recognition from our vendor partner, Aspen Medical Products.
Becky Choate, BOC orthotist, always has patient care top of mind, so when Aspen Medical Products approached her more than a year ago asking for input on one of their products, she was happy to give them insight into the user experience. "Becky knows braces inside and out, and she has built such a great relationship with the company, they sought her feedback on one of the brace lines we use. Aspen's Vista TSLO/LSO braces are already great products, but Becky identified some opportunities for improvement that would help with the fit and also make them more durable through the 'tough love' we give them," said Leslie Bruce, therapy manager.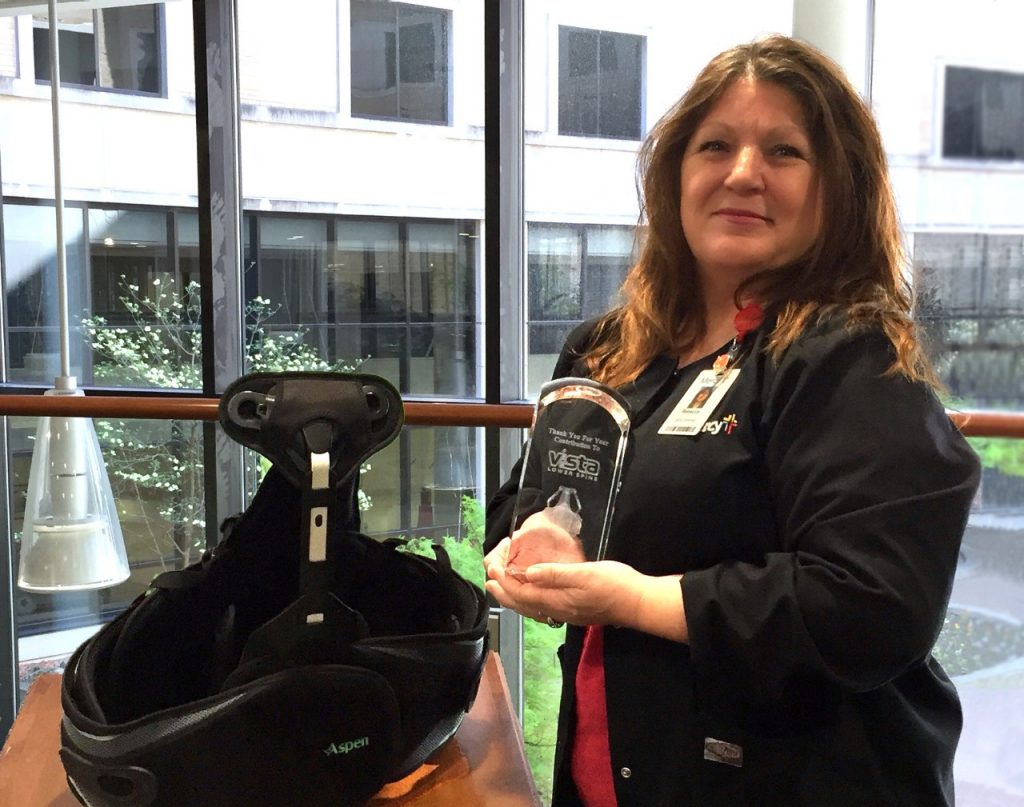 Becky Choate, Mercy orthotist, with the spinal brace she helped improve and the award from Aspen Medical Products.
Aspen Medical Products incorporated all of Becky's suggestions into the Vista "new and improved" spinal braces and showed their appreciation by honoring her contribution with a plaque and one of the new Vista braces. "At Aspen Medical Products, we realize the greatest innovation comes from those who are using our products. Mercy has been a great customer for years, so we asked Becky for honest feedback in the spirit of making our products the best they can be. Becky provided us with some minor tweaks that improved the fit of the brace and also helped with ease of use. It was a win-win outcome for both of us, said Tony Devinney, market specialist, Aspen Medical Products.
Throughout this process, Becky showed Mercy Charism through her entrepreneurial spirit and bias for action. "I've been a BOC orthotist for 22 years at Mercy, and I was honored by the opportunity to help make one of our most-used braces more hospital- and patient-friendly," Becky said.