Missouri 4-H members raised and donated $6,000 to Mercy Health Foundation Joplin to purchase gaming systems for each pediatric room in the hospital.
This project began in response to the Joplin tornado in 2011 that caused devastating damage to the previous Mercy/St. John's hospital. Missouri 4-H members wanted to do something to help children who would later stay at the new Mercy hospital. Fundraising efforts began that year and  4-H members from across the state helped raise the money, with local members from the Southwest region spearheading efforts. Though those initial 4-H members have now graduated, the current program and members have seen this project through to completion.
In total, Mercy Health Foundation Joplin was able to purchase six Nintendo Switch systems and five Xbox One consoles. Each gaming system was installed in the children's wing of the hospital.
"Because it was such a sizeable sum, we were able to outfit every pediatric room in Mercy Hospital Joplin with a gaming system," said Allison Apple, executive director of women and children services at Mercy.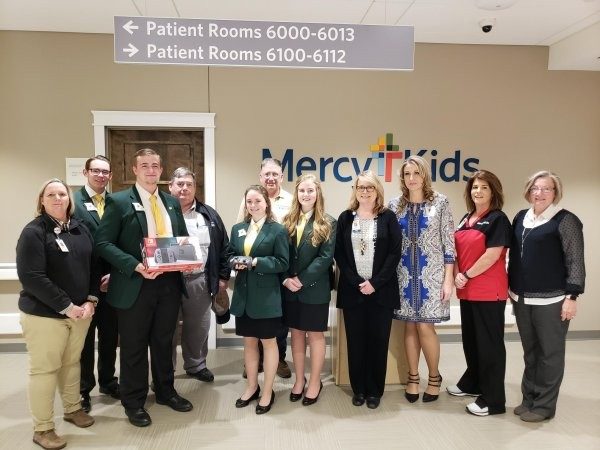 Leaders from Mercy Joplin celebrate the donation with 4-H representatives from southwest Missouri.
Each console has a variety of age appropriate games, with the hope that having access to an engaging activity can help Mercy kids to feel more comfortable during their stay. Karla Deaver, 4-H development specialist who worked with the donation, said, "The 4-H participants who raised this money really wanted to make a difference in the lives of kids at the hospital. We hope that with this donation, the hospital will be a little less scary for the children that seek treatment."
The money was raised through a variety of activities. Donations were accepted at 4-H events, and a dodge ball tournament at the State 4-H Congress raised money for the Kids Helping Kids fund. "We never want to forget the devastation of the tornado, but we also do not want to forget the resilience of the people of Joplin," Deaver added.
"Mercy is grateful for this generous donation from the 4-H program, which will truly help our Mercy kids," Apple said.
With future donations, the hospital will be able to add more variety and games in the future. To learn more or donate to Mercy Health Foundation Joplin, call 417-556-2267 or visit mercyhealthfoundation.net.  
Mercy Health Foundation, a 501(c)3 nonprofit organization, raises money and community awareness for Mercy Hospital. It is dependent on the support of individuals, corporations and foundations to help Mercy meet community health care needs. Mercy Health Foundation invests its philanthropic support in facilities and the advancement of technologies and programs to enhance Mercy's ability to provide excellence in health care. For more information, call 417-556-2267 or visit mercy.net/joplinmo/giving.