January 31, 2019
JOPLIN, Mo. (Jan. 31, 2019) – A $75,000 donation has helped purchase new hospital beds for Mercy Hospital Carthage. 
Recently it was determined that the 23 beds at Mercy Carthage were coming to the end of their lifespan and would need replacing. Thanks to a generous donation from the McCune-Brooks Healthcare Foundation, McCune-Brooks Regional Hospital Trust and the Helen S. Boylan Foundation, patients will now be able to rest easy in updated hospital beds. 
Beth Simmons of the McCune-Brooks Healthcare Foundation said of the donation, "We felt that a basic part of health care in a hospital is to have good beds. We made it our mission to help the hospital accomplish that goal." 
Mercy capital provided for the purchase of 15 new beds, but there was a need for an additional ten. "This generous donation will mean that each patient staying in our hospital will be on one of our 25 brand new beds," said Scott Watson, president of Mercy Hospital Carthage.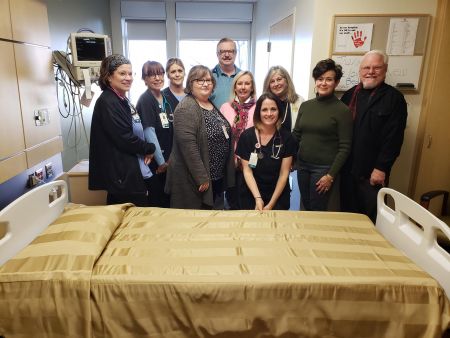 Watson continues, "Our patients have been very complimentary of our new beds, and our nurses love them as they are easy to use. We appreciate and thank the McCune-Brooks Healthcare Foundation, McCune-Brooks Regional Hospital Trust and the Helen S. Boylan Foundation, and want each donor to know that we recognize the valuable role they play in supporting this hospital and our community."
The new beds are the latest in hospital safety and technology from Umano Medical. They are built for patient comfort and ease of use for the caregiver. The beds help lower fall risk with a built-in bed exit alarm and an exit log to track how often patients are in and out of bed. The beds also contain other important features such as a weight monitor, patient nightlights, USB power outlets and seamless infection control.
"We are grateful to McCune-Brooks Regional Hospital Trust and Carthage City Council for approving their recommendation and the Helen S. Boylan Foundation for supporting the fundraising effort for the community," said Simmons. Patients and staff at Mercy Carthage will be able to enjoy the new beds for years to come.  
Mercy Carthage includes Mercy Hospital Carthage, with 25 beds, as well as clinic and outpatient locations and more than 250 employees. It's part of Mercy, named one of the top five large U.S. health systems in 2018, 2017 and 2016 by IBM Watson Health, serves millions annually. Mercy includes more than 40 acute care and specialty (heart, children's, orthopedic and rehab) hospitals, 800 physician practices and outpatient facilities, 44,000 co-workers and 2,100 Mercy Clinic physicians in Arkansas, Kansas, Missouri and Oklahoma. Mercy also has clinics, outpatient services and outreach ministries in Arkansas, Louisiana, Mississippi and Texas. In addition, Mercy's IT division, Mercy Technology Services, supply chain organization, ROi, and Mercy Virtual commercially serve providers and patients in more than 20 states coast to coast.

Learn More
Click to learn more about Mercy Hospital Carthage
Media Contacts
Jordan Larimore
Joplin, Carthage, Columbus