February 12, 2019
Mercy Cardiovascular Services hosts a "Ladies' Night Out" for women in the community to gather for heart health education. Proceeds benefited Rapha House, an organization focused on helping survivors of human trafficking and exploitation.
Heart disease is the leading cause of death among women. This event was organized to raise awareness about heart disease and celebrate heart month by promoting living a heart healthy lifestyle. The evening combined education with a focus on the mission of Mercy's foundress, Catherine McCauley, who sought to help address the needs of women and children in her community.
Nora Cannon, executive director of cardiovascular services at Mercy Hospital Joplin, explains, "In continuing Mercy's more than 120+ year history of meeting the critical needs of our community, we were drawn to find a way to both lend a hand to those women most in need, as well as educate our community about the importance of heart health."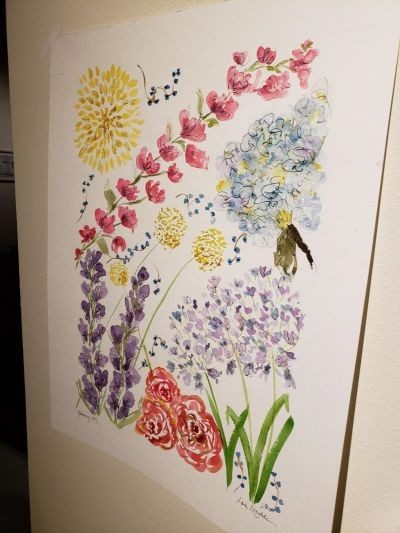 Live painting that was created during the event by local artist, and Mercy leader, Lori Marble. The painting was raffled off to help raise funds for Rapha House.
Rather than an admission fee, guests were encouraged to bring an item for "go-bags," such as toiletries, hygiene items, clothing and on-the-go food. All "go-bag" items and proceeds raised from raffle items will benefit Rapha House to help local and international women. 
Angela Foster, director of involvement with Rapha House, said, "We are excited to be a part of this event. The 'go-bag' items that are brought will help local ladies in need. We also appreciate the opportunity to raise awareness about human trafficking in the area."
Several booths during the event featured cardiology providers who answered questions and provided additional information about living a heart healthy life. Additionally, Lori Marble, director of strategic innovation at Mercy, and a skilled artist, created a live painting during the event. This painting was raffled at the end of the evening.
Nora continued, "Partnering with Rapha House, we are honored to have a night to collect needed resources for these women, all while having an evening of fun and learning about heart health."
Mercy Joplin includes Mercy Hospital Joplin, a new hospital with the latest technology, unprecedented "storm-hardened" features and 240 beds, as well as 82 clinic and outpatient locations and more than 100 physicians. It's part of Mercy, named one of the top five large U.S. health systems in 2018, 2017 and 2016 by IBM Watson Health, serves millions annually. Mercy includes more than 40 acute care, managed and specialty (heart, children's, orthopedic and rehab) hospitals, 800 physician practices and outpatient facilities, 44,000 co-workers and 2,100 Mercy Clinic physicians in Arkansas, Kansas, Missouri and Oklahoma. Mercy also has clinics, outpatient services and outreach ministries in Arkansas, Louisiana, Mississippi and Texas. In addition, Mercy's IT division, Mercy Technology Services, supply chain organization, ROi, and Mercy Virtual commercially serve providers and patients in more than 20 states coast to coast.
Media Contacts
Jordan Larimore
Joplin, Carthage, Columbus