For Terence Farrell, serving others has and continues to be the family business. On Feb. 25, he will bring that passion to his new role as president of Mercy Hospital Ada.  
"It was very evident to me as I grew up that serving others was how people lived their values and brought their ideals to work with them," he said.
Farrell's father served in the U.S. Navy, his mother was a nurse and hospital administrator, and his eldest sister is a nurse practitioner. He has worked in health care administration for nearly 30 years.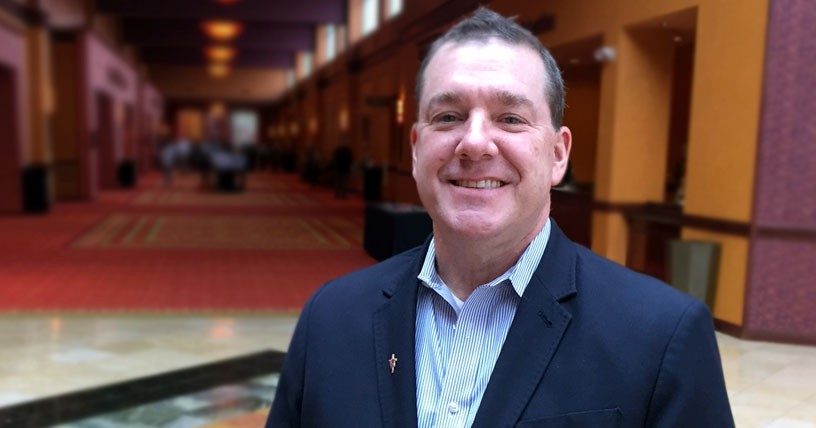 Prior to joining Mercy, Farrell was administrator of Herrin Hospital in Herrin, Illinois, part of Southern Illinois Healthcare. He also held previous positions as vice president of professional and support services at Pikeville Medical Center in Pikeville, Kentucky; and chief resource officer for support services at St. Vincent's Health Services in Bridgeport, Connecticut.
Originally from Long Island, New York, Farrell has spent the last 15 years working in small communities and is excited to call Ada home.
"It was very clear that this is where we wanted to live and work when my wife and I saw how tight-knit and family-friendly Ada is," he said. "I am really looking forward to creating new relationships, partnerships and collaborations with the people of Ada and the surrounding areas over the coming months. I'm already so impressed by everyone's commitment to sustaining and improving the health of our community." 
Farrell and his wife, Maliea, have six children and 10 grandchildren. Four of their children also decided to join the "family business" by choosing careers in health care. Their two youngest children have also relocated to Ada. Outside of work, he loves reading about American and Irish history, and spending time hiking, cycling and cooking with his wife.
Farrell is a fellow of the American College of Health Care Executives. He received his master's degree in health administration from the University of St. Francis in Joliet, Illinois.