April 12, 2019
The second annual Cancer Survivors Picnic returns to Mercy Hospital Jefferson on Friday, May 3, in recognition of all cancer survivors in our community.
Initiated in 2018 as an enhancement of the annual Breast Cancer Luncheon that had been held in October for many years, the new event acknowledges patients who have triumphed over all types of cancers.
A picnic lunch will be served to survivors and their supporters. The program will include cancer screenings and a presentation by guest speaker Lynn Eib, author of Laughter as Healing Medicine.
The event is scheduled from 10 a.m. to 1 p.m. in the Mercy Hospital Jefferson Conference Center. The cost is $10 per person, and reservations are required by Wednesday, April 24. Online registration is available at mercy.net/survivorpicnic19 or call Cindy Brewer at 636-933-8354.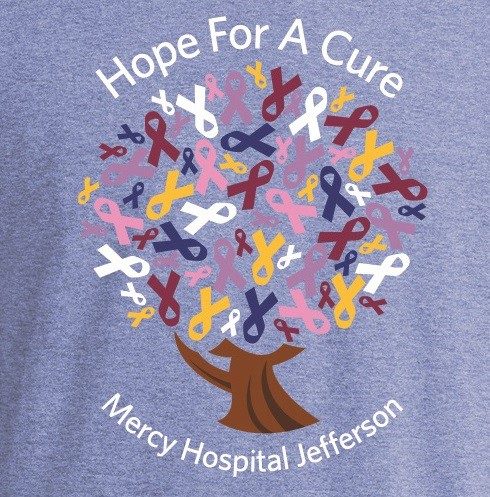 Survivors and their supporters can order All Cancer T-shirts with registration.
Prior to the lunch the program will include skin cancer screenings, lung cancer educational materials, mammogram scheduling, and the opportunity to join the Mercy Jefferson Cancer Center's for Relay for Life. Short sleeve All Cancer T-shirts may be ordered online at time of registration. Only those ordering online are guaranteed their requested size. Shirts ordered before April 24 will be available for pick-up at the T-shirt table at the event.
For those not attending the luncheon, the All Cancer T-shirt will go on sale Monday, April 29, in the Mercy Jefferson Gift Shop and Cancer Center Boutique.
Media Contact
Bethany Pope
St. Louis, St. Charles, Troy, Washington