Patients at Mercy Kids children's hospital in Springfield, Missouri, have a new reason to smile: an unlimited supply of ice pops to help them hydrate and heal. The best part may be that strangers have made the program possible.
Hy-Vee, Inc., is partnering with The Jel Sert Company and the American Childhood Cancer Organization (ACCO) to bring its "Take a Pop, Share a Smile" program to hospitalized children battling cancer and other illnesses at ten hospitals across six states.
"We are thrilled that Hy-Vee has joined The Jel Sert Company to support the ACCO with the 'Take a Pop, Share a Smile' program," said Ken Wegner, president of The Jel Sert Company. "The team at Hy-Vee has already made an incredible impact in the communities they serve, and together, we will continue raising awareness for childhood cancer to make it a national health priority."
Knowing the relief and joy an icy treat can bring, especially for children in treatment, Jel Sert generously provides pediatric cancer hospitals with a continuous supply of Fla-Vor-Ice freezer pops in a freezer decorated with logos from all partners. Mercy Kids is receiving three freezers for its various pediatric departments, including the Jane Pitt Pediatric Cancer Center.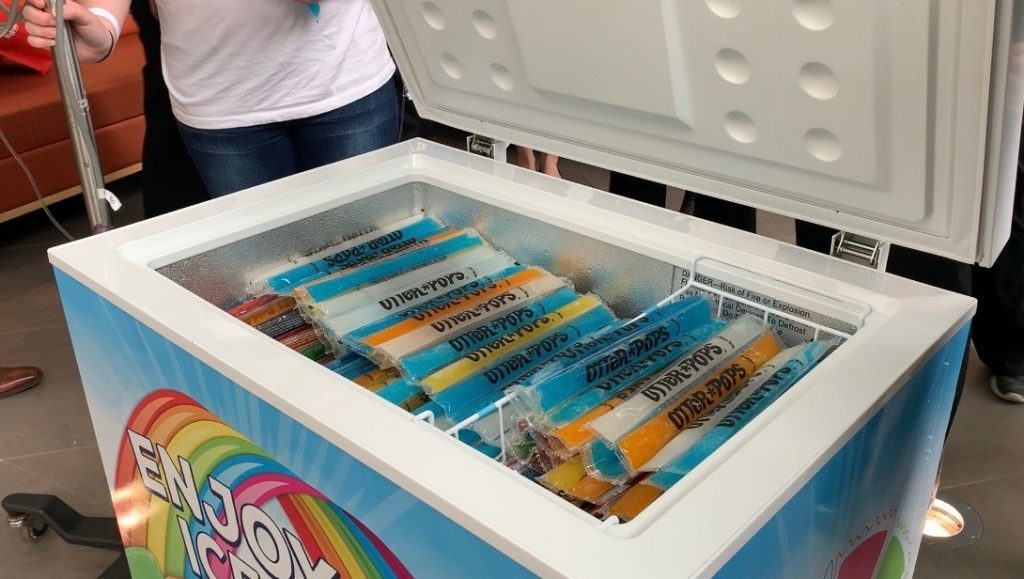 Local grocery store teams up to bring free ice pops to Mercy Kids.
"There are a lot of children who are dealing with serious illnesses in hospitals throughout our region, and this partnership provides just a little more comfort, especially to those young kids who are battling cancer," said Randy Edeker, chairman of the board, CEO and president of Hy-Vee. "None of this is possible without our great partners who helped create a program that aligns with our mission to be a good community partner."
To date, Jel Sert has placed freezers in more than 140 facilities across the country, providing more than 1 million treats.
"We are thankful for Hy-Vee and Jel Sert's generous corporate support to help expand the 'Take a Pop, Share a Smile' program in the Midwest," said Jamie Bloyd, the ACCO'S director of government relations and external affairs. "Many of our board members and staff are parents of children who have been diagnosed with cancer and have witnessed firsthand the impact an ice pop can have, especially during the most grueling parts of treatment. We hope this is the beginning of a long partnership with Hy-Vee."