When someone told Sam Ward they needed to talk to him during his shift at Mercy Hospital Joplin on Tuesday, he was slightly concerned. Humble about his duties and eager to downplay what co-workers call a desire to go above and beyond, it didn't occur to him that he may be getting recognized for outstanding work.
"I thought I might have been getting in trouble," Ward said with a smile.
After seeing a group of co-workers and his family gathered around a decorated cart and a tray of daisy-shaped cookies, he realized it was quite the opposite. Ward was named the hospital's newest DAISY Award winner this week and presented with the traditional daisy-adorned pin and a sculpture called A Healer's Touch, hand-carved by artists of the Shona Tribe in Zimbabwe.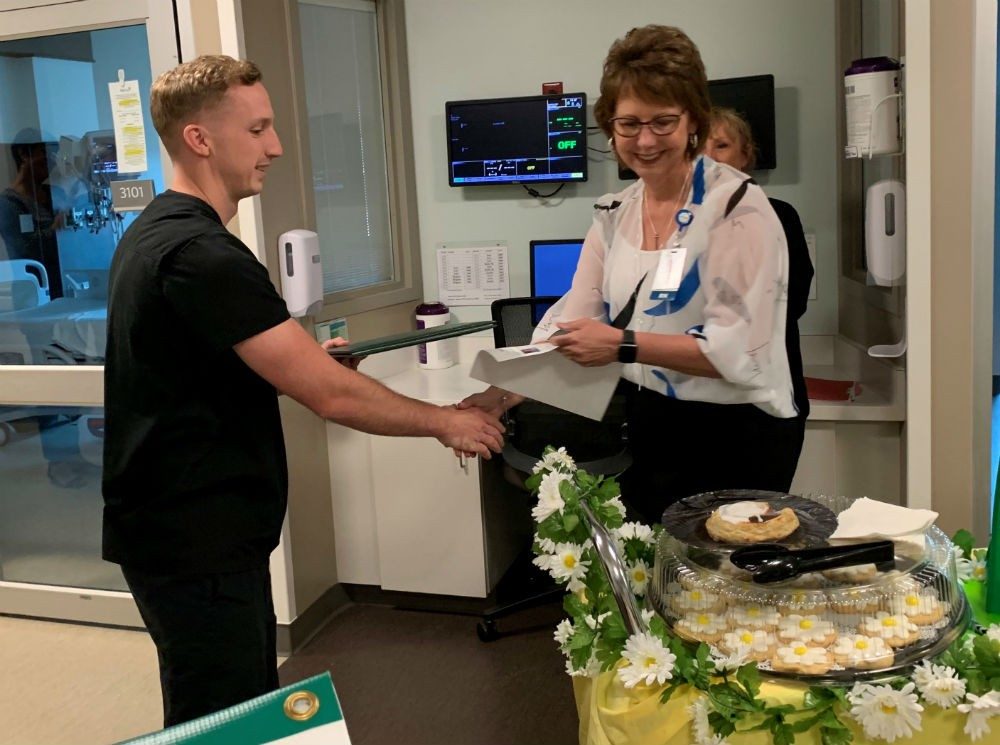 Sam Ward, a nurse in the cardiovascular intensive care unit at Mercy Hospital Joplin, is congratulated by Kelli Bigando, executive director of patient care services and interim chief nursing officer, on his DAISY Award.
Becky Tillman, supervisor of clinical nursing, said she nominated Ward for the honor, in part because of what she called his "exceptional" care for patients, including Tillman's mother when she was hospitalized in the cardiac intensive care unit.
"Sam helped us so much and even came over to the medical-surgical side and got her coconut cream pie," she said, fighting back tears. "He got her out of bed when she wouldn't do anything for anybody else. I can't say enough about Sam."
Ward was appreciative of the recognition but hesitant to take credit for having done anything exceptional.
"It's a nice reward, it's very nice," he said. "I think all nurses here at Mercy deserve it. We all work hard toward doing our best for patients."