Despite a battle with breast cancer, Ladonna Robbins says she's lucky – lucky her lump was detected early and wiped out quickly.
At just 48, Robbins wasn't particularly worried about breast cancer, but had scheduled a 3D mammogram at Mercy Breast Center in Springfield, Missouri. She went in just before Christmas and found out just after the holiday that the doctor wanted a closer look.
"Even when they showed me what they thought was a mass, I wasn't worried," she said. "I guess I was in total denial. Then they did the ultrasound and told me there was a 50% chance it was cancer. It was like deflating a balloon. I couldn't breathe."
A biopsy confirmed the diagnosis, and Robbins had a lumpectomy to remove the cancer, followed by six weeks of radiation. With a husband, three grown children and three granddaughters, she was glad she didn't have to do chemotherapy. "I never had to slow down," she said. "The only side effect I had was a suntan from the radiation."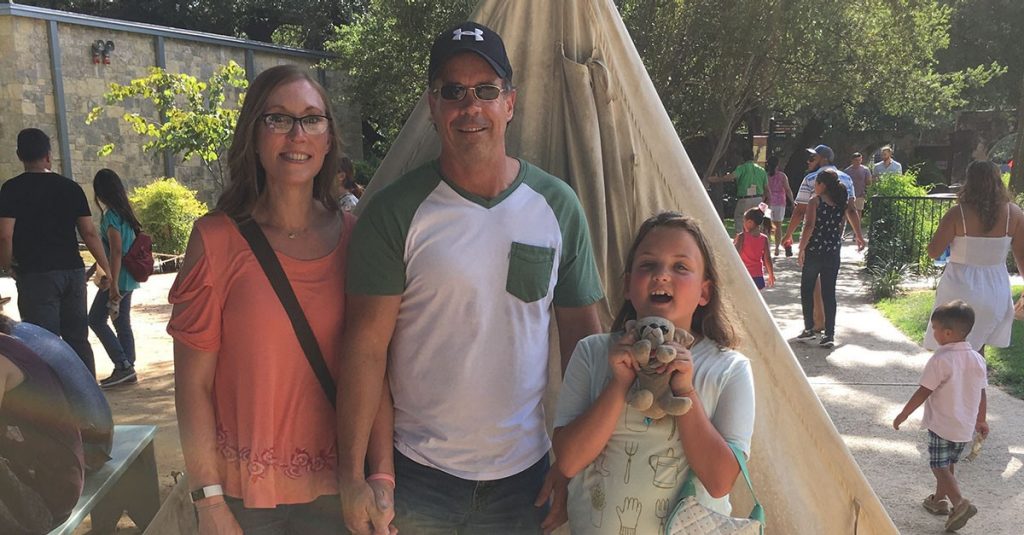 LaDonna Robbins enjoys a trip to the Alamo in Texas with her husband, Jim, and granddaughter, Olivia, just one month after completing radiation treatment.
Robbins feels the 3D mammogram was the key to finding her cancer in its most treatable stage. In a 2D mammogram, dense breast tissue can overlap and appear similar to cancer. A 3D mammogram provides images from different angles enabling a computer to digitally recreate an image of the breast layer-by-layer. This view makes it easier to see the tissue and evaluate possible abnormalities. It's proven especially beneficial for women with dense breast tissue.
These days, Robbins is back to walking every night with her husband and working out at the gym a couple of nights a week. And, as she gets closer to marking one year since she was diagnosed, she's already making plans for her next mammogram – which she will get closer to home, at the new Mercy Bolivar Multispecialty facility. It opened on Oct. 7, 2019, and became the first in the area to offer standard 3D mammography screenings. "I'm due for my next mammogram in February," Robbins said. "It will be so nice to have it done right here in town."
Along with the new proximity to Bolivar-area patients, Missouri law now requires insurers to cover the cost of a 3D screening mammogram for patients 40 and older, removing another barrier to getting the test. For those without insurance, Mercy offers free mammograms through its partnership with the Breast Cancer Foundation of the Ozarks. Those can be scheduled at the patient's convenience.
Robbins hopes other women learn from her story. "The mammogram saved my life," she said. "I would definitely recommend ladies get them done and do 3D."