The Holy Spirit takes center stage, flanked by two angels amid a backdrop of mountains and rivers, sage and roses.
This colorful stained glass window is a tribute to the "angels" of Mercy Hospice South - de Greeff Hospice House who are "always faithful in walking, by the grace of God, our loved ones home."
Dedicated in a special ceremony Dec. 18, "The Journey Home" was created by stained glass artist John Schwaig and brings to life the vision of Elizabeth Good. She wanted to pay special honor to the caregivers at de Greeff Hospice House for their treatment of her late husband, Jim, and their family in December 2017.
"Words cannot express my gratitude for how they treated him and relieved him of his pain," Elizabeth recalled.
Later, in conversation with one of his nurses, Elizabeth asked, "How can you be so strong, so compassionate, so gentle and caring when surrounded by the pain and sorrow of patients dying?" The nurse's response was one that Elizabeth will never forget: "It is a privilege to walk with these patients on their final journey home."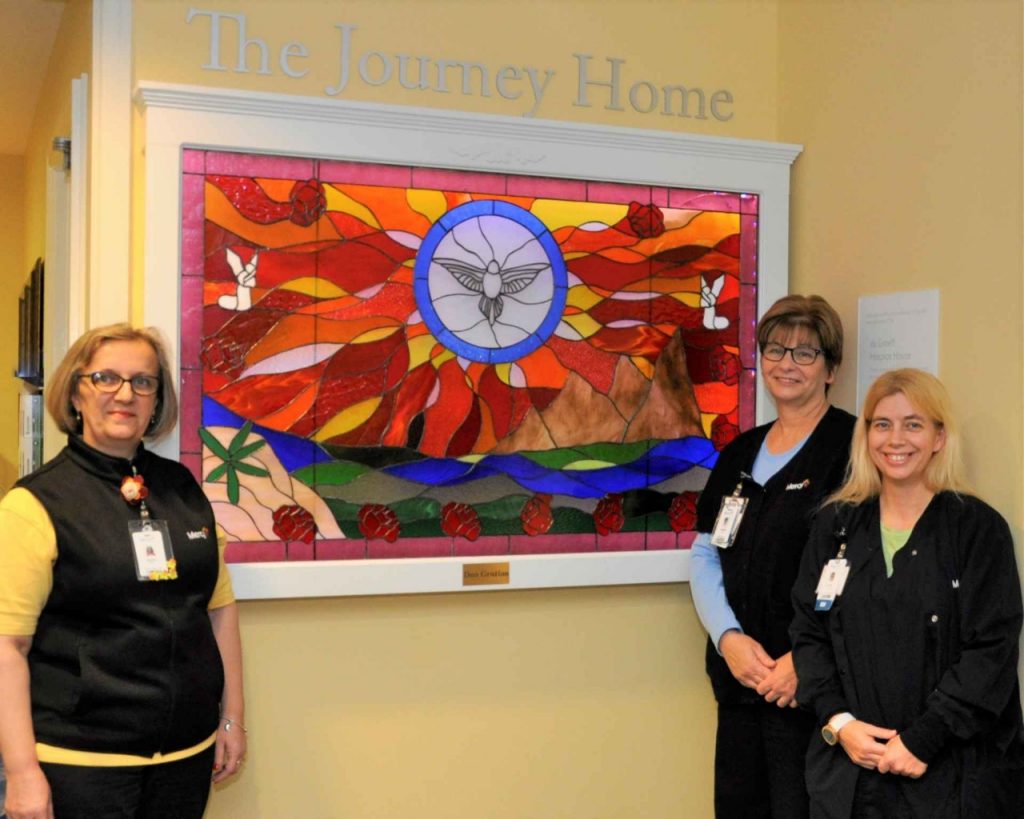 Three of Jim Good's caregivers at Mercy Hospice South - de Greeff Hospice House gather at the stained glass window. They are, from left, home health aide Stanka Pupic; Christy Stellhorn, BSN, RN; and Jennifer Smelser, RN, supervisor of clinical nursing.
Three days before he died on Dec. 18, 2017, Jim entered de Greeff in the advanced stages of cancer. He had wished to die at home, but developed unrelenting, debilitating pain that had not allowed him to lay down or sleep in the couple's bed since the previous July. Elizabeth located de Greeff in a final search for a hospice facility; in all her months of research, she was certain, this facility had never appeared before. She contacted the facility's social worker; to their surprise and relief, a bed was available and the stay was arranged.
Within two hours after Jim entered, his pain was finally being relieved. That night, for the first time, he slept the whole night through. For the next three days, both Jim and Elizabeth were embraced by a community of care that offered understanding, love, compassion and support. After Jim fell into a coma, de Greeff co-workers noticed that Elizabeth was sleeping in the chair next to his bed, wanting to be as close to her husband as possible. They arranged to move the room's sofa bed next to Jim's hospital bed, allowing the couple to "sleep together" for the first time in 155 nights. It was to be their last night together after 33 years of marriage.
Three months later, Elizabeth wanted to attend the group grief counseling session at the home but was nervous at the thought of returning. She feared it wouldn't feel as warm and welcoming as she had remembered, and that it might shatter the sacred memories she had of her last few days with her husband.
"After all, we were there only three days," she explained. "I walked back into the house and one of Jim's nurses came up, hugged me and asked me how I was. Each one of his nurses remembered me and have done that; and still do that to this day when I return for a visit. They tell me I am 'family.'"
Elizabeth wanted to give back to the caregivers some of the peace, comfort and joy that she and Jim received as she walked with him on his final journey home. The idea for the window was born and grew. It depicts:
Mountains, including the Alps and Mount Rainier that Jim climbed and loved, and the Tetons and Absarokas of Wyoming where he found his final peace.
River and sage to signify the location where Jim's spirit lives on.
A rose border as a memorial to Jim's mother, Gloria Anne.
Angels to commemorate the caregivers of de Greeff.
Today, it is a permanent reminder of the legacy of compassion at de Greeff Hospice House.