Mercy Hospital Northwest Arkansas has added 14 mother-baby suites and a high-risk obstetrics unit to its already robust services for parents making additions to their families.
Mercy Birthplace – Northwest Arkansas opened adjacent to the hospital's 19-bed Level IIIA Neonatal Intensive Care Unit. This expanded space in Mercy Hospital's new tower allows mothers to be closer to their newborns in the event the baby requires a higher level of care. In addition, Mercy added a six-bed unit for mothers with high-risk pregnancies.
"Pregnancy and childbirth are an exciting time for families, but we understand it can also be very stressful, especially if you experience certain high-risk conditions," said Whitney Tolbert, director of Women's and Children's Services at Mercy Hospital Northwest Arkansas in Rogers. "Some moms may require more frequent monitoring or higher level of care from the obstetrics team."
The high-risk obstetrics unit is staffed around the clock with highly skilled nurses and board-certified OB/GYN providers to meet the critical needs of patients experiencing conditions such as preeclampsia, diabetes, bleeding disorders, preterm labor and other complications. Maternal fetal medicine consultation is available to support in-house providers, ensuring the highest level of quality, safe care during and after pregnancy.
"It is safest for women with high-risk pregnancies to deliver in a hospital where their newborn can also be cared for. Our ability to provide that critical level of care for both moms and babies with 24/7, in-house maternal, newborn and anesthesia services sets Mercy apart in this area as the most equipped facility to deliver maternal and newborn care," said Dr. Kale Dittmeyer, medical director of Women's and Children's Services.
Mercy expanded its Women's and Children's Services department to meet the needs of the growing Northwest Arkansas community. The suites provide a comfortable and calming atmosphere designed for families to enjoy a personalized birth experience. Each suite is equipped with comforts of home such as a private bath, refrigerator, microwave and wireless internet service. 
All of Mercy's private suites allow families to stay with their newborns, rather than babies being sent to a nursery. For times when a newborn needs a higher level of care, neonatal providers are available 24/7 with access to state-of-the-art technology within Mercy's NICU. Like Mercy's other suites, the NICU offers private rooms where parents can remain at their infant's bedside.
"Our providers and co-workers are dedicated to providing a family-friendly environment that promotes relationships and encourages family bonding," Tolbert said.
Mercy's Women's and Children's Services continue after birth with international board-certified lactation consultants and weekly "Weigh-In Wednesdays" where new mothers can converse with other moms, receive breastfeeding advice and monitor their baby's growth.
Get a "Virtual Tour" of Mercy Birthplace – Northwest Arkansas.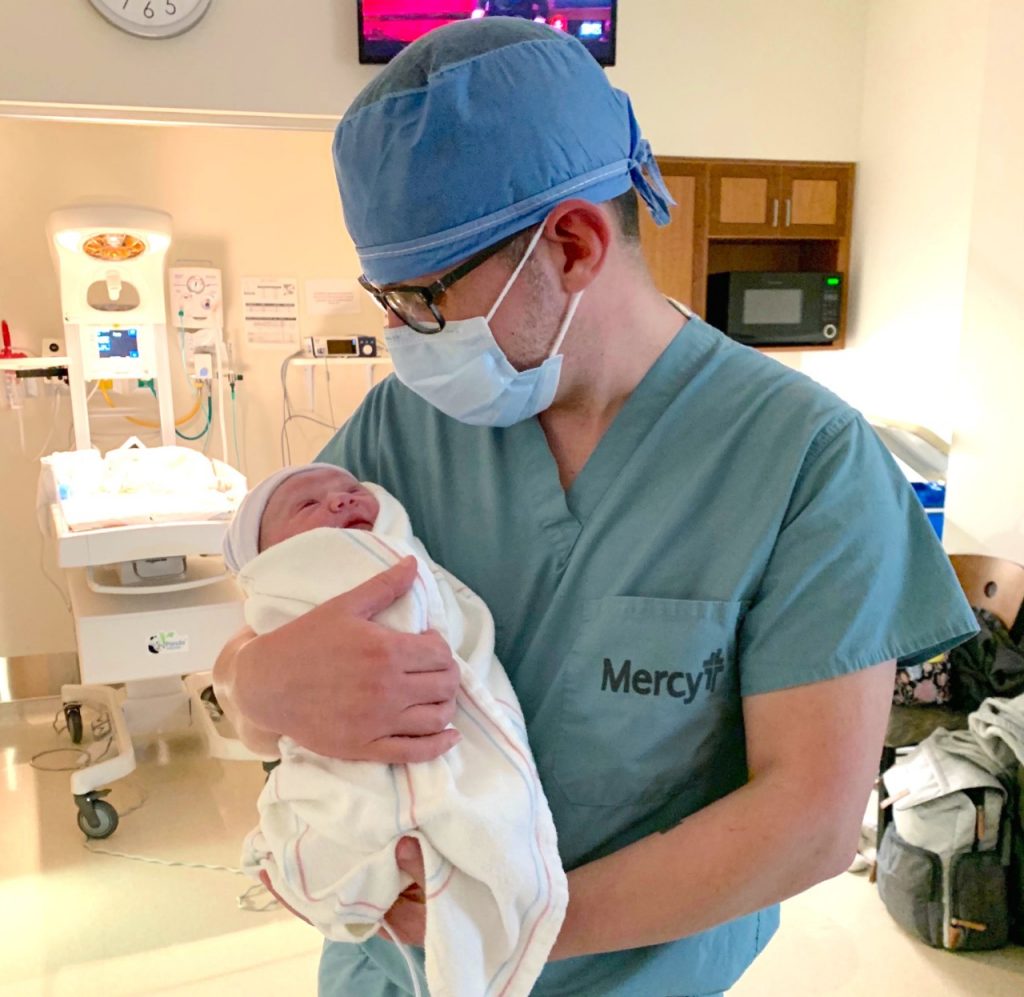 Dr. Kale Dittmeyer and newborn