CHESTERFIELD, Mo. – Mercy Rehabilitation Hospital St. Louis has been named the best physical rehabilitation center in Missouri and was ranked 6th best in the country by Newsweek magazine. The ranking of rehabilitation facilities was based on quality of care, quality of service, quality of follow-up care and accommodation and amenities relative to in state competition. Rankings are based on a rigorous methodology which includes data from a survey of thousands of medical experts along with quality measures from the Centers for Medicare and Medicaid Services. National rankings are published on Newsweek.com and in the Aug. 21 – 28 print edition.
"This is a great recognition and acknowledgement of the quality care our staff provide to our patients every day," said Jerry Rumph, CEO. "The team here at Mercy Rehabilitation Hospital are proud to be ranked first in Missouri and ranked 6th in the country."
"As always our focus is on our patients and providing the best care possible," said Stephen Mackin, Mercy senior vice president and Mercy Hospital St. Louis president. "The Newsweek ranking highlights that focus and is a true testament to the care our co-workers provide."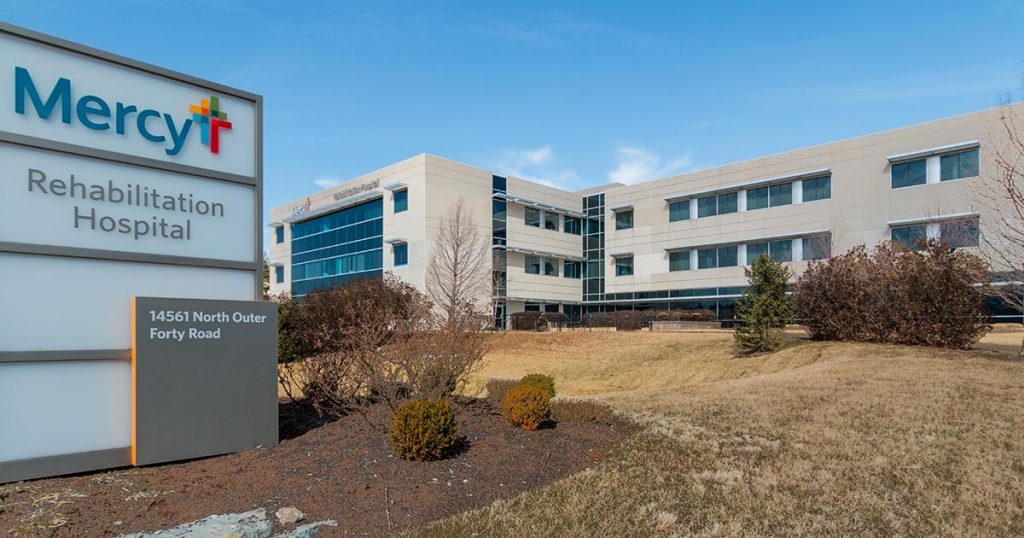 Mercy Rehabilitation Hospital St. Louis, a partnership between Kindred Healthcare and Mercy, is a freestanding rehabilitation hospital in Chesterfield, Missouri, that cares for adults recovering from conditions such as stroke, neurological disease, injury to the brain or spinal cord, and other long-term illnesses or injuries. The hospital features specialized clinical programs including a dedicated brain injury unit for patients suffering from trauma-related neurological conditions. For more information about Mercy Rehabilitation Hospital St. Louis, click here.
More information about the Newsweek recognition is available here.
About Kindred Healthcare
Kindred Healthcare, LLC is a healthcare services company based in Louisville, Kentucky with annual revenues of approximately $3.1 billion(1). At June 30, 2020, Kindred through its subsidiaries had approximately 32,000 employees providing healthcare services in 1,731 locations in 46 states, including 64 long-term acute care hospitals, 22 inpatient rehabilitation hospitals, 10 sub-acute units, 94 inpatient rehabilitation units (hospital-based), contract rehabilitation service businesses which served 1,541 non-affiliated sites of service, and behavioral health services. Ranked as one of Fortune magazine's Most Admired Healthcare Companies for nine years, Kindred's mission is to help our patients reach their highest potential for health and healing with intensive medical and rehabilitative care through a compassionate patient experience. For more information, go to www.kindredhealthcare.com. You can also follow us on Facebook, LinkedIn, and Twitter.  (1)Revenues for the last 12 months ended June 30, 2020.