Linda Nelson, trauma program manager, and "Dr. Sasi" (Dr. Balasasikumar Sundaram) visited with sixth-graders during a virtual "field trip" with the Fort Smith Public Schools' Health Sciences Academy.
What's the difference between an injury and an illness?
Some sixth-graders from the Fort Smith Public School District recently were challenged with that question and others on Oct. 2 during a presentation by the Mercy Fort Smith Trauma Care team. The virtual "field trip" took place in Mercy Fort Smith's Emergency Department, with Trauma Program Manager Linda Nelson leading the discussion.
With remote learning currently replacing in-person presentations at many schools, the Zoom presentation provided an opportunity for the sixth-graders to get a virtual look inside a real emergency room and hear from an ER doctor and nurses. The students are all part of the school district's Health Sciences Academy, which is held at Darby Junior High School.
"I believe this is a great opportunity to interact with these young students and introduce the world of medical care at Mercy, specifically for trauma patients," Nelson said after the virtual meeting.
The presentation began with students being introduced to ER physician "Dr. Sasi" (Dr. Balasasikumar Sundaram), who discussed his role with Mercy and the importance of trauma care, and ER nurse Ashley Tucker, who described what nurses do to care for trauma patients. Nelson continued the presentation by demonstrating equipment used in the ER to help trauma patients and describing some scenarios the ER team may encounter with patients.
Ashley Tucker, ER nurse at Mercy Fort Smith, visited with sixth-graders during a virtual "field trip" on Oct. 2.
Students also learned the basics of trauma care, including the ABC's of trauma resuscitation (A-Airway; B-Breathing; C-Circulation; D-Disability (head injury); E-Environment (keep patient warm and safe). Students also learned about the No. 1 cause of preventable death for a trauma patient (Answer: uncontrolled bleeding), and Nelson asked the students what they can do to prevent traumatic injury in their own lives. Answers ranged from wearing seat belts in cars, wearing helmets while on bicycles and skateboards and avoiding dangerous stunts often seen on TV.
The virtual field trip was part of a health care initiative between Mercy Fort Smith and Fort Smith Public Schools. Recently, Mercy Fort Smith partnered with The Guidance Center of Fort Smith to serve students at a school-based wellness center to be built at Darby Junior High through a $500,000 grant awarded to the Fort Smith Public School District. The center will serve students, families and staff members at the school as well as at Tilles Elementary School and is expected to open at the end of the year.
There are 13 students in the Health Sciences Academy program from all over the Fort Smith Public School District, according to Zena Featherston Marshall, FSPS executive director of communication and community partnerships. Students submitted applications and were interviewed by a team of educators and health professionals. Darby Principal Katie Kreimer-Hall and FSPS Director of Secondary Education Ginni McDonald developed the idea as an instructional opportunity for upper elementary school students who are interested in careers in health care, Featherston Marshall said. 
"Although the COVID crisis has impacted the original plan to spend a lot of time in on-site instruction, the group is making the most of this initial year in a classroom and are looking forward to the future as they learn as they explore careers available and skills and knowledge necessary in the health care field," she said.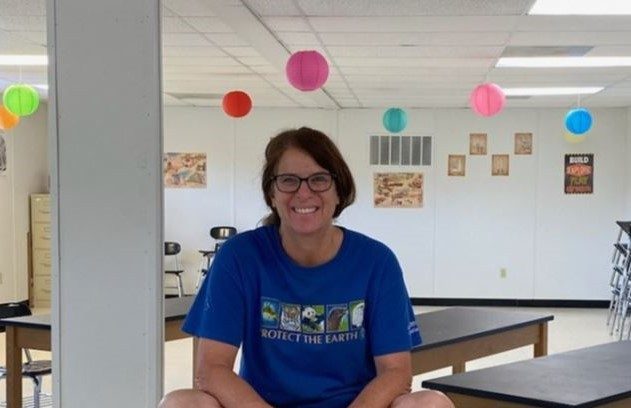 Angela Holwick is a former nurse at Mercy Fort Smith who now leads Fort Smith Public Schools' Health Sciences Academy.
The Health Sciences Academy is led by Angela Holwick, a former nurse at Mercy Fort Smith. She and Nelson are longtime friends and worked together to bring the virtual class to Holwick's students. Nelson credits Holwick for being an "outstanding, creative teacher" who came up with the innovative approach to providing Darby students with the learning opportunity.
"Children are such eager learners," Nelson said. "Students are natural-born teachers. They'll take the information home to the family."
Although the end of the presentation was interrupted by a real-life emergency, Holwick said the students got a lot out of the virtual meeting, and the real emergency added to the learning process.
"The students absolutely loved the presentation," she said. "I was very much impressed with Linda's ability to teach. She was aware of the age of her audience and presented sensitive subject matter in an age appropriate manner. We appreciate Dr. Sasi, Ashley and Linda for taking time out to allow our students to see inside a real trauma room and talk to actual ER nurses and an ER doctor. They had a lot of questions to ask Linda. Unfortunately, the time had to end because of an incoming patient. However, it was also neat that they were able to see how the ER can go from one end of the spectrum to another as far as activity. The presentation was rich and valuable!"
Holwick had her students write a paper about their "trip" to the ER. Some of the comments included:
"Our trip to the ER was amazing and insightful. The person teaching us was kind and patient with us, the tools there were interesting."
"I learned a lot of things, like the ABCs, how to stop a bleed, and some of the trauma room equipment. I am interested in the way they work so fast."
"The things that interested me were all the different tools and things that the nurses use in the trauma to help the trauma patients. I was concerned about the tube and how you put it in the patient."
Next week, Teresa Nichols, senior recruiter with Mercy Fort Smith, will hold another virtual meeting with the Health Sciences Academy. Nicole Harp, stroke program coordinator at Mercy Fort Smith, is working on a plan to present stroke care information to the students during another virtual field trip.
"You teach a child, and they'll go back and teach 10 adults," Harp said. "They'll go back and say, 'Guess what I did today,' and they don't even realize they're teaching, because they're so eager to share that." 
Linda Nelson demonstrates Mercy Fort Smith's new decontamination showers.