by Mercy's Mardi Taylor
FORT SMITH, Ark. – As front-line health care workers, respiratory therapists have a direct connection with patients who may be dealing with a variety of illnesses, including COVID-19.
Jennie Castillo, respiratory care manager at Mercy Fort Smith, said respiratory therapists treat patients of all ages – from infants to the elderly.
"Our goal is to keep these patients out of the hospital as much as possible. If we do our jobs well and get them out of here, that's rewarding," she said.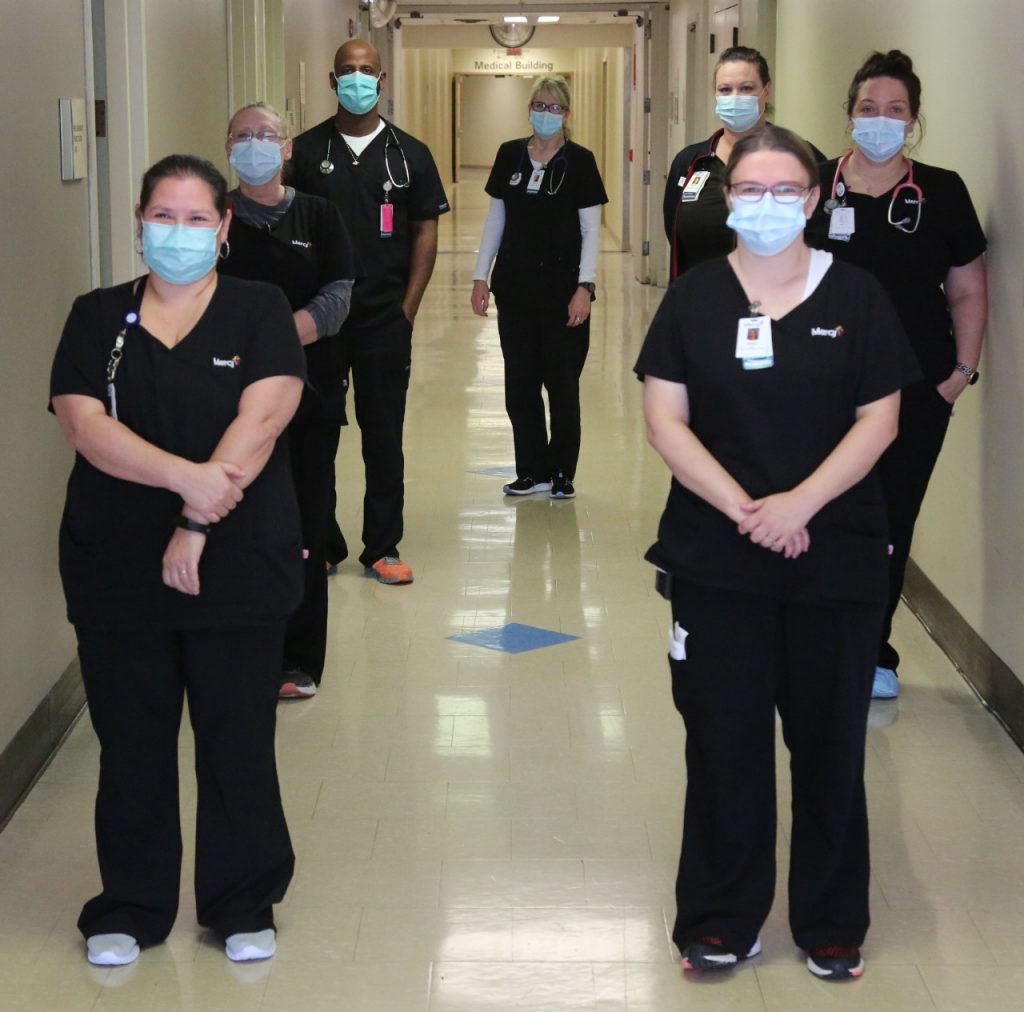 Mercy Hospital Fort Smith Respiratory Therapists
Respiratory patients may be treated for a variety of conditions, including asthma and chronic obstructive pulmonary disease, as well as COVID-19.

"There's quite a few lung diseases out there," said respiratory therapist Lisa Shelton. "This area has a number of asthmatics; it has a large number of COPD patients. It also has an increasing number of pulmonary fibrosis patients."
Working with respiratory patients may involve the use of ventilators, but that is not the case for all patients. The team uses devices such as bilevel positive airway pressure (BIPAP) or high flow oxygen systems, as well as the latest technology nebulizers for administering breathing treatments to patients, Castillo said. They also use many different devices for chest physiotherapy in patients as well.
"Depending on what each individual patient requires, we can spend anywhere from 8 minutes to 20 or 30 minutes or even longer with a patient according to what course of treatment has been ordered for them," Castillo said.
Each patient's situation is unique.
"We have patients who come in through ER who require immediate assistance with breathing problems," Castillo said. "We get them stabilized, get them to the floors so we can care for them after that. In the intensive care unit, we've got patients on ventilators and other devices that we care for."
Mercy Fort Smith's respiratory therapists work with COVID-19 patients whose ages range from young adults to the elderly. COVID doesn't impact just a specific group, the team said.
"With COVID-19, patients need a lot more time with respiratory therapists because they can decline quickly and require us to be there quickly," Castillo said. "It takes longer to get into a COVID patient's room because of the required protective gear that's put on before you can ever set foot into their room. It's a process."
Throughout the COVID-19 outbreak, Mercy has remained open to the greatest extent possible to care for you. Now, we're cautiously beginning to reactivate services which require in-person visits (such as non-emergency surgical procedures) as well.
We follow strict standards for disinfecting, Personal Protective Equipment use and social distancing. Please do your part by following CDC guidelines for social distancing, masking and hand washing.
"With COVID, the seriousness of the illness, we see a lot of very sick people with great oxygen demands, more than we did before. It's more critical," added respiratory therapist Nicole Arnold.
Using a ventilator is a "last-ditch effort to try to help a patient," said respiratory therapist Melvin Johnson. Being able to take a patient off a ventilator is joyful, Johnson added.
"That is our end goal, to get patients off the ventilator," Castillo said.
Patients are also encouraged to continue to follow COVID-19 guidelines such as social distancing as much as possible, staying home and wearing a mask when in public. They also encourage smokers to quit the habit, as they work with many who have developed respiratory issues, including COPD.
"You start taking care of COPD patients when they're still moderate, before they get too severe," Shelton said. "You may see them in the ER or on the floor for three or four days and they go home, but the disease progresses, and you're there at the end stage. And you've gotten to know them and their families … it's like losing a friend."
Anytime the team loses a patient is the most difficult part of being a respiratory therapist, the team agrees.
"I think it's hard to see patients at the end of a terminal disease, especially COPD patients who have struggled with it for a long time," Castillo said. "I think seeing the families hurt, the families that have to deal with that, and sometimes they have to come to terms with things and make those tough decisions. It's hard to see."
Johnson, a traveling respiratory therapist, said working with Mercy Fort Smith's doctors has been easy. Doctors will often reach out to get his opinion, and he appreciates that communication when it comes to a patient's care.
A patient's recovery and eventual release from the hospital is nothing but joy for the team, Johnson said. It's a gratifying experience when a patient is able to go home after spending time under the care of a respiratory therapist, he said.
"It means a job well done. It's exactly what we went to school for," Johnson said.
Becoming a respiratory therapist involves obtaining an associate degree in respiratory care along with clinical rotations that allow students to practice their skills. Graduates can take the respiratory therapy exam and then become licensed in the state where they want to work.
"Respiratory is an excellent field to be in," Castillo said. "You have several different opportunities you can pursue, and most importantly you are working every day to help people and try to make a difference in their lives."