Leena Durkin found the prenatal care she needed at Mercy's McAuley Clinic, 3420 S. 74th St., Fort Smith.
While Leena Durkin was still a nursing student at the University of Arkansas at Fort Smith, she and her husband learned she was expecting a baby. Durkin's thoughts soon turned toward receiving proper prenatal care and ultimately delivering her baby in the best environment possible.
Durkin said she wasn't sure how she could balance nursing school and a pregnancy at the same time.
"I was very overwhelmed," she said. "When I realized I wasn't going to qualify for Medicaid, I called my regular doctor to find out how much my care would cost. I kind of got into a hard place where I was like, 'What am I going to do?'"
Fortunately for Durkin, Mercy was there to help. Durkin was directed to the McAuley Clinic, a Mercy outreach center at 3420 S. 74th St. in Fort Smith that focuses on expectant mothers with financial need. Durkin's care was guided by Advanced Practice Nurse Dabney Herrold.
"The best part about the McAuley Clinic was the type of care I received," Durkin said. "It was continuous from the time I got there until the follow-up appointment after my son was born. It was just consistent, good care throughout the entire process."
Durkin said her biggest concern during her pregnancy was that she wouldn't receive proper prenatal care, but Mercy and the McAuley Clinic put those fears to rest.
"If you are afraid or uncertain about what's going to happen with your prenatal care, you just have to call the McAuley Clinic," she said. "They will help you, from figuring out how to get insurance to being able to pay for things. They're a very good resource. It's not like you're going to go in and just get prenatal care. It goes beyond that. They help you figure out who you're going to talk to when it comes to funds. That's a big deal – how am I going to pay for all this that I didn't have the means to do?"
Dabney Herrold, APN, sees patients for prenatal care at the McAuley Clinic in Fort Smith.
The McAuley Clinic was set up in 2019 to serve OB/GYN patients in need. Dr. Andrew Riche manages the clinic with Herrold.
"We see patients from eight weeks all the way up until delivery, as well as the postpartum visit," Herrold said. "They feel like they get what they need without necessarily the stress of having to worry so much about the insurance side of things, because we help them with it as well."
Patient care is very individualized, Herrold said. When patients call after a positive home pregnancy test, they are asked a wide variety of questions in order to be guided in the right direction. Any concerns such as a patient's risk factors or medications are addressed.
"Patients get in with me for that new OB appointment, and we go over that history," Herrold said. "We definitely go over those risk factors and history, what medication they're taking, things like that, as well as their concerns. But I'm able to hopefully take care of some of those worries, get them on medicine if they need it, whatever the case is, and then I get them in with the provider, and the provider takes it over from there.
"It's such an exciting time in their life, expecting a new one," Herrold continued. "Coming in, sometimes it can be a little scary, but I like to be that person to them that they can come to and share the worries and the ups and downs and the excitement and all the things that come with welcoming a new one."
Herrold added that the McAuley Clinic is an important resource for the community.
"I really love being at the McAuley Clinic," she said. "We're going to try to work with you the best that we can to try to make sure that you have everything that you need so that by the end of the pregnancy, hopefully you've got some kind of coverage that's going to help."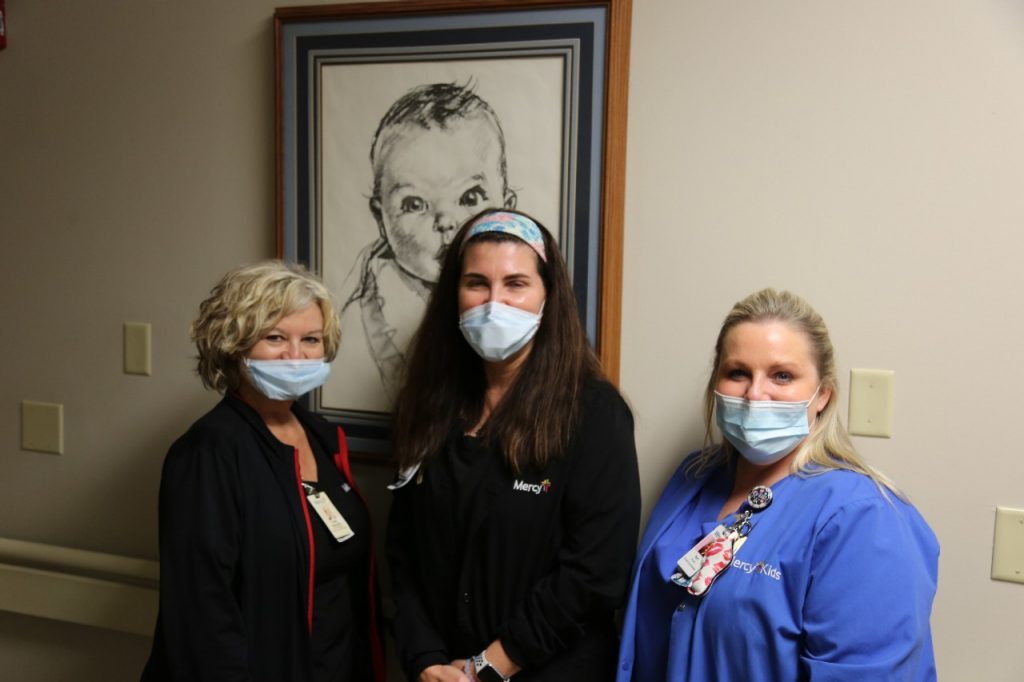 Linda Davis, Labor & Delivery clinic nurse manager, from left, Samantha Cole, director of maternal-child services, and Terri Hocott, NICU clinic nurse manager
Durkin said she appreciates the care she was given at Mercy Fort Smith during the delivery of her son in May.
"Labor & Delivery at Mercy is my favorite," she said. "They are absolutely fantastic, the best team of nurses I've ever encountered."
For delivery, patients from the McAuley Clinic will see hospitalists who work within Mercy and are assured of receiving the best care possible. In addition to care provided in the Labor & Delivery department, Mercy Fort Smith features an OB emergency department as well as the River Valley's only neonatal intensive care unit, two unique features that have created specialized care both for the mother and newborn.
Mercy's OB-ED opened in June 2019 and provides care specifically for expectant mothers, said Samantha Cole, director of Maternal Child Services at Mercy Fort Smith. Cole said the OB-ED has been an important addition at Mercy Fort Smith because expectant mothers can get the right care for their situation.
Anything pregnancy-related is taken care of in the OB-ED, said Linda Davis, clinical nurse manager at Mercy Fort Smith's Labor & Delivery department, whereas an expectant mother experiencing a different medical issue would still be seen in the regular emergency room. 
"Before, we only saw anyone over 20 weeks pregnant; now, we see anything pregnancy-related," Cole said of the OB-ED. 
In addition, high-risk expectant mothers can receive care through the maternal fetal medicine clinic run by Dr. David Deschamps, who also sees patients in the OB-ED.
"That's really a good thing," Cole said. "Before, our high-risk moms would have to travel to Northwest Arkansas or Little Rock for their care. This allows the physicians here to take care of higher-risk moms with the backup and support and not have to travel those distances."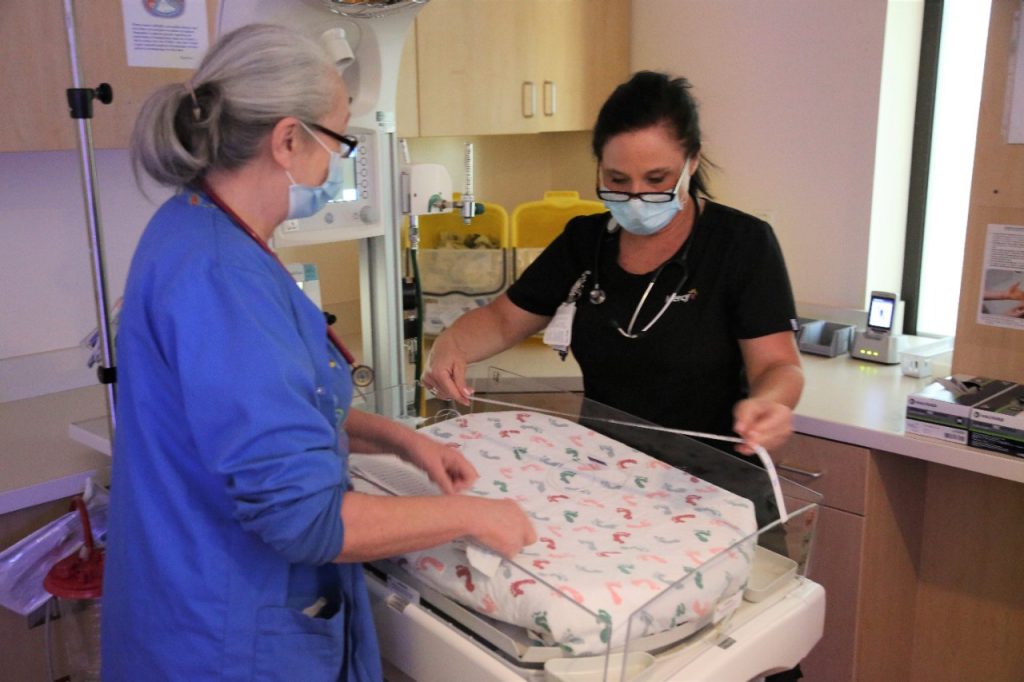 Nurses help provide 24-hour care at Mercy Fort Smith's neonatal intensive care unit.
Terri Hocott, clinical nurse manager of Mercy Fort Smith's neonatal intensive care unit, said the maternal fetal medicine clinic goes hand-in-hand with the care newborns receive through Mercy Fort Smith's NICU.
"That really flows over to us in the NICU because it allows the moms to stay here and get the care they need while they're pregnant, so if she delivers early and she's here, then her babies are in the NICU instead of Little Rock," she said. "Now, she can stay here and deliver here while she's close to home. That's really good."
Mercy Fort Smith's NICU is Level IIIA, meaning babies born around 26 weeks or weighing 750 grams (about 1.65 pounds) can be treated, although younger babies have been treated at Mercy Fort Smith.
"We have kept younger and smaller babies once they're born, once they've been delivered here, if mom does not want to ship the baby," Hocott said. "They can stay here and we can take care of the baby as long as he or she doesn't need any kind of surgical intervention. We pretty much can do anything besides surgery here."
Mercy Fort Smith's NICU features dedicated respiratory therapists who provide assistance, in addition to dedicated nurses within the unit. Mercy's transport team often picks up babies from other hospitals so they can be cared for in Mercy Fort Smith's NICU. Mercy can go out to smaller hospitals with lower-level NICUs and bring the babies back to Fort Smith so they're still close to home.
A technology upgrade on the horizon is the use of transcutaneous oxygen measurement (TCOM), a sensor on the skin that measures blood gasses so blood won't have to be drawn so often. 
"When you've got a little, tiny baby that's like 1½ pounds, you don't want to draw blood from them frequently but you need that to know the blood gasses," Hocott said. "But with the TCOM we won't have to do that so frequently. When we get those in, that'll be really nice."
Groundbreaking on the new Ronald McDonald House behind Mercy Fort Smith's Labor & Delivery department took place Dec. 16. The house is expected to open in late summer 2021.
Also on the horizon is a new Ronald McDonald House to be built behind the Labor & Delivery department at Mercy Fort Smith. Groundbreaking for the long-anticipated house was Dec. 16, and it is expected to open in late summer 2021. Demolition on a building that once housed the Mercy Health Foundation at Mercy Fort Smith began in late December.
The new house will continue support provided by the Ronald McDonald Family Room, which opened a decade ago at Mercy Hospital Fort Smith. The new house will increase the number of families receiving support from four to 15 at a time. In addition, the new facility will provide space for siblings.
"We'll have 15 rooms. That means more parents close by to their babies, to be able to be with the critical babies, to breastfeed and to participate in their care and to learn how to take care of their babies," Hocott said.
"A lot of our NICU moms aren't first-time moms, either," Cole added. "So, the house will allow families to stay there, and that's the big thing. The houses will allow a sibling over there. That'll be a really nice addition to help keep the family together. We can't wait to watch it come up. We're so excited."
Postpartum follow-up
Durkin continued to receive support both from Mercy and the McAuley Clinic after her son was born through postpartum appointments and assistance with breastfeeding, pain management and more. Staff even set up an appointment with a pediatrician once her son was born, Durkin said.
"The best thing about medicine is definitely the postpartum visit," Herrold said. "We worked throughout an entire pregnancy, trying to get this baby to have the best possible medical outcome, and then finally when mama comes through the door at their visit, I'm able to see this little one that we worked so hard to get here, so it's always a rewarding thing to see, the happiness that's on the mama's face and just the little bundle of joy."
Everything offered through Mercy for both expectant mothers and newborns creates a sense that "We're almost a contained little hospital here," Cole said.
"We've got an ED, we've got an operating room, we've got everything," she said. "I think we've got some amazing, very experienced nurses, not only in Labor & Delivery but in the NICU. We have the neonatologist on staff and his advanced practice nurses. We have the hospitalists on staff that really support the nurses."
Now that she has graduated from UAFS, Durkin is looking forward to beginning her career as a nurse. She appreciates everything she received from Mercy as a patient.
"They really are great," she said. "They make you feel like you're being taken care of."