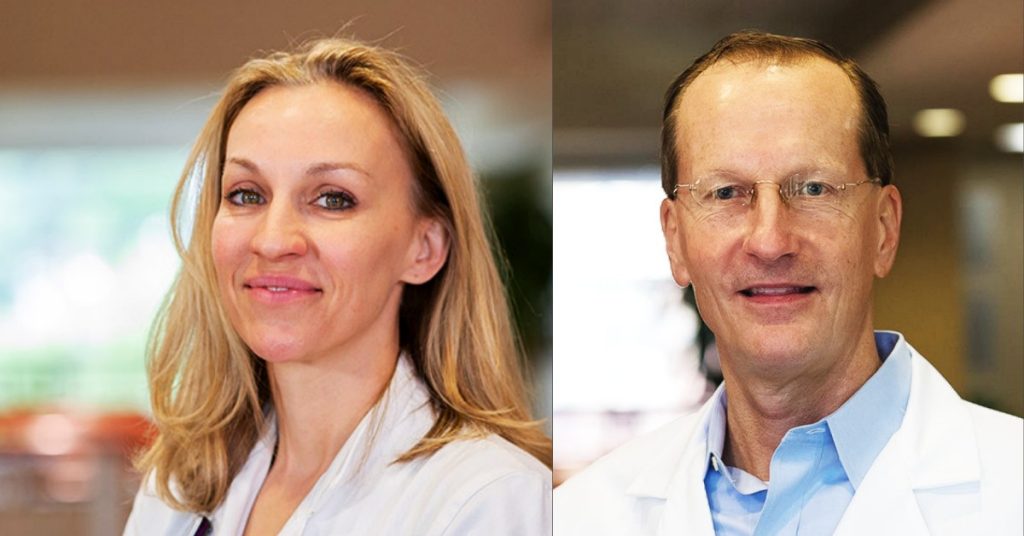 Having both recently received the vaccine themselves, Drs. Ann-Elizabeth and John Mohart shared their personal experiences and why they made the choice to get it.
"We've spent our whole life getting vaccines and they are the single most important preventative health measure," Dr. Ann-Elizabeth Mohart said. "I have personally done a lot of clinical trials. Even before this vaccine was available, I did a lot of research to determine if I would put this in my own body as well as my kids' bodies. While the technology has changed a little bit, this vaccine is nothing new and has excellent safety and efficacy data. Once we received the Emergency Use Authorization (EUA), I got the vaccine that day. It was the first glimmer of hope in this pandemic."

She continued by describing the emotional experience of the day, "When I went to get the vaccine, the room was filled with nurses, doctors, technicians and other caregivers. It was the first time in the last six months that I felt joy, happiness and laughter inside the hospital. The feeling was a massive shift from what has been a hopeless and oppressive energy as we have dealt with tremendous amounts of illness and death. This disease has deprived us of human connection and most people would say they would do anything to get their life back. We are in a health care crisis and that requires bravery. We can't expect our communities to take action if we don't lead by example."
Dr. John Mohart added his thoughts on the most compelling reasons for co-workers to take action and get the vaccine.
"Vaccines have saved more lives and suffering than anything we've ever done in medicine. Polio, as an example, had a devastating effect on people's lives prior to the vaccine. We've all suffered a lot in 2020 and this is the way we can end this pandemic for ourselves, our families, our children and the patients we serve. This is the way out. Without it, we're looking at years of the same pattern. With it, we can be out of this pandemic in April or May. I know some people are a little nervous that this vaccine came out so quickly, but the reason is simple. The science was followed to a tee, but we had tremendous government funding very early on, so the efficiency was due to this financial backing, not a lack of science."
The doctors continued by discussing several myths that have been circulating.
Dr. John Mohart commented, "The biggest misperception is about fertility issues. I want to confirm that there's absolutely no data that the COVID vaccine causes infertility."
Other myths they've heard include things like the vaccine actually gives you a mild case of COVID-19, if you've had COVID-19 you don't need to get this vaccine, the vaccine can alter your DNA, the vaccine contains fetal tissue, and the vaccine contains a microchip that the government will use to track people. The doctors explained why each of these fears are untrue.
Dr. Ann-Elizabeth further elaborated on the concerns of people of color getting the vaccine, saying, "Historically, trials were mostly done on white men, but things have changed. This set of studies was done on a large population from different backgrounds and ages, including diverse racial groups. People of color have valid concerns about research based on our country's history, but I can assure them from the bottom of my heart that the studies were done ethically and showed no difference in safety across all groups. I hope that they have the faith to go get the vaccine."
To mitigate these and other concerns, both doctors emphasized the importance of finding someone in health care that you can trust.
"So many people get their information from social media and other apps that are not valid sources," said Dr. Ann-Elizabeth Mohart.
"The physicians in your community are your experts," commented Dr. John Mohart. "The risk of getting COVID is very real and very dangerous. And the scary thing is it's not just the elderly and people with health conditions who are at risk; we see young, healthy people who get very sick. Getting the vaccine will protect you with minimal side effects for most people. 85% of our Mercy physicians have already received the vaccine because they're listening to the science."
Dr. John Mohart continued by sharing the urgency of the situation in terms of the vaccine's availability, "As health care workers, we've had a monopoly on access to the vaccine, but those days are coming to an end. The phones are ringing off the hooks from patients wanting the vaccine, so the demand will soon greatly outstrip our supply."
The doctors expressed feelings of gratitude for their fellow Mercy co-workers and the efforts of those who developed the vaccine.
"I've been a physician for 20 years and this has been the most emotionally fatiguing experience in my professional life," said Dr. Ann-Elizabeth Mohart. "A crisis like this shows you how remarkable people are. I work with the bravest, toughest, most compassionate human beings. They never hesitate to show up to work and wear that PPE for hours on end. I'm proud of them and proud to have been part of this process, even though it was painful. And I'm proud of our country for knocking out this vaccine in an astonishing timeframe. This vaccine has been the only thing that gives us hope to get up in the morning and do it for a few more months. The morale boost in the hospital is really palpable. Metaphorically, we are in the darkest days of winter, but we're headed into a spring and summer that gives us a light at the end of the tunnel. So, every time someone comes to me and says they can't do it anymore, I ask, 'Have you gotten your vaccine?' It's like being in the middle of the ocean and that's our lifeline. We have to take hold of it."
"This is our first offensive weapon against this virus," Dr. John Mohart concluded. "It's the first time we can take back control so we can continue doing the things we love to do. I'm also proud of all of our caregivers, but now we need to do what's right – for ourselves and for society to get rid of this pandemic. This vaccine is a miracle and it's our only way out."
We're debunking the biggest myths at Mercy, one topic at a time.
Determine your eligibility and submit a request to receive your state-provided COVID-19 vaccine through Mercy.