Melissa Green has two very active kids who play year-round sports, and sometimes, that means they're unexpectedly headed to see a doctor.
"We say 2020 was the year of injuries," Melissa said. It started with 14-year-old Taylor, whose ankle turned in an odd way during a basketball game. "We had her coach look at it, but it wasn't swollen or bruised, so we figured it would be fine," Melissa remembered. But, by the next morning, Taylor couldn't put any weight on her ankle. She needed it looked at, but Melissa knew she'd rather not go to the emergency room.
"First, I'm at high risk for COVID, so I'm worried about germs," Green said. "But there can be injuries and other things you don't want your kids to see when you're waiting in the ER. We'd gone other places for injuries in the past, but a friend had told me about the orthopedic walk-in option at Mercy, so we decided to try that."
Mercy Orthopedic Walk-in Care is located at Mercy Orthopedic Hospital Springfield, off Highway 65 at Evans Road just south of Springfield. It's designed for patients ages five and older who have orthopedic injuries that have occurred within the past two weeks.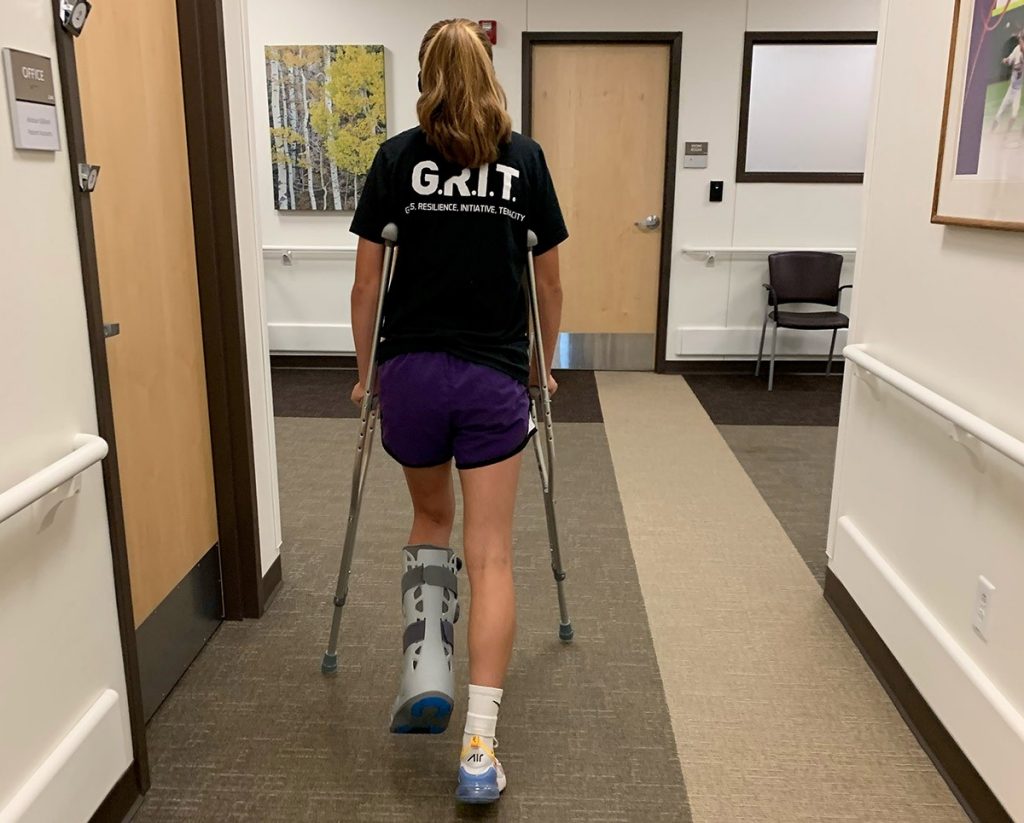 Taylor Green leaves Mercy Orthopedic Walk-in Care in a boot, after fracturing her ankle during a basketball game.
"We were seen in less than 15 minutes, and X-rays were fast, too," Melissa said. It turns out Taylor had fractured her ankle in an odd spot. "My husband works offshore, so the staff even let me take a picture of her X-ray to share with him. I've never broken a bone, so I had a lot of questions. But they really listened to me and answered everything."
Getting help was a good call. "Taylor's fracture was unique in that it was near a previous growth plate," said Dr. Landon Hough, Mercy Sports Medicine physician. "It could've been easily overlooked or attributed to continued growth. The X-rays we took showed us it was truly a fracture, so we immediately got her into a walking boot for protection."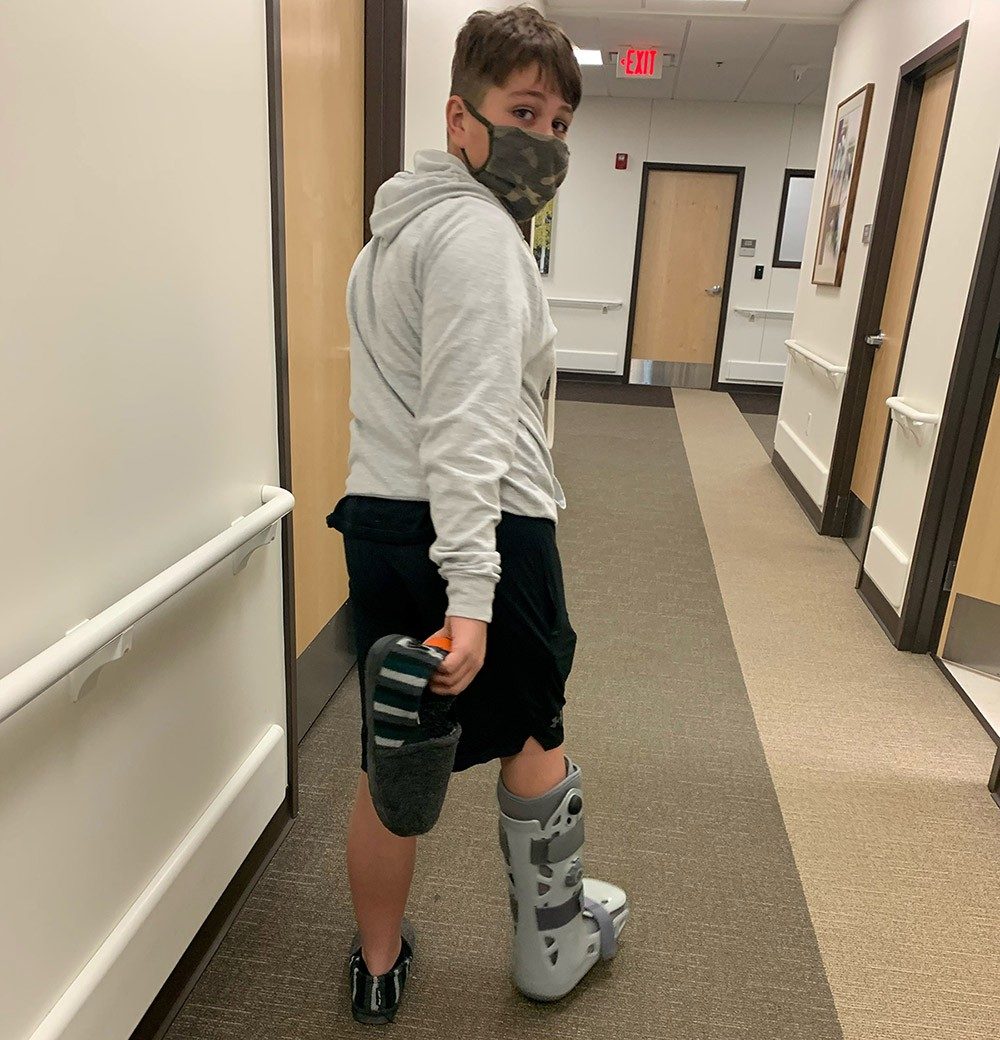 Gage Green injured his Achilles tendon during a game. Like his sister, he left Mercy Orthopedic Walk-in Care in a boot.
It didn't take long for Melissa's 13-year-old son, Gage, to also get hurt in a basketball game. "He came down hard and we knew something wasn't right," she said. "We headed back to Mercy. Turns out, his Achilles tendon was inflamed."
"Achilles tendinitis typically comes on fast and can be pretty debilitating," said Dr. Royce Moore, Mercy Sports Medicine physician. "We needed to get the inflammation calmed down. After a short period in a boot and an anti-inflammatory medication, Gage could get back to his activities relatively quickly."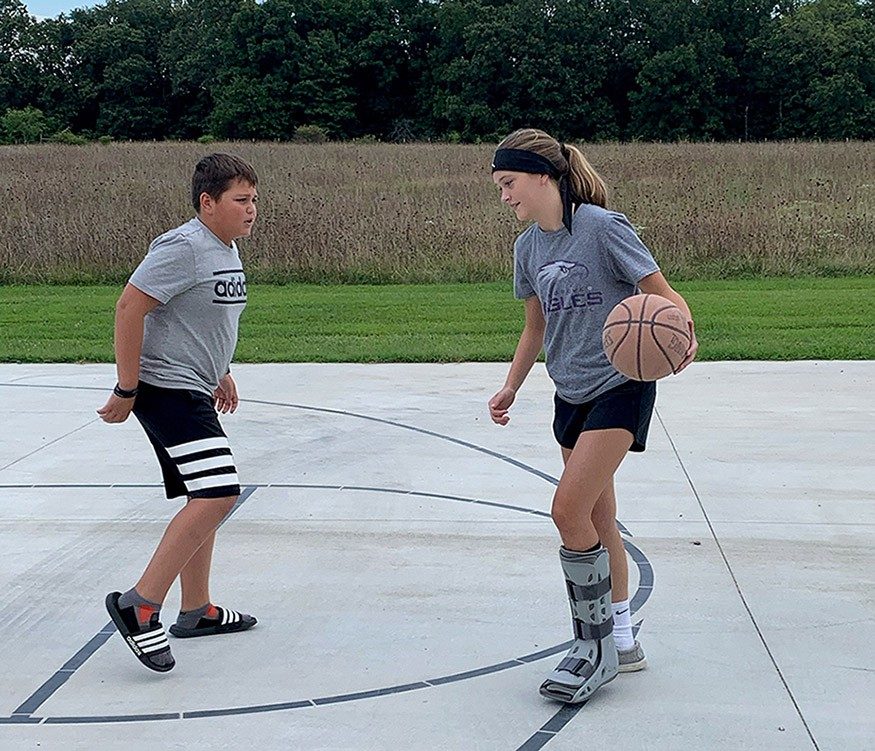 The siblings kept up their skills with a light one-on-one game, even as Taylor continued to heal.
These days, both kids are fully recovered and back on the court. "I've been recommending the walk-in clinic to all the other parents," Melissa said. "The facility is so nice, the staff was super friendly, it was fast and we got such good care."
Mercy Orthopedic Walk-in Care is open from 8 a.m. to 7 p.m. Monday through Thursday, and on Friday from 8 a.m. to 4:30 p.m.