Erika Gerkens missed her first chance at a second dose of the COVID-19 vaccine, yet she feels lucky and blessed. Instead of getting the vaccine, she ended up receiving life-saving care for another immediate health threat.
Gerkens, 79, and her husband, Horst Gerkens, 81, arrived at Mercy COVID Vaccine Clinic – Kirkwood about 6 p.m. on March 26 for their vaccine appointments. The couple had received their first doses at the clinic three weeks earlier with no problems. As they got out of their car to enter the clinic, Gerkens said she was having a little trouble breathing. They walked inside and took the stairs to the second floor. Gerkens' breathing worsened, and she asked to sit down to catch her breath before she got to the registration table.
Kay Holmes works full time as a medical assistant at Mercy Clinic Family Medicine – Wildwood. She then heads to Kirkwood to work several more hours each day helping administer the COVID-19 vaccine. Holmes was there when the Gerkens arrived. She saw Erika Gerkens struggling, so she walked over to check on her.
"She kept telling me she was OK, that she just needed to catch her breath," Holmes said. "But I knew something was wrong, I could feel it. Her breathing wasn't improving, and she was unable to answer any of my questions."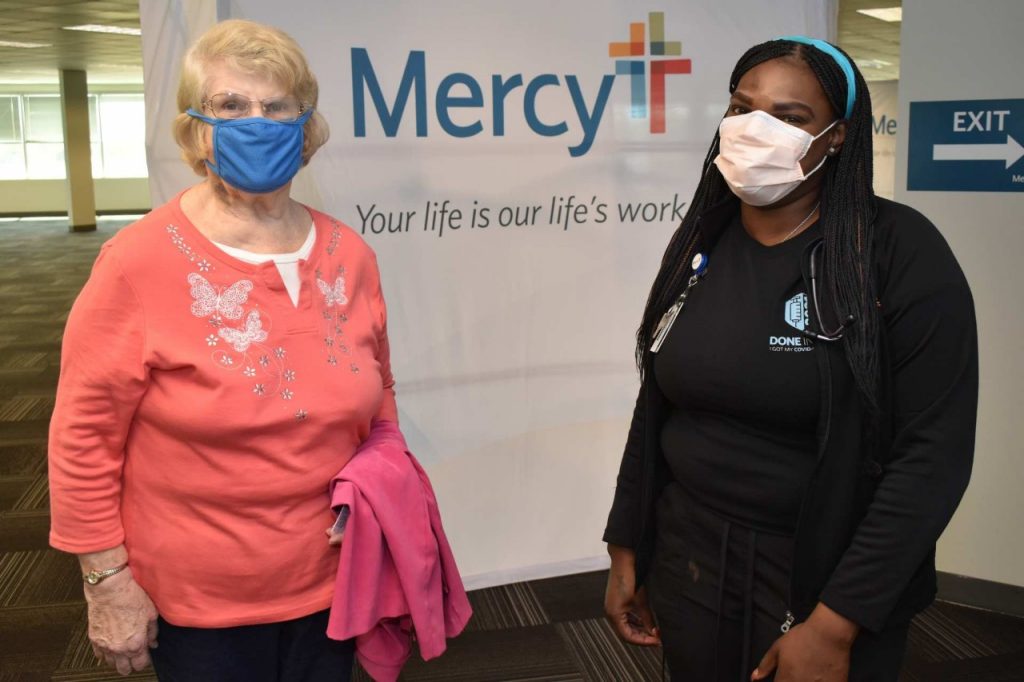 Erika Gerkens (left) and Kay Holmes (right) reunited at the Mercy COVID Vaccine Clinic - Kirkwood when Gerkens returned to receive her second vaccine dose.
Holmes ignored Gerkens' insistence that everything was OK and turned to the nurses at the vaccine clinic for additional help. She started with nurse Ana Casey, who knew two other vaccine nurses, Don Vogel and Marilyn Datillo, have emergency medicine experience. This team cared for Gerkens until an ambulance arrived to take her to Mercy Hospital St. Louis.
Once at the hospital, doctors diagnosed Gerkens with a STEMI, a serious type of heart attack. Dr. Jeanne Cleveland performed open heart surgery to bypass two of Gerkens' arteries that were each 99% blocked. Gerkens spent the next eight days in the hospital recovering, followed by another week recuperating at Mercy Rehabilitation Hospital St. Louis.
Gerkens returned home April 8. She was eager to head back to the vaccine clinic to receive her second dose, saying she wanted it more than she expected. Just five days after leaving the rehab hospital, she walked back in the vaccine clinic, this time taking the elevator, so she and her husband could receive the second doses they missed out on. She also reunited with Holmes and some of the other co-workers who saved her life.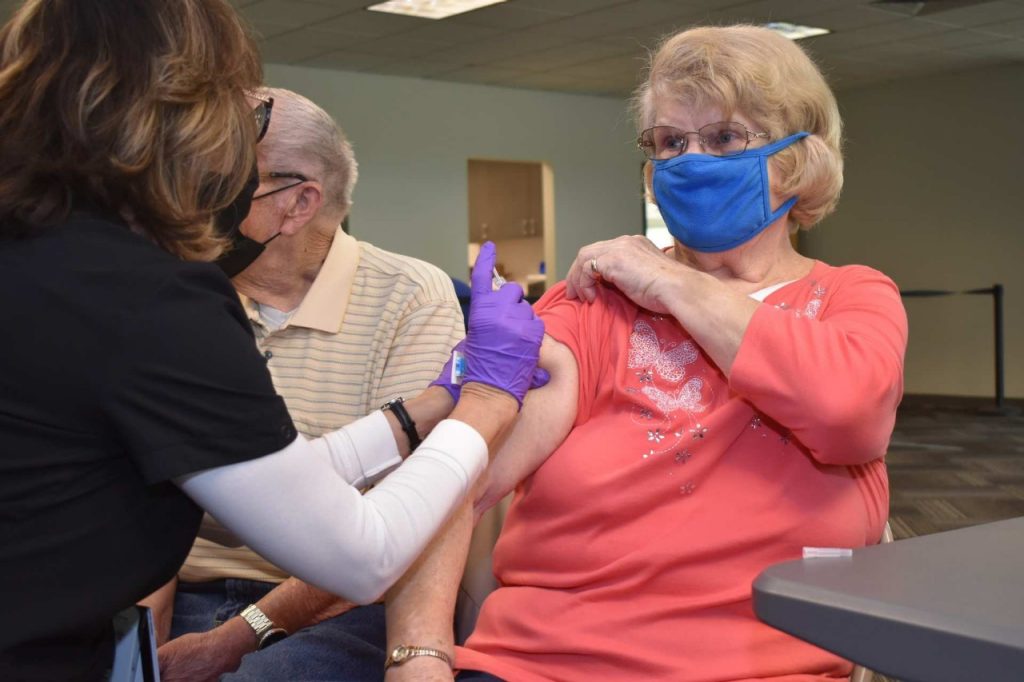 Erika Gerkens receives her second dose of the Pfizer COVID-19 vaccine.
"I don't remember Kay or much of what happened after I arrived that day," Gerkens commented. "They say I was being stubborn, not wanting to draw attention or receive help. That sounds like me.
"I feel lucky and blessed to be alive. I was in the right place to have this happen while I was surrounded by people who knew how to immediately help me."
Gerkens said she feels alright considering what she went through. She is still doing physical and occupational therapy through Mercy's home health services.
"It takes time to heal," she said. "Having a good husband and good family is very helpful.
"My three sons told me they were sorry I had to miss out on Easter with the family. I told them, 'Don't feel sorry; I'm blessed to be alive.' Now, we can look forward to celebrating together next Easter."
Find the nearest Mercy COVID Vaccine Clinic location and schedule your appointment.