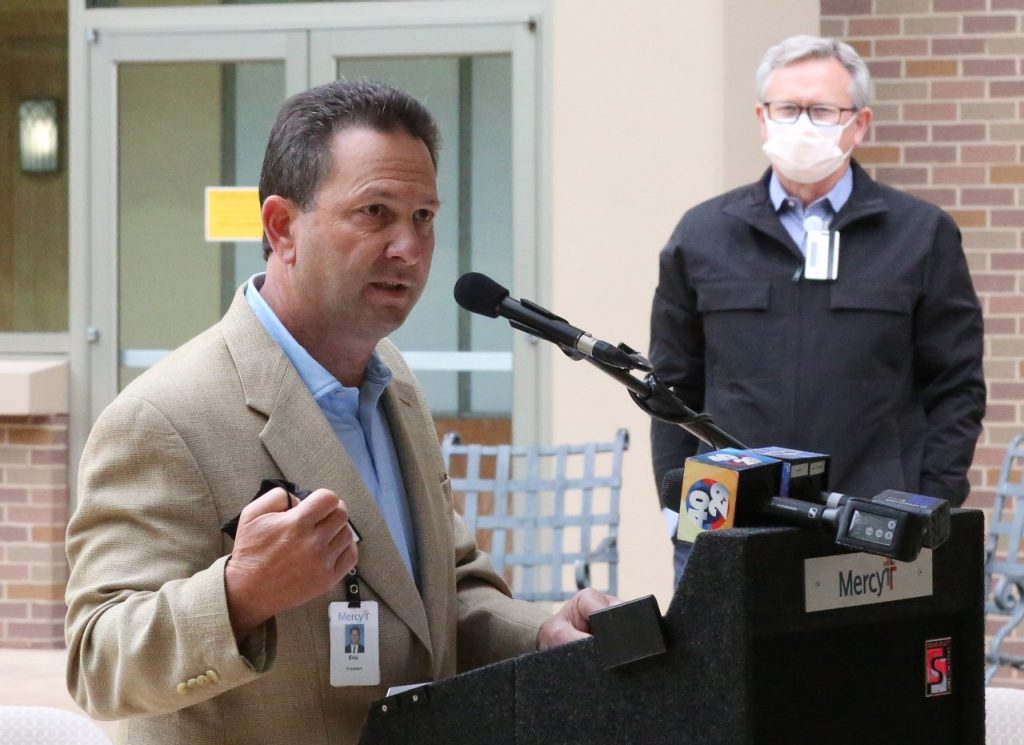 Eric Pianalto, president of Mercy Hospital, offers his thanks to Mercy Northwest Arkansas co-workers Monday during the "Brighter Days Ahead Because of You" event while Dr. Steve Goss, president of Mercy Clinic, looks on.
Mercy leaders gathered Monday to celebrate Mercy co-workers' dedication and sacrifices during the pandemic and to honor patients who lost their lives to COVID-19.
The day of remembrance titled "Brighter Days Ahead Because of You" kicked off Mercy Northwest Arkansas' celebration of Health Care Week, which began Sunday and ends May 15.
A backdrop of pinwheels signified more than 900 COVID-19 patients cared for at Mercy Hospital Northwest Arkansas during the pandemic, and another 140 pinwheels honored patients who succumbed to the disease while in Mercy NWA's care.
"The toll of COVID-19 has been devastating to families who lost loved ones and monumental for everyone across all spectrums of society," said Mercy Hospital President Eric Pianalto. "Through it all, our co-workers stepped up to the plate, month after month, working through fear and exhaustion to ensure the highest level of care for patients enduring a tricky and too often a deadly disease."
Pianalto recognized Paul and Martha Bergant for donations benefitting Mercy Northwest Arkansas' recently completed $300 million expansion and making possible the addition of sculptures and a water feature dedicated to health care workers. The new artwork adorns the hospital's Bergant Terrace, which is named for the couple.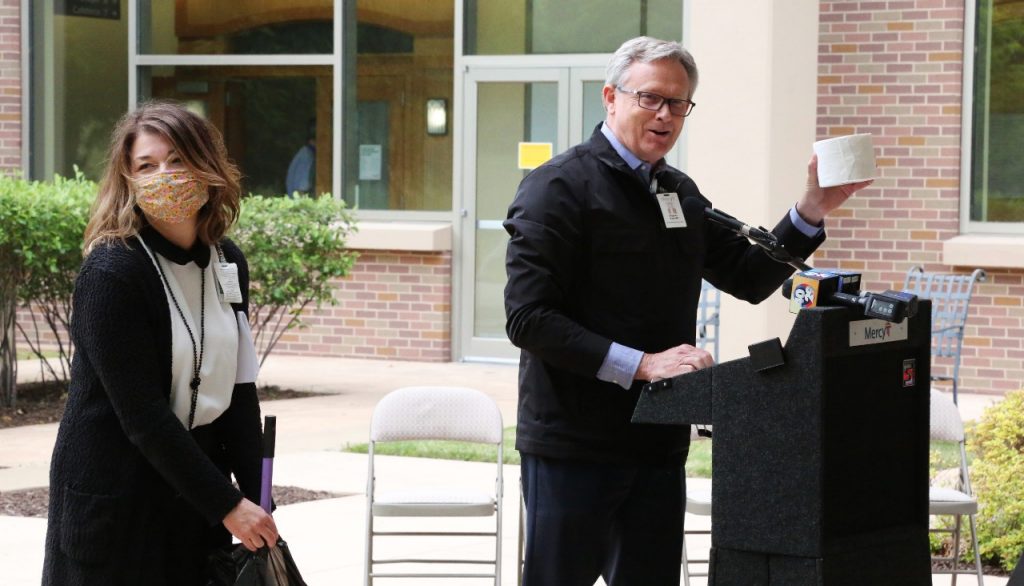 Dr. Steve Goss, president of Mercy Clinic, offers a humorous take during his reflection of COVID-19 during the "Brighter Days Ahead Because of You" event on Monday. Holli Oliver, director of mission and volunteers, looks on.
"Your generosity and friendship through the years means the world to us, and we thank you for honoring our co-workers in this way," Pianalto said.
Mercy Hospital Northwest Arkansas continues to care for patients diagnosed with COVID-19 but recently was able to reconfigure space dedicated to COVID-19 patients because the number of patients is much smaller than during the worst months of the pandemic.
Mercy leaders encouraged everyone to continue practices that can help bring an end to the pandemic, including being vaccinated, maintaining social distance and wearing a mask while outside your own household.
"We have hope that there are brighter days ahead because of you," said Dr. Steve Goss, president of Mercy Clinic Northwest Arkansas. "We're not completely out of the woods yet, but we think with more vaccinations and continued vigilance to prevent the spread of coronavirus, we can stay on a path to defeating COVID-19."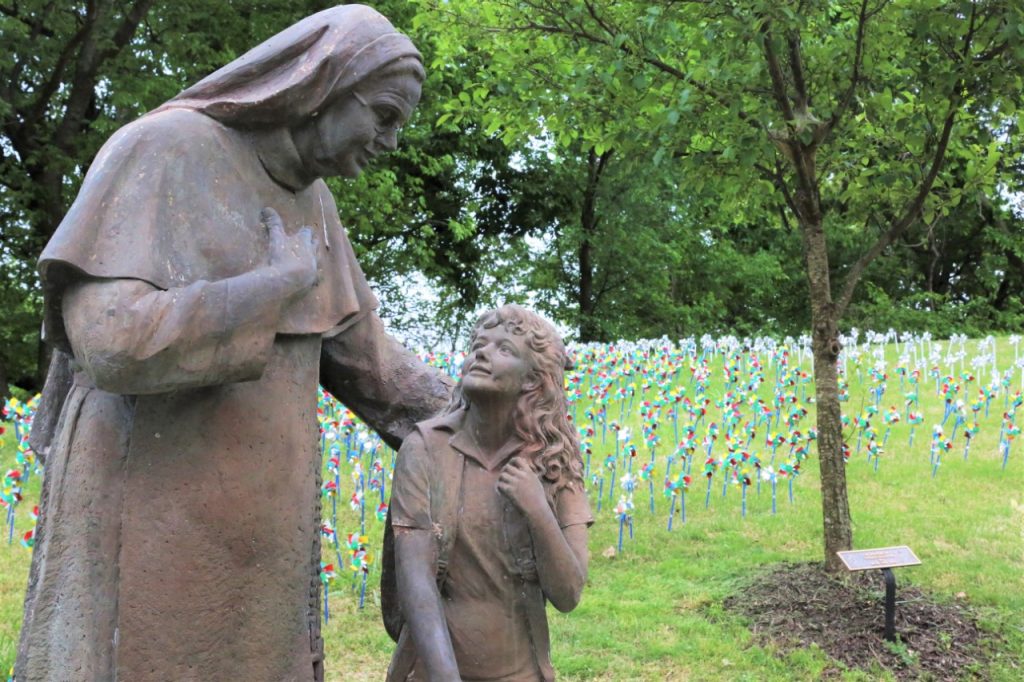 Pinwheels placed at Bergant Terrace at Mercy Hospital Northwest Arkansas represent more than 900 Mercy Northwest Arkansas patients treated for COVID-19 as well as 140 who died while in Mercy NWA's care.