WASHINGTON, Missouri - Washington Area Chamber of Commerce and the Missourian Media Group honored Lindsey Simmons, PharmD, Mercy Hospital Washington's director of pharmacy services, with its annual Outstanding Young Professional Award  - one of 14 in this year's class of recipients.  The award recognizes an employee or member of an organization 40 or younger who has made significant contributions to their company.
Simmons was selected by Mercy Washington President Eric Eoloff, and Mercy Clinic Four Rivers President Dr. David Chalk, because of her "can do" attitude.  She led the COVID-19 vaccination response before it was launching, making plans, and preparing for the green light to enact the plan. Once the vaccination clinics were up and running, she moved to the next challenge of setting up COVID vaccine clinics throughout the community – in Union and at the Town & Country Fair.
Eoloff said, "For the last 18 months, Lindsey has stepped up in a variety of ways to ensure our caregivers and our community have access to vaccinations…All of these efforts took remarkable level of coordination and logistics to enroll each person in the MOVAC program, ensure documentation of their vaccination in our system and ensure an efficient workflow for patients and workers."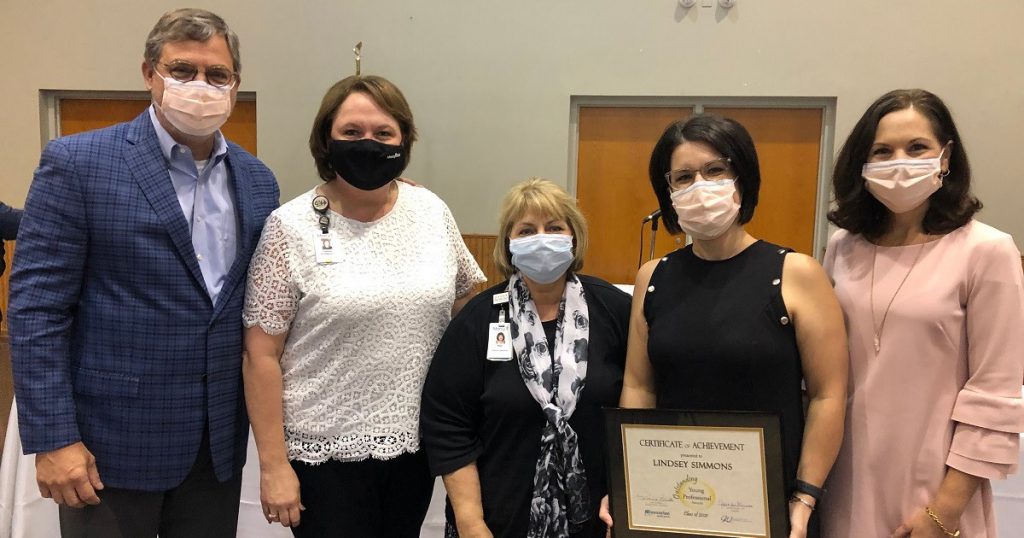 Pictured left to right: Eric Eoloff, Connie Schwoeppe, Kim Davis, Lindsey Simmons and Kelly Schmidt
Not only did she coordinate the materials logistics but also recruited the volunteers needed to work in the clinics at early and late hours each day.
Over the last nine months, Simmons has made it possible to distribute more than 38,000 doses of the COVID-19 vaccine. Dr. Chalk added, "This strong commitment to Washington and the surrounding communities is a testament to her belief in helping everyone stay healthy and safe during the pandemic crisis."
Simmons joins the list of past Mercy winners of the OYP that includes, Bill Hellebusch (2017), Jenna Speckart (2018), Michelle Kasmann (2019) and Frank Hemmer (2020).