November 12, 2021
Athletic trainers with Mercy Sports Medicine are embedded inside many St. Louis metro area high schools and get to know the athletes throughout the year. As a way of highlighting outstanding students from these schools each month, a new Mercy Sports Medicine Athlete of the Month will be recognized. Athletes are nominated by coaches and selected by a committee.
Here are the Mercy Sports Medicine Athletes of the Month for the 2021-2022 school year.
October 2021
Charlie Krasnoff, a senior cross country runner at Ladue Horton Watkins High School, ran cross country all four years making it to state three of those years and placing third this fall. He set a Ladue record with a time of 15:20 and helped his team take fourth. Other honors include All State and Suburban Conference XC Champion. During his 2021 Track & Field season, Krasnoff was named 15th in the state and invited to run in the Festival of Miles, an elite track meet for top high school and professional runners from around the world. Along with countless athletic achievements, he maintains an overall 4.0 cumulative GPA and is recognized as a "great team leader, well respected student athlete and just a fantastic kid to be around."
Camryn Kessler, a senior softball player at Rockwood Summit High School, had an excellent season batting .441 with a .914 slugging percentage, with 12 home runs and 58 runs batted in. She set school records for home runs and RBIs in both a season and a career. She was named 1st Team All State. She will be continuing her softball career playing at Jefferson College next year.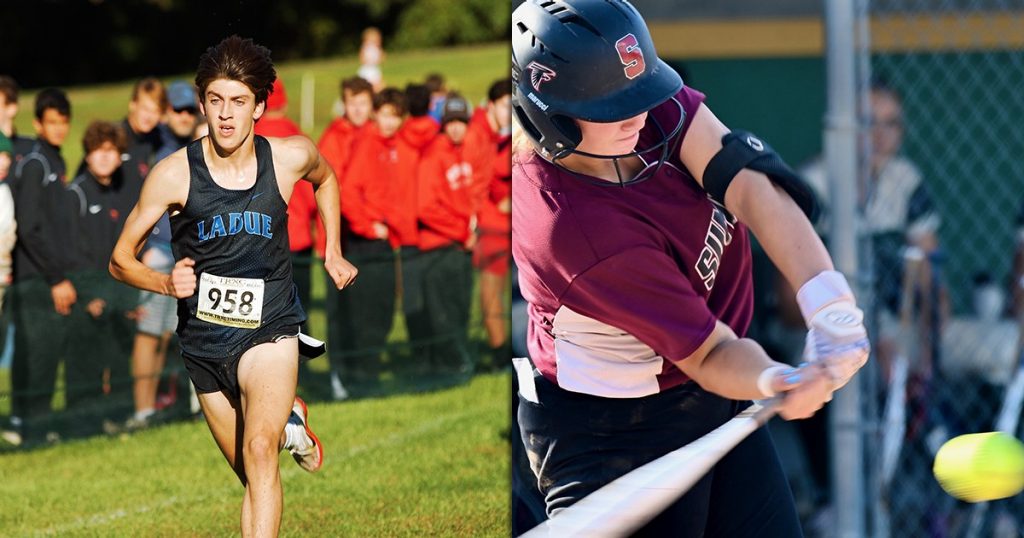 Charlie Krasnoff and Camryn Kessler - Mercy Sports Medicine Athletes of the Month - October 2021 (submitted photos)
September 2021
Sarah Taylor, a senior volleyball player at Clayton High School, was selected for her leadership skills on and off the court. In September, Taylor had 18 aces, 53 kills with a .348 hitting percentage and a passer rating of 2.49 out of 3.0. Along with her stats, she was recognized for the extra effort she puts in during and after practices to ensure her teammates' success, an "irreplaceable asset to our program" according to her coach. Taylor balances her volleyball responsibilities with academics earning straight As in seven advanced placement classes. She is also planning a dance marathon to benefit a local children's hospital.
Patrick Heitert, a senior football player at Christian Brothers College High School, is the team captain, starting quarterback and able to maintain a 4.2 GPA. In the first four games, he passed for 1,130 yards with seven touchdowns through the air and additionally rushed for 151 yards and five touchdowns on the ground. His coach said he's the hardest worker in the weight room and an overall great leader for the team and the school. He also serves as vice president of the school's student leadership council.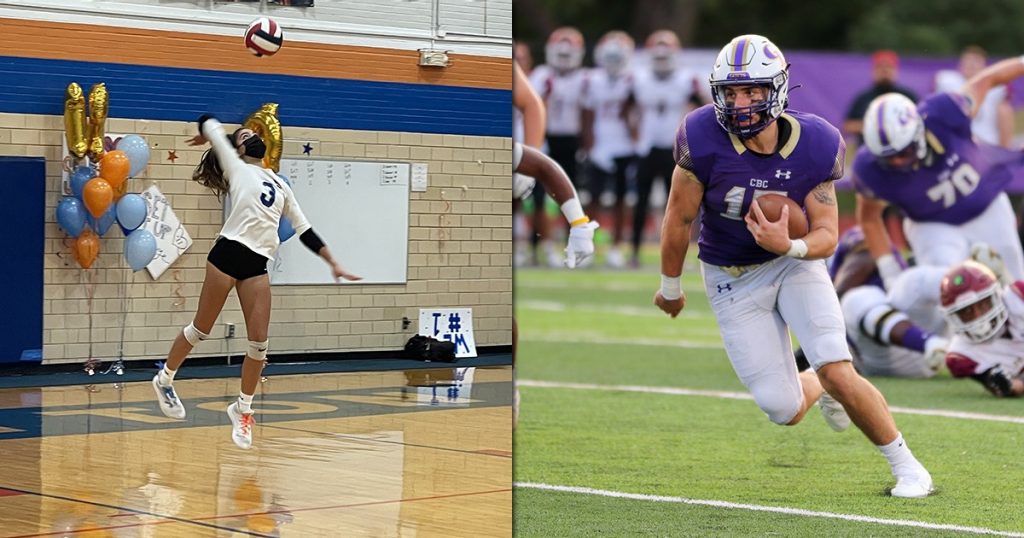 Sarah Taylor and Patrick Heitert - Mercy Sports Medicine Athletes of the Month - September 2021 (submitted photos)
Whether you need surgery to repair your rotator cuff or physical therapy to regain range of motion, Mercy's sports medicine team can help.
Media Contacts
Bethany Pope
St. Louis, St. Charles, St. Louis - South, Troy, Festus