Athletic trainers with Mercy Sports Medicine are embedded inside many St. Louis metro area high schools and get to know the athletes throughout the year. As a way of highlighting outstanding students from these schools each month, a new Mercy Sports Medicine Athlete of the Month will be recognized. Athletes are nominated by coaches and selected by a committee.
Here are the Mercy Sports Medicine Athletes of the Month for the 2021-2022 school year.
May 2022
Perry Rogan, a soccer player at Whitfield School, just finished her sophomore year. Her coaches say she is an incredible athlete and teammate. Time and again she focuses on what's best for the team.  Rogan tore her ACL and was unable to play her freshman season but still supported her teammates and attended every practice. Sophomore year, she was asked to play a different position and rather than complain, she focused on what was best for her team and excelled, leading to a successful season. She enjoys sharing her knowledge with others and helped coach the middle school girls and boys teams last year. Coach Rick Gam said, "She has been an incredible asset to her state champion team, the soccer program at Whitfield and the community as a whole."
Monte Weaver, a two sport athlete in football and track and field, just finished his senior year at Parkway North High School. He was involved in many extracurriculars outside of sports including book club, business netowrking events, Wall Street financial coures and National Honor Society. Weaver has been recognized for his leadership, athletic skill and academics. This track and field season, he was named First Team All Conference, All State Track in three events - placing sixth in the 100 meters, seventh in the 4x200 meter relay and eighth in the 4x100 meter relay. His coaches said, "Monte is an extremely hard working, driven student-athlete who strives to perform at his best in all aspects." He will be continuing his track and field career at Maryville University in the fall.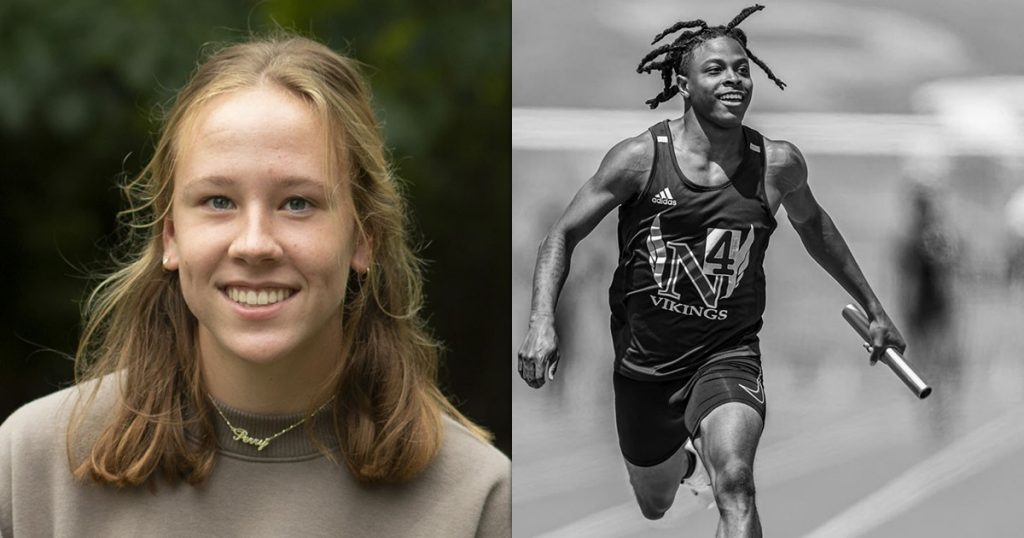 Perry Rogan and Monte Weaver - Mercy Sports Medicine Athletes of the Month - May 2022 (submitted photos)
April 2022
Sophia Schrader, a senior on the Parkway North High School Track and Field team, is recognized as a hardworking, dedicated student athlete. While she participates in running events and long jump, she dominates in pole vaulting. She set a personal goal to reach 12 feet, which she accomplished in the second meet of the season simultaneously setting a school record. By the end of the season, she broke both records by reaching 12 feet, 6 inches. Schrader is a team leader and is also involved in many clubs, organizations and activities at school and in the community. She is a member of the math honor society, placed second in a state cooking competition and volunteers as a gymnastics coach, summer camp leader, math tutor for elementary kids and is a life skills mentor for youth with special needs. She will continue her education and track and field career at University of Central Arkansas in the fall.
James Ramey, a senior water polo player at Ladue Horton Watkins High School, is team captain and serves as a great source of encouragement for his teammates. He is statistically the top water polo player in the state of Missouri with the most goals (144) and the most points (320), more than 20 goals ahead of the closest competition. He broke a single game record for scoring with 15 goals against top 10 ranked Lafayette High School. He led the No. 6 ranked Ladue team into the Final Four of the Missouri state water polo championship with a 17-7 defeat over No. 3 DeSmet. He was named Player of the Year in Missouri's Suburban Conference and is in the running for Missouri's Player of the Year. As an African American in a predominately white sport, he is working to help increase diversity and equity in water polo.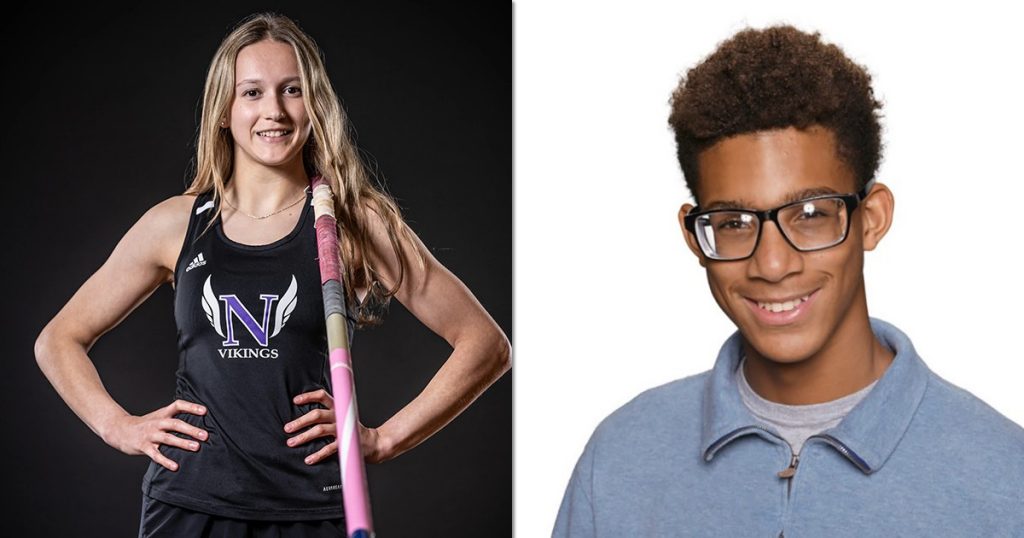 Sophia Schrader and James Ramey - Mercy Sports Medicine Athletes of the Month - April 2022 (submitted photos)
March 2022
Kylee Sullivan, a junior on Parkway South High School's swim and dive team, is a role model to those around her in and out of the pool. She performs at the top of her class academically and is one of the most decorated female swimmers in school history and a member of South's first championship team ever. Sullivan also swims for the Parkway Swim Club where she also helps with youth swimming lessons. She has given a verbal pledge to University of Missouri.
Garren Parks, a senior at St. Francis Borgia High School, is a three-sport student-athlete. He was an opening day starter in football, basketball and baseball this year. He took on a leadership role for his teams and has been a great role model to other students in the school. Parks battled through multiple injuries yet kept a positive attitude and was a very supportive teammate. He worked tirelessly during rehab sessions and at home to be the best athlete he could be and helped his team succeed. Parks will serve in the United States Marines Corps after graduation starting with basic training.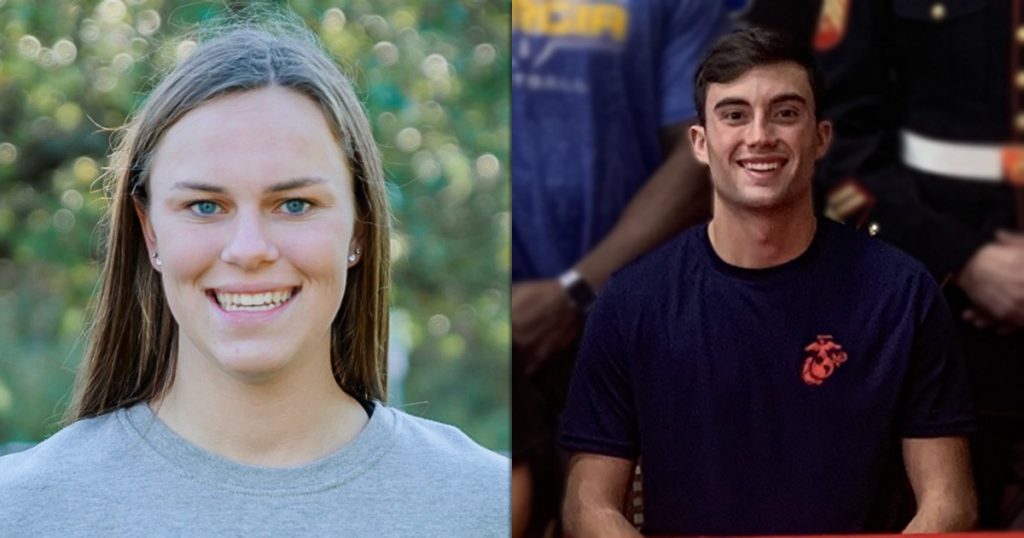 Kylee Sullivan and Garren Parks - Mercy Sports Medicine Athletes of the Month - March 2022 (submitted photos)
February 2022
Kaitlyn Patke, a senior volleyball and basketball student-athlete at St. Francis Borgia High School, has played both sports all four years in high school. She entered an elite club by reaching 1,000 career points in her senior season as a captain for the Lady Knights Basketball team. Patke was also a vital member of the Lady Knights volleyball team, which finished the season 30-5. Outside of sports she participates in numerous school and community organizations and serves as chapter president of the Student-Teacher Advancement Corp and Future Business Leaders of America. Patke's coach said, "Kaitlyn pushes her mind, body and spirit to the limit in her academic and athletic endeavors and is an excellent role model to her younger teammates and friends."
Evan Binder, a senior wrestler and scholar-athlete at Whitfield School, is a four-time Missouri wrestling state champion and two-time academic all-star wrestler. He received 1st Team All-Metro Wrestler honors by the St. Louis Post-Dispatch and has 80 plus community service hours this school year working with his church. Binder will continue his education and wrestling career at the United States Air Force Academy in Colorado Springs, Colorado in the fall.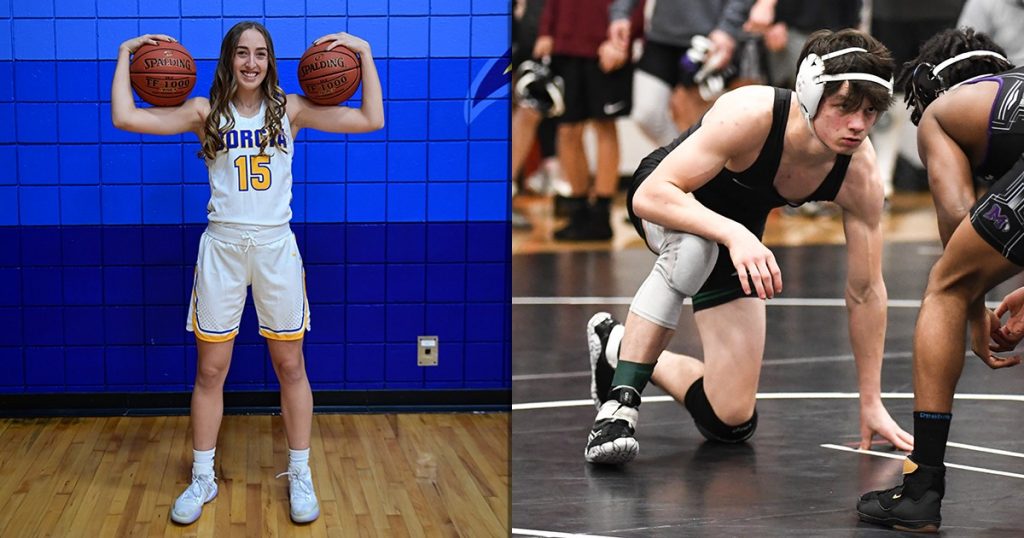 Kaitlyn Patke and Evan Binder - Mercy Sports Medicine Athletes of the Month - February 2022 (submitted photos)
January 2022
Faith Spicer, a junior wrestler at Fox High School, is an exceptional student, athlete and leader. She has wrestled all three years and has worked to build a solid female team in a male-dominated field. Spicer finished the season 18-7, a first-place finish at districts and first at the state championship, improving from an eighth place finish at state competition in 2021. Spicer continues to train during the off season and when she isn't in the mat room working on wrestling technique, she is in the weight room getting stronger. Her coach notes that as team captain, Spicer makes sure to motivate and teach the younger and newer female wrestlers all season.
Robert Martin, a senior basketball player at Christian Brothers College High School, is a great example of on and off the court, earning student athlete of the semester the last two years during basketball season. As a four-year starter and current team captain, he is currently leading the team, averaging 18.5 points per game, five assists, four rebounds and two steals. Martin has multiple Division 1 college offers and has been a strong candidate for Allen Iverson All-Star game in the spring.  In 2021, he was a national selection for the Battle in the Bluff All Showtime First Team, named Next Up Basketball 1st Team All Tournament at the King Cotton Classic, along with earning most valuable player at both the Norm Stewart Classic and the Highland Optimist Basketball Shootout. Martin reached the 1000-point milestone in his senior season. His coach has been most impressed with his leadership in practice and games.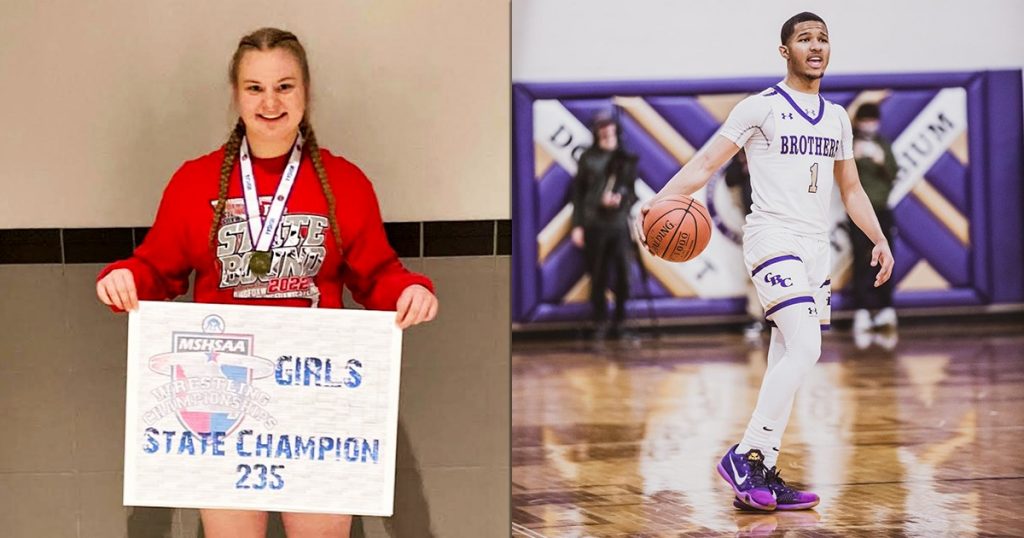 Faith Spicer and Robert Martin - Mercy Sports Medicine Athletes of the Month - January 2022 (submitted photos)
December 2021
Madeline Haynes, a freshman wrestler for Rockwood Summit High School,  has been a standout since the season began in November. She is 19-0 so far this season and won the 2021 Wonder Woman Girls Wrestling Tournament. Her coach says she's a hard worker in practice, is very coachable and puts in the time to perfect her skill - always looking for ways to outwork her competition. He adds, "During high stress situations in her matches, she stays calm and composed and doesn't rattle. I'm looking forward to seeing her grow over the next four years." 
Justin Duff, a junior basketball player for De Smet Jesuit High School, is a leader of the program averaging 20 points, three rebounds and two assists per game this season. Duff was named to the all tournament team in both the Annual Peoples Bank & Trust Invitational at Troy Buchanan High School and the Coaches Vs Cancer Tournament at Lafayette High School. He is an exceptional student-athlete, carrying a 3.8 GPA. Duff also gives back by helping train kids in the Summer for Knights Basketball Academy.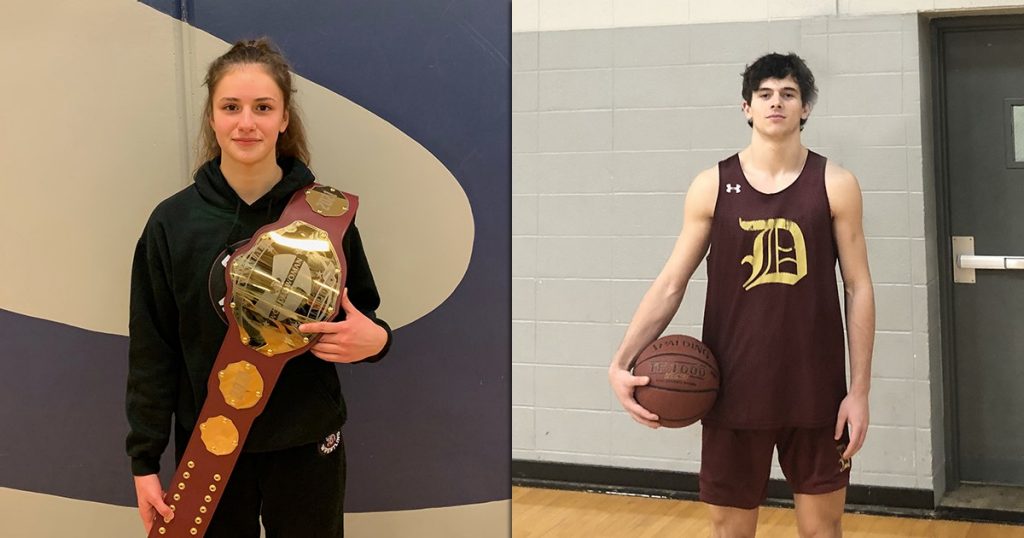 Madeline Haynes and Justin Duff - Mercy Sports Medicine Athletes of the Month - December 2021 (submitted photos)
November 2021
Abbie Zensen, senior basketball player at Parkway West High School, was selected for her positive attitude and work ethic that help create a great atmosphere at practice and games. She recently set a school record 36 points in one game and tied a school record with eight three-pointers in one game. As the team captain, Zensen is leading her team to a record start and a Parkway Tip-off win for the first time ins 2004-2005 season.
Nolan Schulte, a junior soccer team captain at Whitfield High School, helped guide his team to the Class 2 Missouri state soccer title. He led with 12 goals and one assist in five postseason games - including a hat trick (three goals) and game winner in the championship game. His coach said his positive attitude and constant building up of teammates played a significant role in winning the state championship.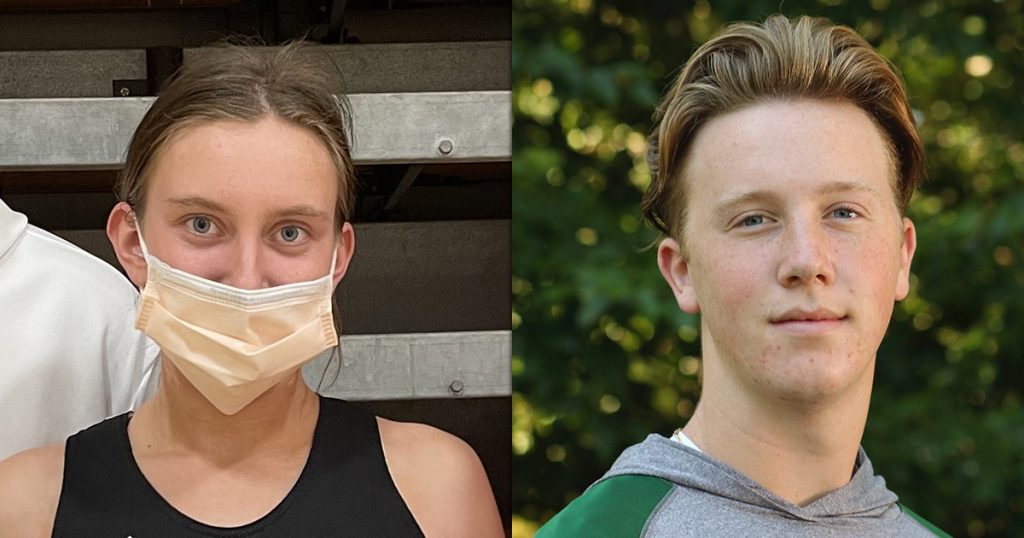 Abbie Zensen and Nolan Schulte - Mercy Sports Medicine Athletes of the Month - November 2021 (submitted photos)
October 2021
Charlie Krasnoff, a senior cross country runner at Ladue Horton Watkins High School, ran cross country all four years making it to state three of those years and placing third this fall. He set a Ladue record with a time of 15:20 and helped his team take fourth. Other honors include All State and Suburban Conference XC Champion. During his 2021 Track & Field season, Krasnoff was named 15th in the state and invited to run in the Festival of Miles, an elite track meet for top high school and professional runners from around the world. Along with countless athletic achievements, he maintains an overall 4.0 cumulative GPA and is recognized as a "great team leader, well respected student athlete and just a fantastic kid to be around."
Camryn Kessler, a senior softball player at Rockwood Summit High School, had an excellent season batting .441 with a .914 slugging percentage, with 12 home runs and 58 runs batted in. She set school records for home runs and RBIs in both a season and a career. She was named 1st Team All State. She will be continuing her softball career playing at Jefferson College next year.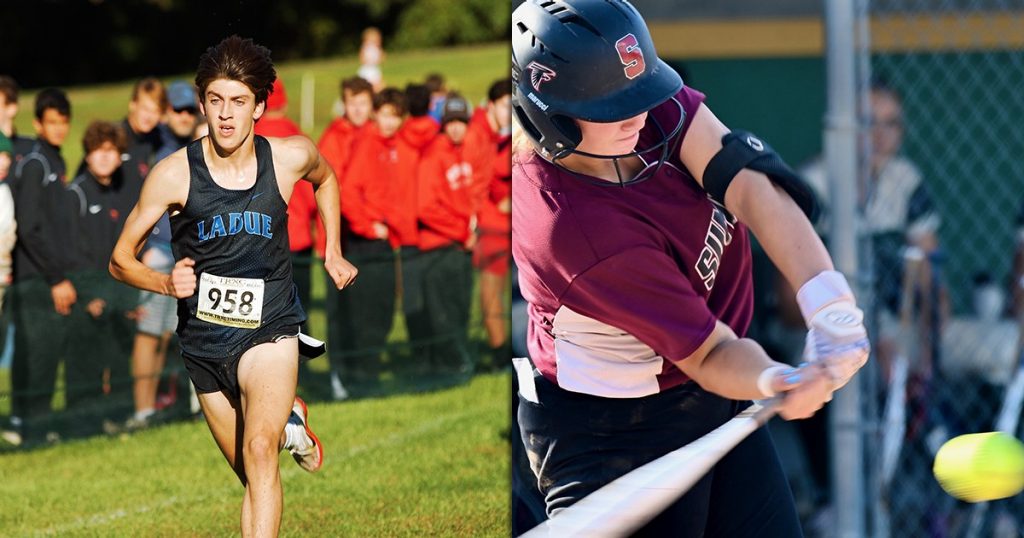 Charlie Krasnoff and Camryn Kessler - Mercy Sports Medicine Athletes of the Month - October 2021 (submitted photos)
September 2021
Sarah Taylor, a senior volleyball player at Clayton High School, was selected for her leadership skills on and off the court. In September, Taylor had 18 aces, 53 kills with a .348 hitting percentage and a passer rating of 2.49 out of 3.0. Along with her stats, she was recognized for the extra effort she puts in during and after practices to ensure her teammates' success, an "irreplaceable asset to our program" according to her coach. Taylor balances her volleyball responsibilities with academics earning straight As in seven advanced placement classes. She is also planning a dance marathon to benefit a local children's hospital.
Patrick Heitert, a senior football player at Christian Brothers College High School, is the team captain, starting quarterback and able to maintain a 4.2 GPA. In the first four games, he passed for 1,130 yards with seven touchdowns through the air and additionally rushed for 151 yards and five touchdowns on the ground. His coach said he's the hardest worker in the weight room and an overall great leader for the team and the school. He also serves as vice president of the school's student leadership council.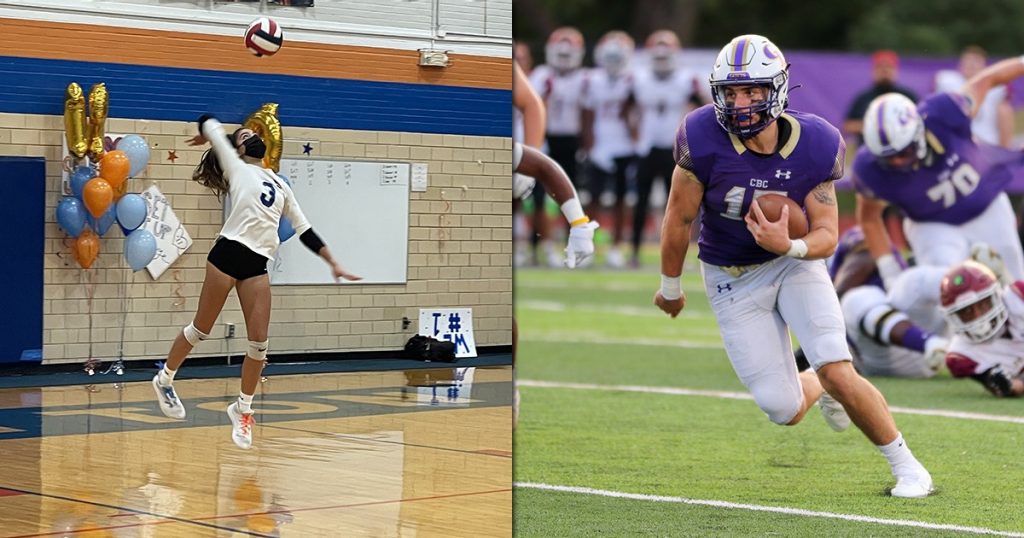 Sarah Taylor and Patrick Heitert - Mercy Sports Medicine Athletes of the Month - September 2021 (submitted photos)