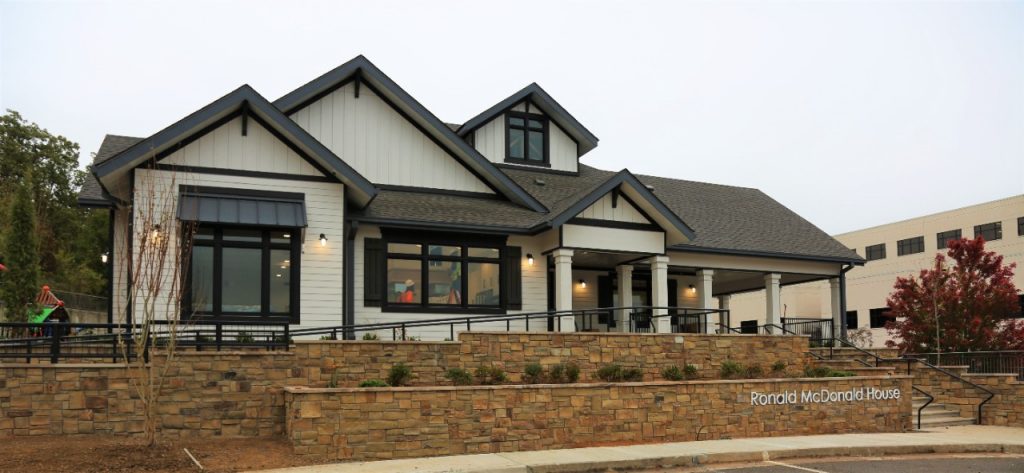 The Ronald McDonald House at Mercy Fort Smith opened Nov. 10, 2021.
With Mercy executives, doctors and others – including Ronald McDonald himself – on hand, the newest Ronald McDonald House officially opened Wednesday on the campus at Mercy Fort Smith.
The new, 11-bedroom house sits just behind Mercy's Labor & Delivery Department. Ground was broken on the project in December 2020. The house, along with the Ronald McDonald Family Room inside the hospital, means a total of 15 families can be served at one time.
During the grand opening event, Ryan Gehrig, president of Mercy Hospital Fort Smith, said he appreciated the vision for the house from the very beginning.
"This was done right," he said. "This commitment to excellence for our community and our patients is so much appreciated."
Stealing a quote from social media, Gehrig concluded by saying, "This is the house that love built."
"I think that captures the essence of why we're here," he said. "Fort Smith, in my opinion, is one of the most love, caring and generous communities I've ever been associated with. I hope you all take pride in that."
Stephanie Medford, president of Ronald McDonald House Charities of Arkoma, recognized a number of community members who were vital in the development of the house, as well as Dr. Victor Coloso and Dr. Andrew Riche' with Mercy Fort Smith.
"While a Ronald McDonald House can be a beautiful, comfortable place to eat, sleep and find respite, what really makes a Ronald McDonald House special is the staff and volunteers who are on the front line serving families in a crisis," she said.
Fort Smith Mayor George McGill's office issued a proclamation declaring Nov. 10, 2021, as Ronald McDonald House Day in Fort Smith. The Northside High School choir performed two songs during the event.
Ronald McDonald greets a visitor at the grand opening of the Ronald McDonald House at Mercy Fort Smith.