WASHINGTON, Missouri - Each month, a committee selects one co-worker at Mercy Hospital Washington from blinded nominations. The nominations highlight co-workers who have gone above and beyond and uphold Mercy values. The winner is honored with a picture and story on the hospital's recognition wall, a gift care and a reserved parking spot for the month.
January 2022 - Mike Huelsing
Mike Huelsing, acute care pharmacist at Mercy Hospital Washington, was honored as the January Co-worker of the Month. Huelsing was nominated by Lindsey Simmons, director of pharmacy services, who shared this in her submission:
"Mike goes above and beyond to make sure that his co-workers and patients are well cared for day in and day out. He is great at noticing when recognition is due and celebrating other co-workers. He will take it upon himself to bring in treats, coordinate events for co-worker recognition, or volunteer to cover shifts that he knows are going to be difficult to cover while others take PTO. He also volunteered to help with the single instance medication order entry process."
When Huelsing's second baby decided to arrive a month early he covered all the bases in the middle of night, arranging coverage for his 6 a.m. shift and alerting Mercy Jefferson they might need to help cover orders. 
Simmons said he did all that while while getting his wife to the hospital and arranging care in the middle of the night for his 4-year-old. "He really is a great example for us all, and I'm so thankful to have him in our department."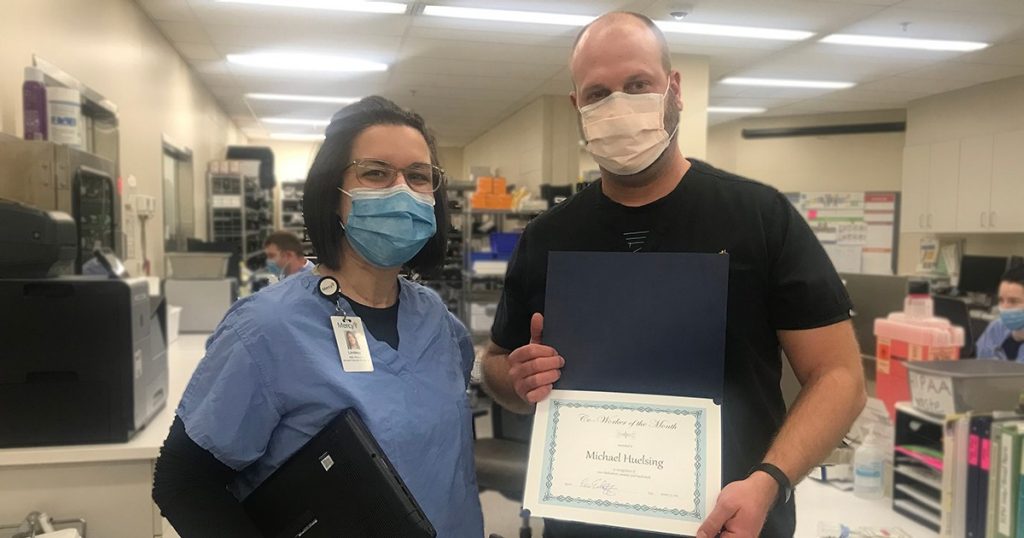 Lindsey Simmons presents Mike Huelsing with January Co-Worker of the Month award.