WASHINGTON, Missouri - A fixture in the Washington community for more than 23 years, Sister Michaelanne Estoup, who passed away in May, was recently honored by Mercy Hospital Washington leaders, Sisters and co-workers with the naming of a conference room. She served as a chaplain and later as a hospital volunteer, ministering to patients and co-workers and she walked the floors.
The recent memorial celebration and room dedication gave eight Sisters of Mercy the opportunity to pay their final respects to a great friend and colleague.
Sister Michaelanne was born and raised in New Orleans, so the event committee (Kelly Schmidt, Rev. James Austin, Libby Dotson and Mary Salois) knew it was only fitting to celebrate her life with plenty of Mardi Gras pizzaz.  Attendees wore purple, green and gold beads, along with festive masks.  After the service, everyone paraded across the campus bridge waving white hankies and humming kazoos to When the Saints Go Marching In, which also played on overhead speakers.
The route landed everyone on the third floor of Mercy Medical Building North. Eric Eoloff, president of Mercy Hospital Washington, welcomed the group and invited them to carry on the mantle of Sister Michaelanne and the Sisters of Mercy.
"This space is dedicated to Sister Michaelanne as a conference room, but also as a sacred space," he said. "This is a place where we do our Lord's work, and hopefully do it with a smile, a jig and waving a handkerchief or two."
The eight Sisters of Mercy who were present then blessed the hands of co-workers, asking the Lord to bring healing to all those touched by their hands.  Bill Hellebusch, Mercy Washington director of operations who recommended the naming of the new space, read a scripture followed by the Sisters singing the Suscipe of Catherine McAuley.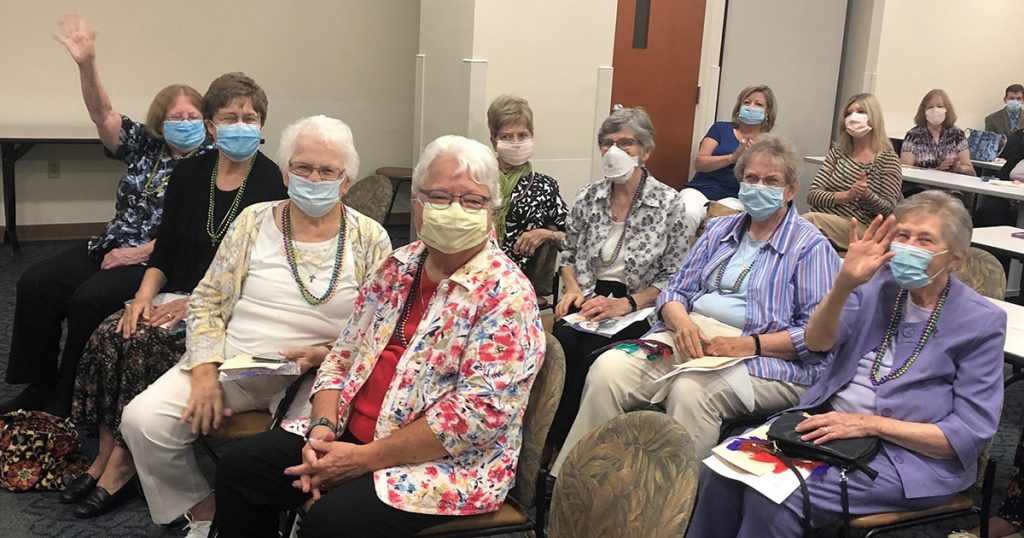 Sisters of Mercy gathered to celebrate the life of Sister Michaelanne Estoup. Front row, left to right: Sisters Joyce Christie, Sister Denise Sausville, Sister Annrene Brau and Sister Cabrini Koelsch. Back row, left to right: Sister Marie Annette Seymour, Sister Agnes Brueggen, Sister Gayle Evans and Sister Judith Carron.
Truly a moving and beautiful moment that certainly would have led Sister Michaelanne to say: "Pass a good time, dress up my shrimp po'boy, and Laissez les bon temps rouler (lay-ZEH leh BAWN taw ROO-leh)."  
Meaning, "Let's have a good time, fix my shrimp po'boy with lettuce, tomatoes, pickles and mayo, and let the good times roll!"  
The Sisters' final stop to celebrate Sister Michaelanne was for a cup of tea and New Orleans-style beignets. 
Mercy co-workers were later offered New Orleans' themed lunch and dinner created by Kodi Gildehaus, manager Food and Nutrition Services. The menu came complete with shrimp Creole, red beans and rice, smothered chicken and gravy, barbeque shrimp po'boy, blackened shrimp salad, chicken gumbo, fried okra and Sister "Michaelanne" rolls.  Mercy co-workers in the hospital and medical buildings who could not attend the celebration were able to partake in a cupcake dessert cart that made its rounds in the afternoon.    
May God bless Sister Michaelanne and thank you for sharing her with Mercy Washington.