ST. LOUIS - The love of baseball runs deep at any age, so when the opportunity to attend St. Louis Cardinals Fantasy Camp on behalf of Mercy presented itself, Bryce Davis jumped. He got to spend the day in Cooperstown, New York, with some of the Cardinals' all-time greats and experience the excitement of professional baseball up close and personal.
At just 24, Davis was diagnosed with testicular cancer and treated at Mercy Cardinals Adolescent and Young Adult (AYA) Cancer program at Mercy Hospital St. Louis.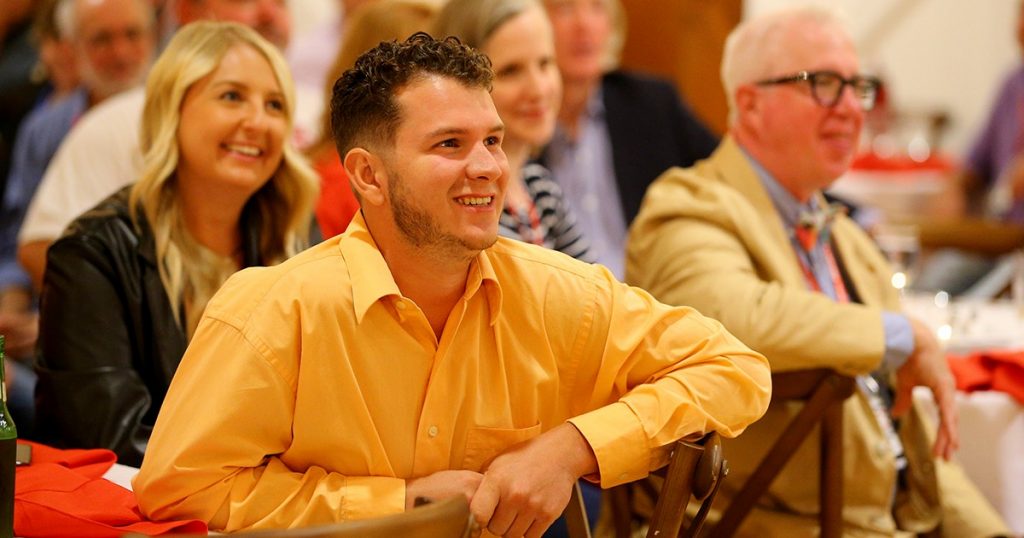 Bryce Davis at the St. Louis Cardinals Fantasy Camp dinner representing Mercy Cardinals Adolescent and Young Adult Cancer program..
Following surgery, Davis went through three rounds of intensive chemotherapy over four months. His diagnosis and treatment presented challenges, including a delayed career as a journeyman electrician and a delayed proposal to his girlfriend. On the day of his last treatment, Davis rang the bell and then dropped to one knee to propose. He is now in remission, focusing on his career and planning the perfect wedding to the love of his life.
Since 2014, the Cardinals have worked with Mercy, and a portion of the proceeds from each fantasy camp benefits Mercy patients.
This year, Mercy's one-of-a-kind AYA cancer program was the beneficiary, with proceeds going to support its nurse navigator. The region's only cancer program designed specifically for ages 15-30, it provides cancer care that meets the patients' unique needs with specialized knowledge and clinical experience. The program nurse navigator is a highly trained professional who supports the physical, mental, spiritual and emotional needs of young adults as they fight cancer, survive and thrive.
"Gina [the Mercy AYA nurse navigator] was such an important person in my journey last fall," Davis said. "She was comforting, compassionate and always optimistic. She went out of her way to check on me and even checked in on my family members. Beyond being there for me during my cancer journey, she helped in making my proposal to my fiancé happen."
The St. Louis Cardinals Fantasy Camp event brought in more than $75,000 in pledges from fellow campers and Cardinals alumni that will ensure local patients have access to the program's nurse navigator following a cancer diagnosis.
For more information on how you can impact Mercy patients like Davis, click here.