Multiple cancer diagnoses might lead someone to become negative. That's not the case for Richard Russell, a Mercy patient who sees each new cancer diagnosis as an opportunity to spread hope to others.
Russell began battling cancer more than a decade ago with a diagnosis of basal cell carcinoma. Several years later, he was diagnosed with mesenteric carcinoids, tumors that later spread to his liver. His most recent diagnosis, in 2020, doctors found that he was in the early stages of pancreatic cancer.
Still, as Russell puts it, each part of his journey is "just a walk in the park." Both he and his doctors credit his success thus far with the positive attitude he lives with every day.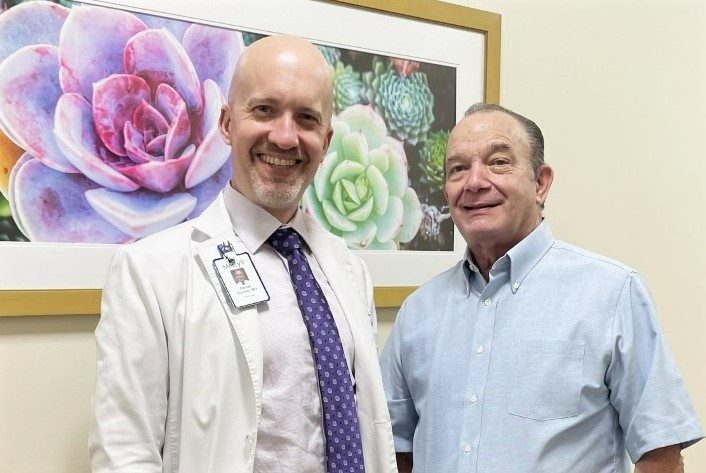 Dr. Daniel Mackey has been a guiding force throughout Richard Russell's multiple battles with cancer.
Russell comes to Mercy Fort Smith every 28 days for infusion treatments and has frequent check-ups with his oncology team, including Dr. Daniel Mackey, Dana Reeves, APRN, and others.
"They're all so, so good to me," he said, of the Mercy oncology co-workers. "I can't give back to them, but I can try to give some hope to families, patients, pastors, whoever needs to know that cancer and death aren't spelled the same way."
Russell's pancreatic cancer diagnosis came about after it was discovered that a spot on his liver had grown. After having a dotatate scan (a type of PET scan) at the Mayo Clinic in Minnesota, doctors found the pancreatic cancer in its early stages. Russell had  surgery around Christmas 2020 and began chemotherapy in March 2021.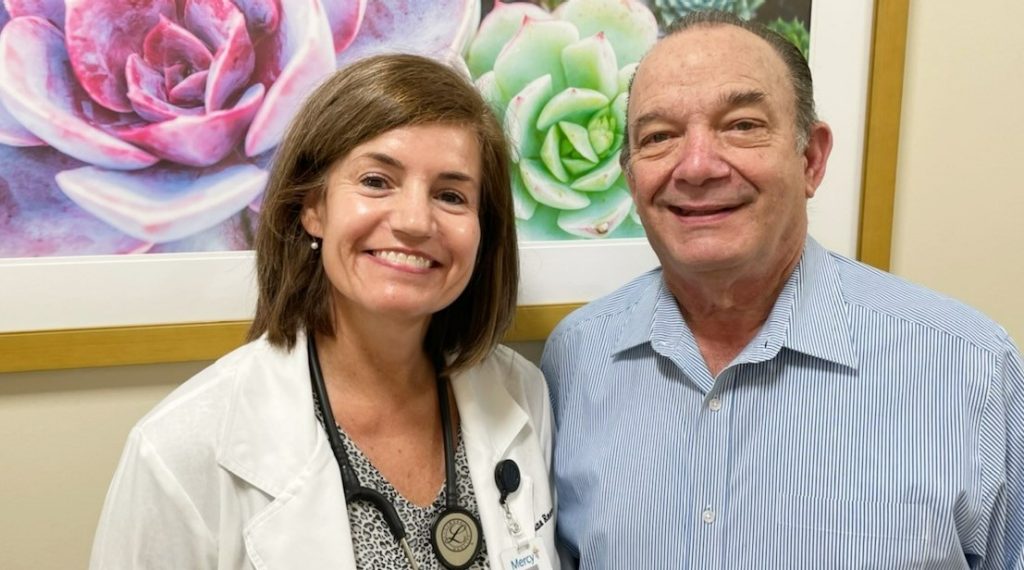 Dana Reeves, APRN at Mercy Fort Smith, has helped guide Richard Russell through cancer treatments.
The next year was difficult. Russell underwent chemotherapy and ultimately lost close to 100 pounds, along with most of his hair, and had to rely on a wheelchair.
"The side effects from treatment … all the things you hear from the movies, it happened," he said of chemotherapy. "But my family was so supportive, and they still are today. That means a lot. Talk about having my back."
He eventually began gaining both strength and weight. Today, he takes each day in stride and is proud to be cancer-free.
"Right now, I'm their all-star in oncology," he said with a laugh. He continues his infusion treatments and approaches each one as "just a walk in the park," his catchphrase throughout his battle with cancer.
His doctors have told him that many patients who haven't been through as much as he has don't come in with the same positive attitude. That attitude, he said, is why he believes he has a bright future ahead.
One thing cancer has done, he said, is lead him to give back. During his cancer journey, Russell began to write a memoir. He is now working with Thomas Nelson Publishing to get his story out in book form. He is even in talks with a movie production company that is interested in his journey. He does local speaking engagements, including at the Reynolds Cancer Support House in Fort Smith, Arkansas, with a goal of spreading hope to other cancer patients and encouraging routine testing and check-ups.
Russell still wears a bracelet, given to him by a friend, that held a special meaning throughout his journey. The scripture on it, Jeremiah 29:11, "For I know the plans I have for you, plans to give you hope and a future," resonates with him each day.
"I've learned a bunch of lessons," Russell said. "The biggest is about faith, not just faith in the Lord, but faith in my doctors and my cancer-treatment team. They really understand and are very supportive of what I'm going through. They want to make it as easy as they can."