Dr. Jason Richey may be a busy family medicine doctor in Paris, Arkansas, but he still finds time to volunteer in his hometown.
He gives back in a variety of ways. At Christmastime, he dons a white beard and a red suit and brightens the holiday for children in foster care and patients at local nursing homes. He and his wife, Tracy, who dressed as Mrs. Claus, recently took part in the Sugar Plum Fairy and Christmas Tea Party to benefit the local Court Appointed Special Advocates (CASA) program, one of many opportunities they've had to provide cheer throughout the community, especially on holidays.
Dr. Richey has been caring for patients in Paris for 30 years, currently at Mercy Family Medicine - Paris. He just wrapped up his first semester as professor of anatomy and physiology at Arkansas Tech University – Ozark, where he found an opportunity to teach his students more than what's found in a medical textbook. 
"I wanted the students to see the importance of giving back to the community as well as being a provider," he said.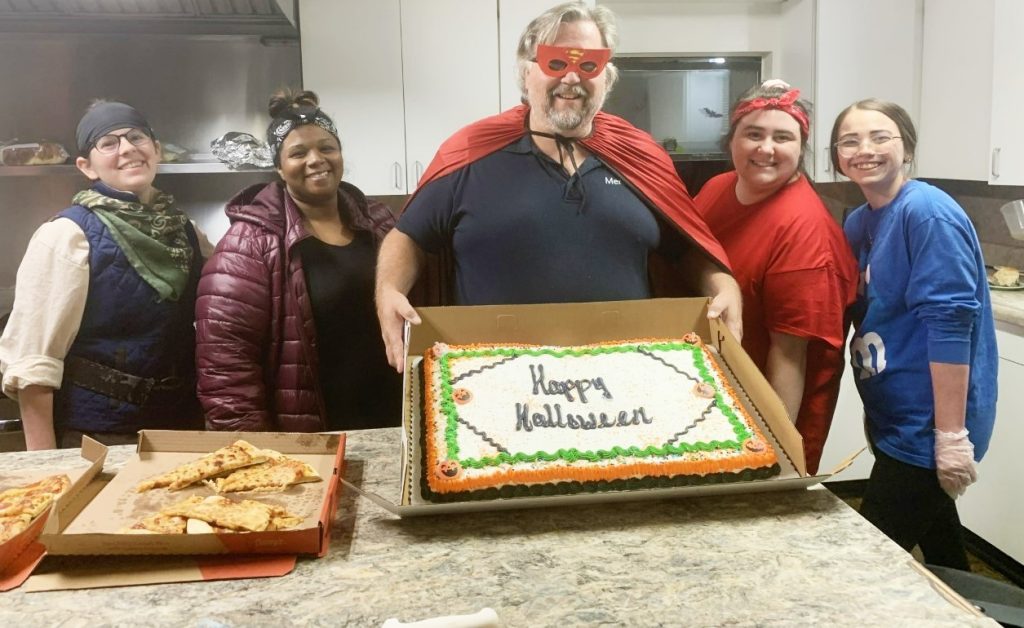 "Super Doc" Dr. Jason Richey and several of his students from Arkansas Tech University - Ozark held a Halloween party for around 200 mentally disabled adults.
Throughout the semester, Dr. Richey encouraged his students to find ways to give back to the community. At Halloween, the class threw a party for around 200 mentally disabled adults in the area. Those who participated were treated to an appearance by "Super Doc" – Dr. Richey himself. He even visits nursing home patients on Valentine's Day dressed as Elvis.
Santa and Mrs. Claus also visit nursing homes in Paris, Ozark, Booneville and Charleston, along with the assisted living homes in Paris, Mulberry and Clarksville. They bring gifts for the residents (including socks, gloves, hats, candy and more) and host a pizza party for the patients. Pictures with Santa are part of the fun as well.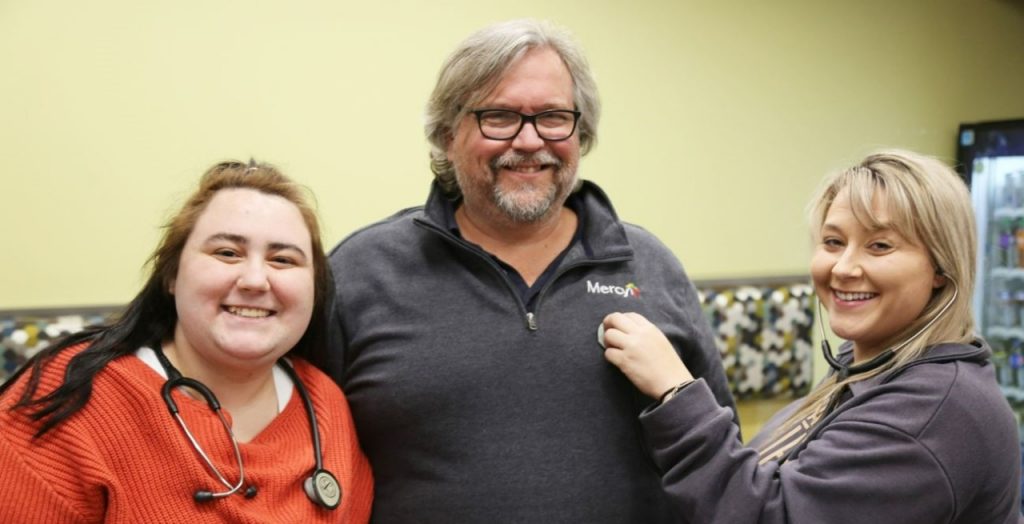 Dr. Jason Richey just completed his first year teaching anatomy and physiology at Arkansas Tech-Ozark. At the end of the semester, he presented his students with stethoscopes.
The final day of class, Dr. Richey hosted a pizza party for his students and presented them with gifts: stethoscopes for everyone. Each student is planning to  go into health care upon graduation.  Some will be nurses, or nurse practitioners while others will be paramedics or emergency medical technicians.
"All of you are going into the health care field, and this is kind of the beginning," Dr. Richey told his students. "It's been an honor to teach you guys. I didn't think I was going to enjoy it as much as I did. It's all for you guys."
Although he also teaches medical students at the Arkansas College of Osteopathic Medicine, the ATU-Ozark class really sparked something more in Dr. Richey.
"I wasn't really sure what I was signing up for," he said with a laugh. "What I told the dean when I first started to do this is, 'We're going to do something different.'"
Classes are about more than just anatomy and physiology. Dr. Richey taught his students about sitting for job interviews, different occupations in the world of medicine, case studies and more. He's such a giving person, he offered to teach the class for free. When he learned a salary was required, he put all the money back into the students, including purchasing the stethoscopes presented on the last day of class.
Although adding the classes to his work schedule makes for a long day, he's looking forward to returning to teach in the spring.
"This is fun for me," he said. "This is not really a job; this is me getting to do something fun. It's been great."