Mercy's Dr. Chris Coleman is now serving as co-chairman of the Arkansas Quality Committee, a group that works together to streamline and improve patient care throughout the state.
Dr. Coleman, a general surgeon and trauma medical director at Mercy Fort Smith, joins Dr. Scott Lewis, ER physician with St. Bernards Five Rivers Medical Center in Pocahontas, to lead the committee, part of a system that also includes regional committees focused on connecting local health systems to bring quality care throughout each community in the state. The state committee meets quarterly to address any issues that may cross regional lines, including emergency care.
"We're looking for areas to improve across the state," Dr. Coleman said. "We usually discuss problems with systemic operations, and usually it's a communication issue we address between regions. Our ultimate goal is to streamline operations to make patient care easier for everyone."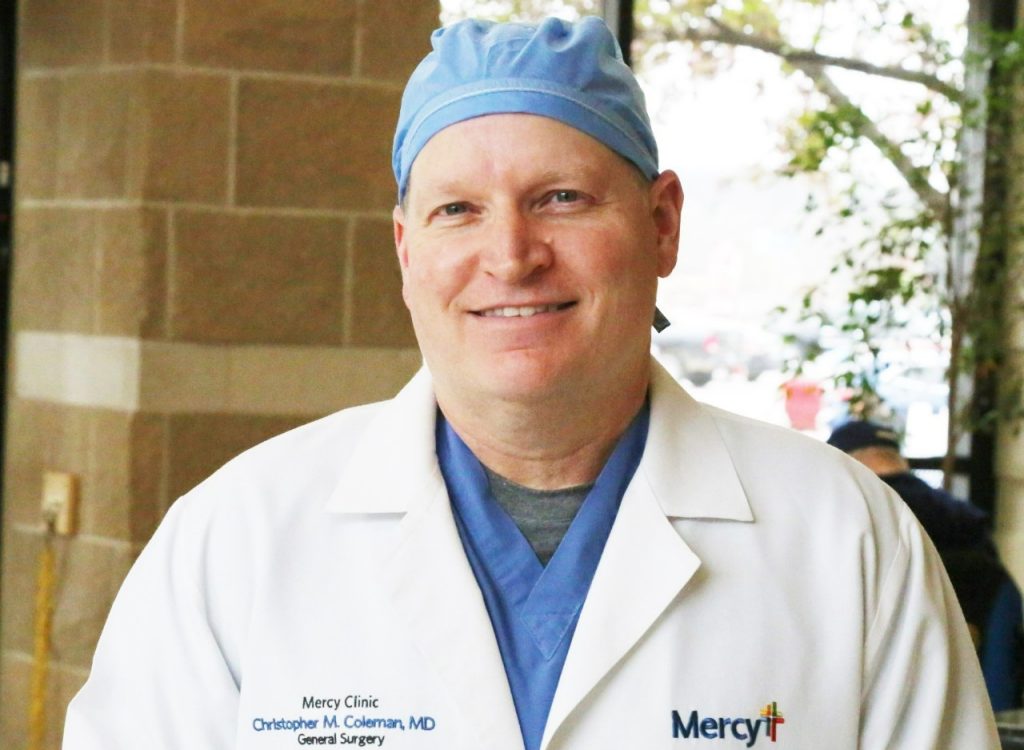 Dr. Chris Coleman, trauma medical director at Mercy Fort Smith, serves as co-chairman of the Arkansas Quality Committee.
Dr. Coleman continues to serve on the River Valley committee, as he has for the past 12 years, but now has a broadened focus on improving health system communication throughout the state. As a Fort Smith native, he has seen the growth and development of health care in the region for years, including at Mercy.
"Fort Smith is on the uptrend with health care," he said. "We have really good nurses and physicians. We provide care to high-risk patients who are in difficult situations. We are always working on ways to improve the ways we provide care."
Mercy Fort Smith is part of the Arkansas Trauma System, which creates and maintains a communications system to be used by hospitals and EMS providers and maintains the Arkansas Trauma Communications Center. Hospitals that are part of this communications system can utilize dashboards that are monitored and updated 24 hours a day. Mercy is a significant part of the state trauma system, Dr. Coleman said, and emergency care is an important focus for local leaders and co-workers.
Communications were key during a trauma incident in early 2023 involving three gunshot victims in Fort Smith. The patients were rushed to Mercy Fort Smith's emergency department in critical condition. The state trauma system allowed the patients to get the comprehensive
emergency care they needed in a timely manner. All three patients survived. In years past, this process would have been different and could have delayed potential lifesaving care.
Mercy Fort Smith is currently a Level III trauma center but continues to focus on its goal of becoming a Level I center to serve patients in the River Valley, Dr. Coleman added.
In addition to the state quality committee, Dr. Coleman devotes many hours each month serving on additional committees, including the Trauma Advisory Council's hospital designation subcommittee. He also serves as a trauma surveyor for the Arkansas Department of Health and as medical director for the Arkansas Valley Regional Trauma Advisory Committee.
Dr. Coleman is a graduate of the University of Arkansas for Medical Sciences and served residencies with the University of Arkansas for Medical Sciences – Winthrop P. Rockefeller Cancer Institute-Surgery and University of Oklahoma Health Sciences Center Department of Surgery.