ST. LOUIS – Less than a year in, the unprecedented 10-year collaboration agreement between Mercy and Mayo Clinic is going global through Mayo Clinic Platform_Connect, a distributed data network. The work to achieve life-changing results for patients will now stretch across three continents. After first joining with Mercy to collaborate last summer, Mayo Clinic has also reached similar agreements with Brazil's Hospital Israelita Albert Einstein, Israel's Sheba Medical Center and Canada's University Health Network.
The collaboration brings Mercy together with four of the top-ranked health systems in the world, and three of the top 10, according to Newsweek's 2022 World's Best Hospitals ranking. The publication ranked Mayo Clinic as the No. 1 system worldwide, while University Health Network was named No. 4, Sheba earned the 10th-best ranking and Albert Einstein was named the top hospital in all of South America, coming in at No. 34 globally. Each organization represented in this collaboration has been recognized by independent evaluators as Mercy has earned the Excellence in Patient Experience Award, given to the top large health system in the United States by NRC Health, in addition to having been named as a top-five large health system in the country by IBM Watson four times for its quality outcomes, patient experience and lowest cost in all geographies in which it serves.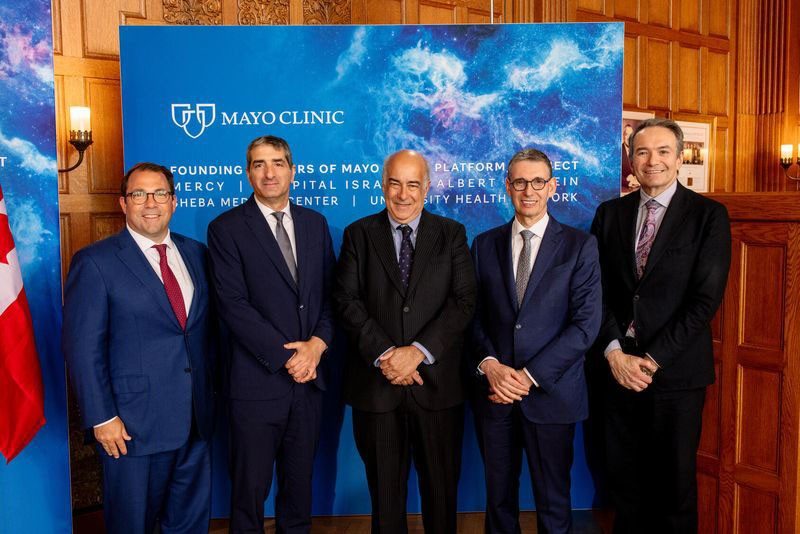 (Left to right) Steve Mackin, Mercy; Dr. Yitshak Kreiss, Israel's Sheba Medical Center; Henrique Neves, Brazil's Hospital Israelita Albert Einstein; Dr. Gianrico Farrugia, Mayo Clinic; Dr. Kevin Smith, Canada's University Health Network.
The organizations' joint goal is improving the lives and care of patients around the world by using deidentified patient data to pinpoint diseases earlier and transform health care delivery and the practice of medicine to a much more preventative and wellness care focused model.
"The only way to create trustworthy AI that puts patients first is to build global partnerships for the creation and validation of algorithms. Mercy is uniquely positioned to ensure health care innovations are fair, appropriate, valid, equitable and safe," said John Halamka, M.D., president of Mayo Clinic Platform.
In this first-of-its-kind collaboration between large health care systems, each organization will be able to analyze the others' data from deidentified patient records to look for trends, indicators, risk factors and more. All data are deidentified and secured in a data network that enables the organizations to work with an extensive set of outcomes without extracting or transferring data between the organizations. Each health care system will retain control over its deidentified outcomes throughout the process. Mayo describes it as Data Behind Glass.
"Think about the enormous amount of information that exists in the records from all of the care that these organizations provide on a daily basis: billions of care transactions. Until now, no structure existed that would allow us to analyze that information and learn from it in near real-time. It's just been far too complex," said Joseph Kelly, executive vice president of transformation for Mercy. "Moving forward, we'll have the opportunity to utilize artificial intelligence to optimize patient care clinically, operationally and experientially. Mercy is singularly prepared to do this in the communities we serve at scale because of the strategic technology investments we've made. We view this as a significant step toward the health care model of the future, which we believe should foundationally be about maintaining wellness, preventing disease, or at a minimum, detecting it much earlier."
After months of planning and preparation to ensure the effort would be a success, active data analysis is now beginning. To enable this work, technological platforms had to be built to ensure data insights could be examined securely between the organizations, without any risk to patients.
Once fully operational, the collaboration will allow Mercy and the other members of Mayo Clinic Platform_Connect to develop products and tools for their systems, but also ones that could be made available to other health systems for use in the same transformative way, potentially impacting the practice of medicine across the globe.
The multi-system collaboration anticipates that artificial intelligence and machine learning will lead to the development of numerous algorithms and technologies that could serve a wide range of specific purposes beyond the broad goal of improving care.
"With this data, we could develop models that identify patients with underlying disease or disease risk earlier in the process," said Byron Yount, an epidemiologist and Mercy's vice president of data strategy and governance. "Early detection generally means more successful treatment and quicker recovery. The ability to predict cancer before it happens means we may be able to prevent cancer from occurring. Every doctor wants that for our patients. Are there earlier signs of disease and risk than we currently understand? As importantly, are there proactive actions that are safe and effective? Let's find out. That kind of care is what this work is all about."
About Mayo Clinic
Mayo Clinic is a nonprofit organization committed to innovation in clinical practice, education and research, and providing compassion, expertise and answers to everyone who needs healing. Visit the Mayo Clinic News Network for additional Mayo Clinic news.
About Mayo Clinic Platform
Founded on Mayo Clinic's dedication to patient-centered care, Mayo Clinic Platform enables new knowledge, new solutions and new technologies through collaborations with health technology innovators to create a healthier world.
Mercy
, one of the 20 largest U.S. health systems and named the top large system in the U.S. for excellent patient experience by NRC Health, serves millions annually with nationally recognized quality care and one of the nation's largest Accountable Care Organizations. Mercy 
is a highly integrated, multi-state health care system including
 more than 40 acute care, managed and specialty (heart, children's, orthopedic and rehab) hospitals, 
convenient and urgent care locations, imaging centers and pharmacies. Mercy has 
900 physician practices and outpatient facilities, more than
4,000
physicians and advanced practitioners and more than 40,000 
co-workers serving patients and families across 
Arkansas, Kansas, Missouri and Oklahoma. Mercy also has clinics, outpatient services and outreach ministries in Arkansas, Louisiana, Mississippi and Texas.