Mercy Hospital Watonga has opened a new building on the campus that will house advanced imaging technology to aid in diagnosing patients' diseases or injuries. The new building hosts a GE Bright Speed 16-slice CT scanner that produces more detailed images of the inside of the body.
"The new building will better serve our patients that need advanced imaging," said Kenny Thompson, director of operations at Mercy Hospital Watonga. "This project has been in the works for four years as we've navigated regulatory changes and construction delays. We're excited it's finally ready for patients and co-workers."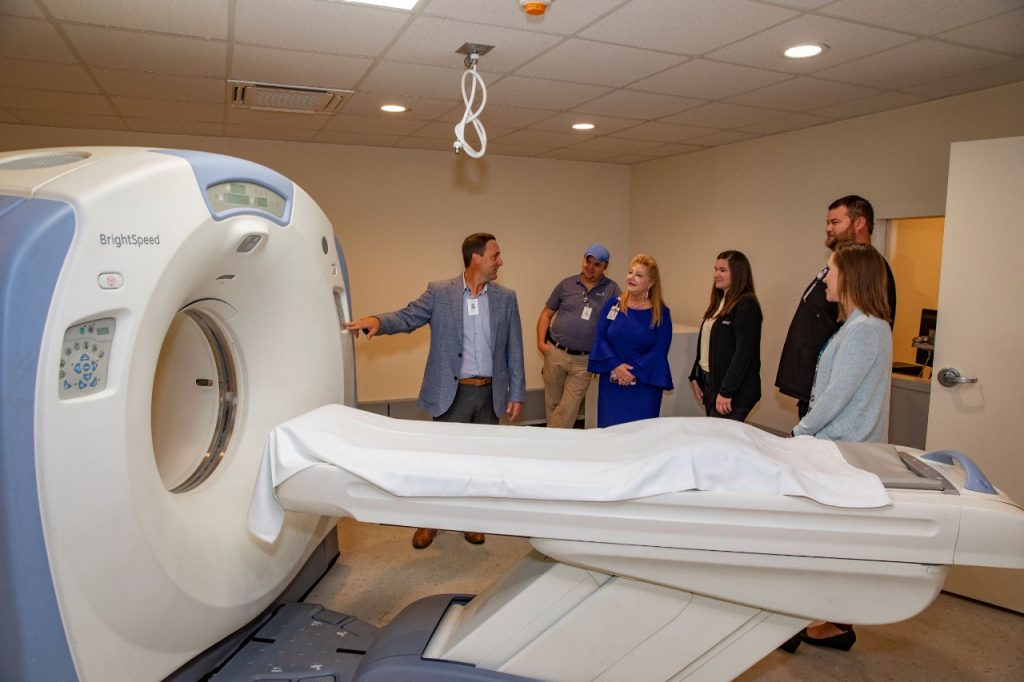 New facility and CT scanner at Mercy Hospital Watonga.
The previous building had outdated electrical wiring and couldn't adequately support the latest CT scanner Mercy purchased to improve patient care. A CT scanner rotates a concentrated beam of X-rays around an area of concern and creates a complete 3D image to help care teams find or rule out tumors and other abnormalities.
The entire project cost nearly $600,000 and is another example of Mercy's ongoing commitment to Watonga. In February, Mercy announced the purchase of a new ultrasound and X-ray machine for a total investment of $211,000.
"It's a joy to be a part of the Watonga community, and we are so thankful for the continued support of the taxpayers," said Bobby Stitt, administrator of Mercy Hospital Watonga. "They trust us to be good stewards of our resources, and we are honored to return their investment in us back to the community for the benefit of patients." 
For more information about the new technology or to schedule an appointment with Mercy Hospital Watonga radiology and imaging services, call 580-623-7211, ext. 2312.