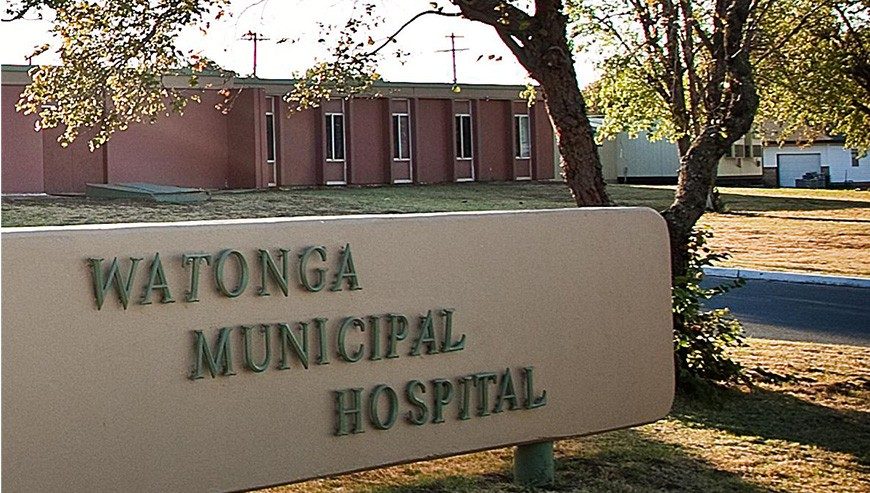 Mercy Hospital Watonga has been a healing presence in the Watonga region for more than 60 years.
Hospital Campus
Mercy Hospital Watonga is a 25-bed critical access hospital with three family physicians along with specialists who visit each week from Oklahoma City.
Diagnostic Radiology
Laboratory
Occupational Therapy

Physical Therapy
Respiratory Care
Social Services
Speech Pathology
Skilled Care/Swing Bed
2013 Certified Healthy Business
Modern Healthcare magazine ranked Mercy No. 6 on its list of top integrated delivery networks.
The American Hospital Association named Mercy one of the nation's Most Wired health care organizations.
1884 – Five Sisters of Mercy first journey into Indian Territory and open St. Mary's Academy in present-day Konawa to educate Native American children.
1905 – Mount Saint Mary Academy, an all-girls school, opens in Oklahoma City.
1969 – Watonga Municipal Hospital opened.
2011 – Mercy started managing Watonga Municipal Hospital.
2012 – March: Watonga citizens voted yes to Ordinance No. 620, allowing for an increase of ad valorem taxes to fund revitalization of the hospital.
2012 – July: Watonga Municipal Hospital became leased by Mercy and was renamed Mercy Hospital Watonga.
Among the first health care organizations in the U.S. to have a comprehensive, integrated electronic health record that provides real-time, paperless access to patient information
Offers MyMercy,a free service, allows patients to connect online with their doctors, plus see medical information, view test results, renew prescriptions, schedule appointments and e-visits using a personal computer, tablet or smartphone
$236,000
---
Traditional Charity Care
$550,000
---
Unreimbursed Medicaid
102 Discharges
---
Acute Inpatient
52 Co-workers
---
Hospital Based
3,877 Visits
---
Emergency Room
Mercy, one of the 20 largest U.S. health systems and named the top large system in the U.S. for excellent patient experience by NRC Health, serves millions annually with nationally recognized quality care and one of the nation's largest Accountable Care Organizations. Mercy is a highly integrated, multi-state health care system including more than 40 acute care, managed and specialty (heart, children's, orthopedic and rehab) hospitals, convenient and urgent care locations, imaging centers and pharmacies. Mercy has 900 physician practices and outpatient facilities, more than 4,000 physicians and advanced practitioners and more than 45,000 co-workers serving patients and families across Arkansas, Kansas, Missouri and Oklahoma. Mercy also has clinics, outpatient services and outreach ministries in Arkansas, Louisiana, Mississippi and Texas.
Meredith Huggins
Ada, Ardmore, Guthrie, Kingfisher, Tishomingo, Watonga, Healdton, Oklahoma City