ST. LOUIS – Dozens of nurses proven to be innovators have embarked on uncharted waters: the first-ever innovation unit (IU) at Mercy. A "testing ground" for new optimization ideas, the nursing unit aims to solve current and future nursing challenges and ultimately improve patient care across Mercy's footprint.
"We have some of the most brilliant nurses in the nation, and their ideas can – and will – change the game," said Betty Jo Rocchio, Mercy senior vice president and chief nurse executive. "We must innovate how we provide care so all Mercy nurses, doctors and providers can spend more time doing what they're trained to do – care for patients."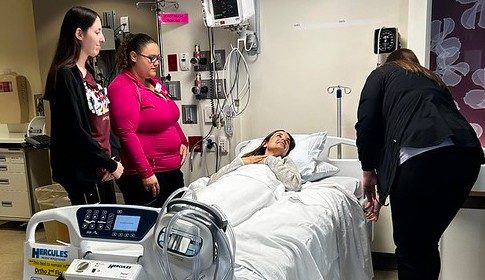 Mercy nurses have begun utilizing clinical training spaces to innovate.
Rocchio asked Robyn Weilbacher, chief nursing officer at Mercy Hospital St. Louis, to select a unit for the project. The team quickly began conducting interviews and technology readiness surveys, ultimately landing on the orthopedics unit.
"We recruited from within, seeking full-time nurses who are tech savvy, quick learners and fully embrace change," said Sheila Ries, Mercy St. Louis orthopedic unit nurse manager and one of the founding leaders of the IU. "Then, we brought together representatives from several key stakeholder groups to provide support and guidance through weekly huddles."
Stakeholders include a service line director and unit leadership, as well as liaisons for patient experience, nursing informatics, Mercy Technology Services, Epic (which powers Mercy's electronic health records) and nursing optimization.
What began with just five beds, eight nurses and eight patient care assistants (PCAs) quickly expanded to an entire unit over the summer, with plans to expand in other Mercy communities. Slated for 2024, an innovation unit at Mercy Hospital Oklahoma City will work hand in hand with the St. Louis team. Mercy is collecting innovation ideas from co-workers across the health system for potential trials elsewhere, too.
Meet the Nurses Behind Mercy's New Innovation Unit
Some of the current and in-process innovation projects and ideas:
In-room digital whiteboards containing patient and caregiver information to engage patients in their care, facilitate video visits and provide infotainment options.
Vital sign machines in every patient room, capable of automatically feeding information into Epic flowsheets.
Trial of a new air mattress with an attachment to assist with repositioning patients.
IV poles in each patient room to enhance nursing workflow.
"Meds to beds" delivery trial to enhance communication between pharmacy and bedside nursing as medications get delivered to patients before discharge.
Nursing workload validation tool to capture documentation from bedside nursing to enhance Mercy's acuity tool in Epic.
Exterior digital door signs as an automated replacement for laminated doors signs.
The innovation unit uses the Plan-Do-Study-Act method, known as PDSA. PDSA breaks down tasks into steps, evaluates the outcome, improves upon the outcome and tests it again. All projects reside under the four Mercy nursing strategies for improvement: workforce, workflows, work environment and patient experience.
"It's such an exciting time for us. Being a Mercy nurse is something special, something to be proud of and our innovation unit really elevates that to a whole new level," said Rocchio.
Mercy, one of the 20 largest U.S. health systems and named the top large system in the U.S. for excellent patient experience by NRC Health, serves millions annually with nationally recognized quality care and one of the nation's largest Accountable Care Organizations. Mercy is a highly integrated, multi-state health care system including more than 40 acute care, managed and specialty (heart, children's, orthopedic and rehab) hospitals, convenient and urgent care locations, imaging centers and pharmacies. Mercy has 900 physician practices and outpatient facilities, more than 4,000 physicians and advanced practitioners and more than 45,000 co-workers serving patients and families across Arkansas, Kansas, Missouri and Oklahoma. Mercy also has clinics, outpatient services and outreach ministries in Arkansas, Louisiana, Mississippi and Texas.