Written by Ellis Kmetzsch
Mercy Hospital Ardmore's emergency department is uniquely qualified to provide both highly trained and homegrown care, with eight of its nine emergency care specialists local to the area or state of Oklahoma.  
"It's unique to have this many physicians and advanced practitioners in one emergency department who have such strong ties to Oklahoma," said Dr. Nate Claver, director of Mercy Hospital Ardmore's emergency department. "Patients can be comforted to receive care by a fellow Oklahoman or someone who understands the nuances of small-town life."
Dr. Claver speaks from experience, having been born in Henryetta, Oklahoma. He later completed his undergraduate degree, medical school and residency at various Oklahoma schools and hospitals throughout the state. Dr. Claver's wife is also from Ardmore.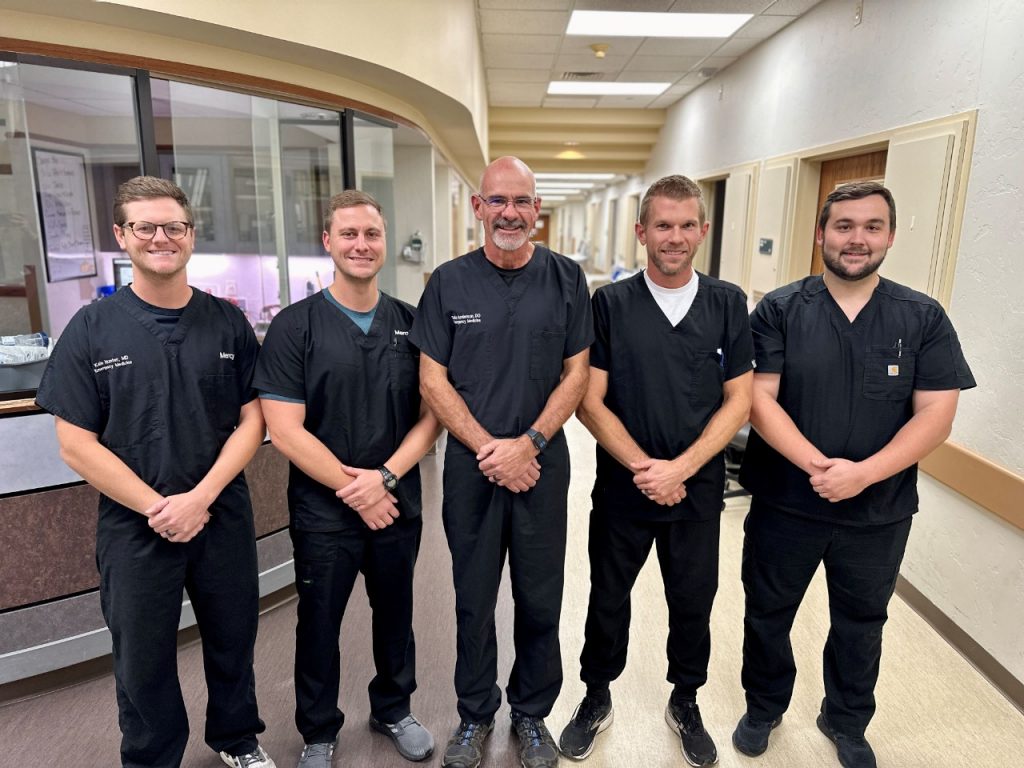 Dr. Kale Hunter, Dr. Koby Hunter, Dr. Dale Anderson, Dr. Nate Claver and Dr. Cole Benson.
"There are challenges to working in medicine in a rural community," said Dr. Claver. "But many of us still choose to work and live in Ardmore due to our upbringing and because the community and people are so great."
Rural communities often face added challenges in recruiting and retaining health care workers.
According to Rural Health Information Hub, rural health personnel face heavy workloads, limited resources and lack of professional support in small-town hospitals. But there are important benefits as well. Working in a smaller community often allows rural clinicians stronger relationships with patients and a greater sense of mission and accomplishment.
One physician, Dr. Dale Anderson, has 54 years of history linked with the Ardmore community and surrounding areas.
"I was born in Ardmore, raised in Mannsville and graduated high school in Dickson, Oklahoma. When I started my career in health care, I worked in various parts of Oklahoma until joining Mercy's Ardmore team in 2007," Dr. Anderson said. "Growing up in Ardmore shaped the person I became, and I find a great sense of purpose working where I grew up and call home."  
Two local brothers are also part of the Mercy Hospital Ardmore emergency medical team. Dr. Kale Hunter and Dr. Koby Hunter are both physicians who were born in Ardmore.
"I wanted to come home and serve the Ardmore community that invested so much in me while I was growing up," said Dr. Koby Hunter. "I had a wonderful upbringing in this area and now want to give back to the residents of Carter County and the surrounding areas through my work in emergency medicine."
Though both brothers had slightly different educational and training paths, they ultimately wanted to return to their hometown to practice and live.
"The patients you meet in southern Oklahoma are some of the most hard-working, appreciative and kind people you will ever meet," said Dr. Kale Hunter. "My wife is also from Ardmore and we wanted to raise our kids in a family- and faith-oriented environment after my residency training. We wanted to come back and serve our hometown."
Mercy's emergency medicine team will continue to expand in the coming year, with another physician starting in the coming months. That will bring the total number to eight emergency medicine physicians and two mid-level practitioners. All physicians in the department are also board certified, meaning they have met the educational, training and exam requirements in their field of medical expertise.
"It means something that this medical team chose to live in Ardmore," said Daryle Voss, president of Mercy Hospital Ardmore. "Of all the places they could have moved to after their medical training, these Oklahomans picked Ardmore, Oklahoma, to live and practice. It also says something about this community and the many great things it offers." 
Dr. Casey Liston
Born and Raised: Oklahoma City
Undergraduate: University of Oklahoma – Norman, OK
Medical School: Oklahoma State College of Osteopathic Medicine – Tulsa, OK
Spouse is from Ardmore, OK
Dr. Cole Benson
Born: Ardmore, OK
Raised: Madill, OK
Undergraduate: East Central University – Ada, OK
Medical School: Oklahoma State College of Osteopathic Medicine – Tulsa, OK
Dr. Dale Anderson
Born: Ardmore, OK
Raised: Mannsville, OK
Undergraduate: East Central University – Ada, OK
Doctor of Pharmacy: Southwestern Oklahoma State University – Weatherford, OK
Medical School: Oklahoma State College of Osteopathic Medicine – Tulsa, OK
Garrett Newton, NP
Raised: Ardmore, OK
Undergraduate: East Central University – Ada, OK
Prior Work: Nurse in Mercy Ardmore cardiac lab for five years
Spouse is from Healdton, OK
Dr. Kale Hunter
Born: Ardmore, OK
Raised: Lone Grove, OK
Undergraduate: The University of Oklahoma
Medical School: University of Oklahoma College of Medicine
Spouse is from Ardmore, OK
Dr. Koby Hunter
Born: Ardmore, OK
Raised: Lone Grove, OK
Undergraduate: Oklahoma Baptist University
Medical School: Oklahoma State College of Osteopathic Medicine – Tulsa, OK
Dr. Lindsay Wilson
Born and Raised: Ringling, OK
Undergraduate: Oklahoma State University – Stillwater, OK
Medical School: Oklahoma State College of Osteopathic Medicine – Tulsa, OK
Dr. Nate Claver
Born: Henryetta, OK
Undergraduate: The University of Oklahoma
Medical School: Oklahoma State College of Osteopathic Medicine – Tulsa, OK
Spouse is from Ardmore, OK