Hours of Operation:
Monday-Friday: 8 a.m. - 5 p.m.
Your heart issues, whether they've been with you from birth or are very recent, can often be improved with exercise. Mercy Cardiac Rehabilitation at Mercy Hospital Joplin, works with your doctor to develop an individual plan for your recovery. Together, we'll bring our expertise and latest equipment to keep you as healthy and active as possible with cardiovascular disease. Our focus is on cardiac rehabilitation, education and helping you to modify your risk factors that may make your condition worse. Cardiovascular rehabilitation programs are designed to help people with cardiovascular problems (e.g., heart attacks, coronary artery bypass graft surgery) recover faster and improve their quality of life. Programs include exercise, education, counseling, and support for patients and their families. As always, Mercy Cardiac Rehabilitation is proud to be part of your heart care team, and we thank you for putting your trust in us.
Mercy Hospital Joplin is certified for the cardiovascular rehabilitation program by the American Association of Cardiovascular and Pulmonary Rehabilitation (AACVPR) for its commitment to improving the quality of life by enhancing standards of care. AACVPR-certified programs are recognized as leaders in the field of cardiovascular and pulmonary rehabilitation because they offer the most advanced practices available. AACVPR Program Certification is valid for three years.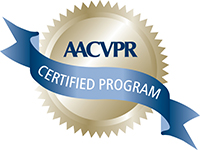 Services Offered