Suite 2415
Hours of Operation:
Monday-Friday: 8 a.m. - 4:30 p.m. Saturday: 8 a.m. - Noon
Cardinals Kids Cancer Center
Cardinals Kids Cancer Center is the pediatric oncology and hematology center at Mercy Children's Hospital. We provide more than 4,000 treatments to pediatric patients each year.
Adolescent and Young Adult Program
We have also added a new AYA division to treat adolescents and young adults who have cancer and blood disorders. Learn more by going to the AYA page.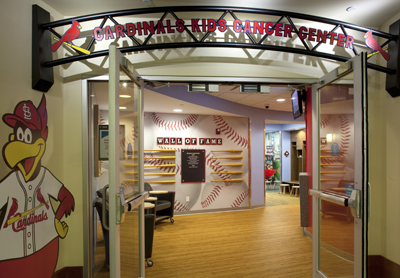 The Cardinals-themed Mercy Clinic Children's Cancer and Hematology in St. Louis, MO is designed with a look and feel reminiscent of Busch Stadium. The unique child-centered environment disguises pediatric cancer care as play and adds an element of fun to a difficult day of treatment for young patients and their families. Mercy developed the Cardinals Kids Cancer Center thanks to a combined  challenge gift of $1 million from David Pratt and the St. Louis Cardinals.
The Cardinals Kids Cancer Center includes distinct therapy rooms
The Box Office is a reception area that sets the stage for a healing environment.
The Bullpen serves as a room for physical reconditioning of motor skills and sensory awareness.
Mudville is a special place for self exploration and expression through textural and tactile interactions.
Fredbird's Roost is perfect for large organized motor activities and group interaction.
Cardinals Cottage taps into kids' curiosity through building activities, identity and culture exploration, and "cause and effect" play.
The therapy rooms turn the environment of receiving chemotherapy, radiation, blood products and other cancer treatments into a comforting place for children with life-threatening cancer and blood disorders. Complementing these therapy rooms is the Gunn Family Room, where relaxing "pods" are available as a place for children and their families to gather, relax, play games or simply be together.
Childhood is about laughter, giggles and play. Cancer doesn't have to take all that away. We give childhood back to kids and give families hope.
In The News
Following the story about the young cancer patient, KMOV's Surprise Squad visited his home to spread some cheer with Fredbird and the Des Peres Fire Dept. Watch it here.

Jill Turec is looking toward her retirement after 25 years of working with the kids at the Cardinals Kids Cancer Center. Read a story about her here.
One of our young patients was featured in a KSDK story about a mom who is providing superhero capes for children with long-term illnesses. Dr. Rob Hanson was interviewed as well: Making a Difference: Local mom turns sick kids into superheroes
Dr. Bob Bergamini, known as "Dr. Bob" to his patients, was also featured in the Ladue News. Click here to read the story.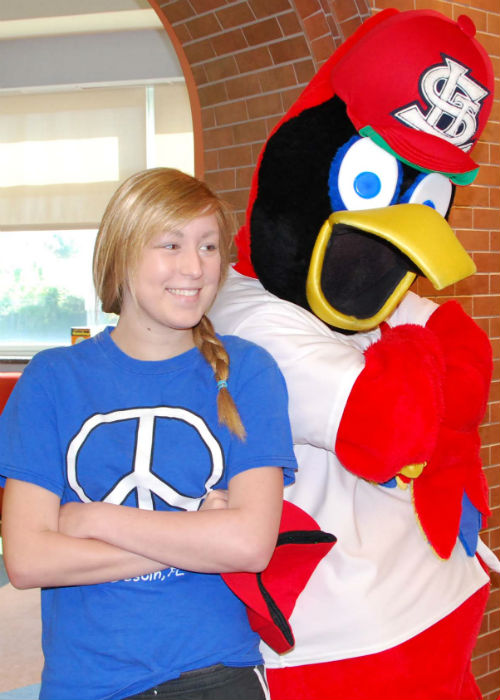 Research and Clinical Trials
Our doctors are active members of the Children's Oncology Group (COG), an affiliation of children's oncology specialists who seek the most up-to-date and effective means of treating cancer in our children, teens and young adults through clinical research trials. For more information, visit the COG website.
Services Offered