Hours of Operation:
Open daily 24 hours
Mercy Hospital St. Louis was again recently named one of the nation's 50 top Cardiovascular Hospitals by Watson Health AnalyticsTM . The study, formerly named Truven, identifies the nation's best providers of cardiovascular care based on publicly available data and a balanced look at patient outcomes, operational efficiencies and financial metrics.
Mercy Heart and Vascular Hospital, on the campus of Mercy Hospital St. Louis, is the first in the region devoted exclusively to the prevention, detection and treatment of heart and vascular diseases.
We can help you with these conditions: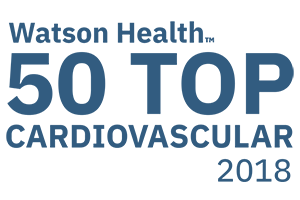 Find a Specialist
When you visit our heart hospital, you'll have a highly experienced team on your side to provide innovative cardiology and vascular services. Our cardiologists, cardiothoracic surgeons and vascular surgeons work together to bring you the most advanced treatment and technologies with compassion.
Mercy Heart and Vascular Hospital offers nine floors dedicated to heart care services, including 96 private patient rooms with accomodations for family members and operating rooms dedicated exclusively to heart and vascular care.
Because your well-being is important to us, all our rooms are private. We offer integrative services such as massage therapy, acupuncture and healing touch, in addition to traditional medicine. The heart hospital is also supported by our emergency department, the only Level I Trauma Center in St. Louis County, so you have quick access to any type of emergency care you may need.
On-site laboratories for the diagnosis and treatment of heart and vascular disease:
Noninvasive cardiac testing
State-of-the-art Cardiac Catheterization Lab
A Cardiac Rehab Gym
Centers and Clinics
Mercy Heart and Vascular Hospital has several specialized clinics that offer treatment for specific conditions. Please click on the links below for more information.
Center for Heart Valve Disease
Mercy Lipid Center
Aortic Center
Mercy Heart Failure/Advanced Heart Failure Institute
Resources