Know the signs.
If you suspect you or a loved one is having a stroke, call 911 right away.
Signs of stroke include:
Numbness or weakness in your face, arm or leg, particularly on one side
Trouble with speech (mumbling or slurring)
Sudden loss of vision
Confusion
Severe headache
Comprehensive Stroke Care for Southwest Missouri
Mercy Stroke Center – Springfield provides expert, life-saving stroke prevention, treatment and rehabilitation with a full range of services including:
Stroke prevention – stroke risk assessment, patient education, blood pressure screenings, cholesterol and/or diabetes management, access to dietitians
Stroke treatment, including

Tissue plasminogen activator (t-PA)
Intra-arterial thrombolytics (IA)
Special procedures to remove or break up a clot such as mechanical thrombectomy
Leak and rupture repair

Stroke rehabilitation

Physical, occupational and speech therapists
Nurses specially trained in caring for patients with brain injuries
Stroke support group
Mercy is accredited by The Joint Commission as a Primary Stroke Center and designated as a Level 1 Stroke Center by the Missouri Department of Health and Senior Service (MoDHSS). We serve the entire Southwest Missouri region, including Lebanon, Rolla, Joplin, Nixa, Mountain View, Bolivar, Branson and Northwest Arkansas.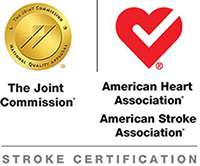 Fast, accurate treatment is critical.
Research shows patients who get care at a primary stroke center such as Mercy have a higher incidence of survival and recovery. Immediate treatment can help prevent death or serious, long term consequences including loss of vision, speech and motion. 
Mercy's stroke team provides emergency care 24/7. The team includes specialized nurses, neurologists, neurosurgeons and pharmacists credentialed in the treatment of acute stroke.
Specialized Nursing Care
Stroke patients may require specialized care during recovery. Mercy stroke nurses have advanced training and expertise in caring for patients with brain injuries.
Mercy Rehabilitation Hospital in Springfield provides inpatient rehabilitation services for stroke patients with a brain-injury unit and dedicated stroke care unit.
Services Offered