Additional Resources
Learn about Mercy careers, history, technology and more.
Mercy is pleased to join health systems across the nation participating in the Framework for Health Equity established by the Centers for Medicare and Medicaid Services (CMS).
To address health care disparities in hospital care and beyond, this effort assesses every hospital's commitment to establishing a culture of more equitable health care. This CMS framework asks us to take stock of the services, programs and support we provide today.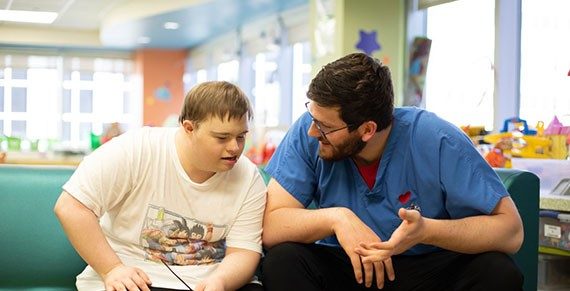 What is Health Equity?
CMS defines health equity as "the attainment of the highest level of health for all people, where everyone has a fair and just opportunity to attain their optimal health regardless of race, ethnicity, disability, sexual orientation, gender identity, socioeconomic status, geography, preferred language, and other factors that affect access to care and health outcomes."
Benefits of Pursuing Health Equity
Addressing health inequities gives every person the chance they deserve to be healthy, avoid life disruptions caused by illness and meet the personal demands of their lives. Enabling individuals to take charge of their health benefits the entire community with higher productivity due to fewer sick days and health emergencies, allowing as a community to use our limited health care resources more efficiently.
At Mercy, we believe in the dignity of all and are committed to addressing hidden barriers to quality care in the communities we serve.
Mercy's Health Equity Strategic Plan
Mercy has developed a strategic plan to ensure the continued success of the many programs we have in place today as they evolve with the changing needs of our communities. Our Health Equity Strategic Plan focuses on the following:
Clinical disparities identification and management
Social coordination hub and screening standardization
Workforce diversity, equity, inclusion and belonging
Strategic payor and community collaborations
The reach of these programs extends well beyond each hospital's leadership, board and co-worker groups. As part of this, we will update community-based organizations (CBO), such as health departments, aging and disability networks, community health centers, health education and advocacy programs and food banks.
Mercy's Ongoing Health Equity Initiatives
Mercy's focus on serving all people has its origin in the founding of our ministry nearly 200 years ago. Since the beginning, we've had particular concern for people who are marginalized, underserved and economically poor.
Today, our efforts to support our patients and our communities take countless forms, from dedicated outreach ministries to individual acts of kindness and support delivered by our co-workers. Seeking out unmet needs and addressing them is ingrained in our heritage, passed down from the Sisters of Mercy.
Mercy uses de-identified data from decades of advanced electronic health records to achieve a more complete view of patient needs; this approach helps reduce and prevent inequities for patients in our clinics by considering gender, ethnicity and other factors that may indicate higher health risk and the need to recommend a different treatment regimen, etc.
As a result of our disproportionate care for low-income and uninsured patients, Mercy participates in the Health Resources and Services Administration's 340B drug-pricing program which reduces the burden of prescription drug costs for uninsured and low-income patients. We are expanding participation in this program to new Mercy outpatient departments.
In partnership with community programs and government agencies in the communities we serve, we conduct more than two dozen community health needs assessments and develop community health improvement plans.

Community health workers serve in Mercy emergency departments as links between health care and community and social services; they screen for needs related to social determinants of health, easing access to services and improving the quality of care to diverse communities.
School-based clinics across Mercy improve access for kids, particularly those of low socioeconomic status.
Mercy's Advocacy of Health Equity
Mercy is making a difference today to achieve better outcomes for people who formerly missed or could not afford important opportunities to take care of their physical, mental and spiritual well-being. We do this through participation in government programs, community partnerships and our own programs and services to educate and proactively manage patients' care.
Mercy's Health Advocacy Ministries
Mercy provides dedicated health and advocacy ministries in multiple states: 
Mercy hospitals have also formed many collaborations with outside agencies in Arkansas, Kansas, Missouri and Oklahoma, including departments of health, advocacy groups and community service groups, to help better serve our communities.
Spotlight
Dedicated Vaccine Outreach
In the early days of the COVID-19 pandemic, Mercy mobilized vaccine distribution in diverse communities. We also produced a video series that addressed people's skepticism and hesitancy to get the COVID-19 vaccine. By answering questions from diverse populations, we promoted the importance and effectiveness of the vaccine.