Comprehensive Dentistry
Residents spend eight months in the Gertrude B. Busch Dental Clinic providing comprehensive care including but not limited to endodontics, fixed and removable prosthodontics, operative dentistry, oral surgery, orthodontics, pediatric dentistry, periodontics.  General dentistry is also completed in the operating room under general anesthesia for children and adults with special needs and dental anxiety. While in the dental clinic, residents will provide care under the guidance of dental attendings and work one-on-one with a dental assistant and perform periodic exams with a hygienist. Practice management will also be a focus as the GPR program runs alongside a private practice within the hospital to prepare residents for all aspects of life after residency. Residents are responsible for sharing call each month for both clinic patients and dental traumas, infections, and emergencies that present to the emergency department.  
Oral Maxillofacial Surgery

Residents have the opportunity to work with OMFS attendings and fellows throughout the year to provide surgical care for the GBB Clinic patients. Residents learn a variety of surgical procedures from simple to surgical extractions and pre-prosthetic surgery including alveoplasty, tori removal, and bone grafting prior to implant placement. Many of these procedures are done under I.V. sedation so residents also learn to administer I.V. medications and monitor the patient appropriately. Residents will also participate with OMFS attendings during rounds, office hours, emergency department traumas, and operating room general anesthesia cases.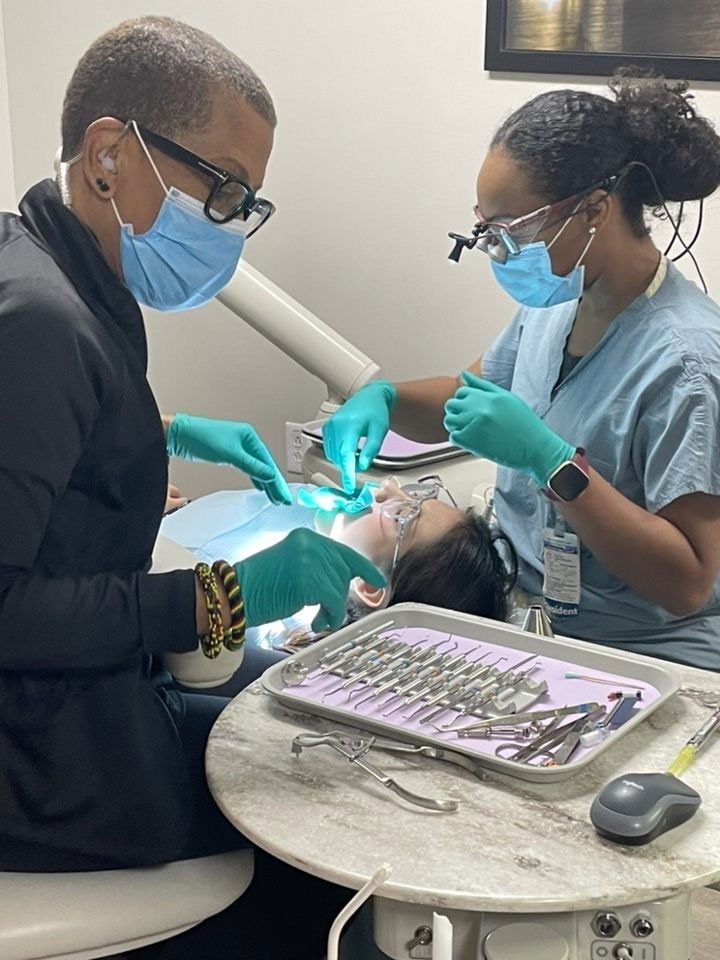 Medical Rotations

Residents have four months of rotations divided between Anesthesia, Emergency Medicine, Head and Neck Oncology, Psychiatry, and Radiology.
Download a copy of the Sample Rotation Schedule.
Anesthesiology
Dental residents will spend four weeks on the anesthesia rotation learning pre-op evaluation, medical risk assessment, and pharmacology. The primary skills of airway management including bag mask ventilation and intubation will be performed. Developing skills for starting IVs and post-op management of patients receiving all depths of anesthesia will be covered.
Emergency Medicine
For four weeks residents will be assigned to the Medicine rotation learning history and physical examination/assessment, diagnostic lab studies and interpretation, and medical emergency management. Participation in emergency department shifts with other GME residents allow providers to become well-rounded and coordinate team-based care.
Head and Neck Oncology
Residents spend four weeks working in both the operating room and seeing patients in the office setting alongside otolaryngologists.  Additional patient care opportunities include working with the radiation oncology team at the Hyperbaric Wound Center.  Monthly participation with the Head and Neck Tumor Conference allows the Resident to interact with a multi-specialty approach to complex issues facing these patients.  
Psychiatry
Residents will spend two to three weeks with the psychiatry team consisting of nurses, social workers, pastoral care, physical and occupational therapists as well as other physicians as they interact with patients and family members to develop care plans and implement treatment.  They will learn a system-based approach to care involving a team of physicians.  There will be didactic sessions with multiple psychiatric physicians throughout this rotation to increase their medical knowledge with various behaviors and disorders. 
Radiology
Residents will spend one week with radiologists as they learn to evaluate various images of patients for traumatic and head and neck lesions.  The resident will be exposed to the radiology department in a level 1 trauma center. The resident will increase their knowledge of radiology in general as it relates to dental medicine and surgical procedures.