April 2, 2013
"I was at my doctor for a routine 8-week ultrasound thinking I would see a heartbeat. When I was told there were three, I couldn't believe it," Laura said. She then called Brad, who was at work, to break the news.
"I was shaking with shock, to be completely honest," Brad said. "The only multiples on either side were my grandmother's sisters who were twins."
At nearly 33-weeks gestation, and after Laura spent three weeks in the hospital on bedrest, the Partridges welcomed their baby girls at Mercy Hospital St. Louis on Tuesday, March 19:
Sonja         3 lbs., 10 oz.

Sylvia         3 lbs., 6 oz.

Scarlett      3 lbs., 2 oz.
"They are all doing very well," Brad said. "They are our one in 200 million babies."
Estimates vary on the instances of identical triplets from between one in 60,000 to one in 200 million. Without knowing the exact odds doctors still say it is very rare.
"I have only seen two sets of identical triplets before in my career.  It is extremely rare to have three babies share the same placentas," said Dr. Gilbert Webb, MD, high-risk OB/GYN on staff with Mercy Maternal and Fetal Care, who was the primary high-risk doctor for the Partridges. "I'm so happy for Laura and Brad that their beautiful new babies are doing well."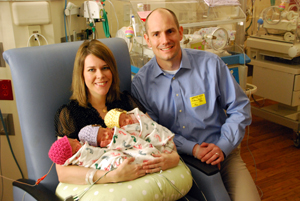 Laura and Brad Partridge as
Laura holds all three babies together for the first time.

At two weeks old, Scarlett (pink),
Sylvia (lavender) and Sonja (yellow) are as close as
they have been since they were born.
Pregnancies with a shared placenta have increased risks in addition to risks of a triplet pregnancy. A pregnancy of this type is more likely to encounter problems such as pre-eclampsia, preterm labor and even a placental transfusion syndrome.
In addition to the triplets, the Partridges have a 3-year-old boy and a 17-month-old girl. The babies are expected to spend several weeks in the Mercy Children's Hospital Emerson Neonatal Intensive Care Unit before they are strong enough to go home.
Coverage
Media Contacts