Brooks McGrew is a spunky 2-year-old with a fearless determination that has already helped him conquer several obstacles in his short life.
He was born two-and-a-half weeks early at Mercy Hospital Northwest Arkansas. He wasn't breathing at birth, so a team of doctors and nurses performed CPR for five minutes before whisking him away to the hospital's neonatal intensive care unit (NICU).
A couple of hours later, the doctor informed the McGrews that Brooks was breathing on his own and that he looked strong. Then, in the most compassionate way possible, the doctor told the couple that their son had several markers for Down syndrome. A test confirmed the diagnosis a week later.
"For us, it was scary at first, but I remember praying with my husband and saying that, no matter what, everything was going to be okay," said Angie McGrew, Brooks' mom. "We were more worried about his health overall than we were about the Down syndrome diagnosis at that moment."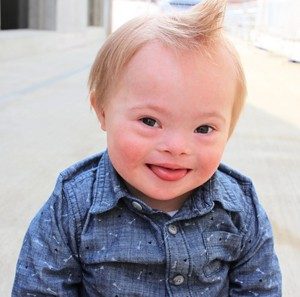 Brooks McGrew, now 2, spent weeks in Mercy NWA's neonatal intensive care unit (NICU).
17 Days at Mercy
The next 17 days that Brooks spent in the NICU were full of ups and downs. Shortly after his birth, Brooks developed jaundice and his skin color would occasionally turn a grayish-blue color, in addition to the usual yellow hue that accompanies jaundice. His heart rate would also drop suddenly and he struggled with feeding due to his low muscle tone.
Mercy doctors called specialists in Little Rock and asked if they thought Brooks had a rare type of jaundice that could cause the grayish-blue skin color change. The specialists agreed with the diagnosis and provided instructions on how to treat the condition. The new treatment plan worked and saved the family from making an expensive transfer down south.
Angie McGrew and her husband were happy to avoid the transfer to Little Rock and, instead, seek their care close to their Bentonville home and their support system. The couple was able to sleep in a private room within the Ronald McDonald Family Room at Mercy to stay near Brooks.
"Any time you can keep families closer to home it is important," she said. "We were fortunate to not have to go to Little Rock, but we have friends who have not been so lucky. I truly believe kids get better faster when they are around their families."
High-quality Neonatal Care in Northwest Arkansas
Thanks to a new designation as a perinatal and neonatal level IIIA facility by the Arkansas Department of Health in January, the NICU at Mercy Hospital Northwest Arkansas can treat even more newborns in Rogers rather than transferring them to other facilities.
To achieve the level IIIA designation, the state looked at the hospital's NICU, triage system, transport program, leadership team, nurse-patient ratio, equipment, the number of premature babies the hospital treats and other program elements. The rating system was introduced in the state last year to standardize processes and provide transparency around the capabilities of each facility's perinatal and neonatal services to handle the unique needs of premature infants.
"It is a benefit for the baby and it helps the family financially and emotionally if you can keep the family unit together close to home," said Jeri Power, nurse manager of Women's and Children's Services at Mercy Hospital Northwest Arkansas.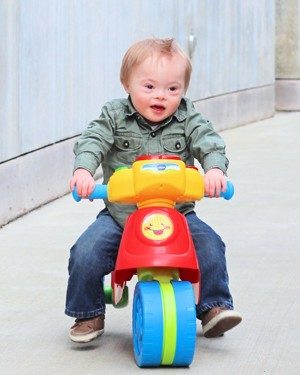 Brooks McGrew
Previously, Mercy Hospital Northwest Arkansas treated infants 32 weeks gestation (eight weeks before their due date) and older, but the new designation allows the NICU to care for infants who are 26 weeks gestation (14 weeks before their due date) and above, weigh more than 750 grams (about 1.6 pounds) and require specialty needs.
Studies have shown that it can save lives if newborns younger than 28 weeks gestation are delivered in a Level III NICU compared to a Level I or Level II NICU. In Arkansas, 0.8 percent of babies were delivered on or before 28 weeks but they accounted for 29.1 percent of infant deaths.
"We have a great group in the NICU — including two neonatologists, nurses and support staff — that are excited about our growth and the opportunity to increase the level of support we can provide to newborns in Northwest Arkansas," said Power.
Family Approach to Care
Two years after his stay in the NICU, Brooks is now taking his first steps, talking and brightening his parents' lives with his happy, outgoing personality.
"He is the light of our lives, smiles constantly and has eyes that sparkle like nothing I've ever seen," said Angie McGrew. "As a parent of a child with Down syndrome, you really appreciate the little milestones. We celebrate each and every accomplishment, so much so that Brooks' fourth through sixth words were 'I did it.'"
The McGrews are thankful for the great care they received at Mercy and happy the staff can care for the needs of even more babies in Northwest Arkansas based on the new designation. 
"We were amazed by all of the nurses in the NICU; they were fabulous," said Angie McGrew. "Staying in the NICU that long, they really become part of your family. They worked miracles for our little boy and we're incredibly thankful they were there for us."
Mercy Hospital Northwest Arkansas is currently one of five hospitals in the state with the Level IIIA designation. Click here to learn more about Mercy's newborn services.
Mercy, named one of the top five large U.S. health systems in 2017 by Truven, an IBM Watson Health company, serves millions annually. Mercy includes 44 acute care and specialty (heart, children's, orthopedic and rehab) hospitals, more than 700 physician practices and outpatient facilities, 40,000 co-workers and more than 2,000 Mercy Clinic physicians in Arkansas, Kansas, Missouri and Oklahoma. Mercy also has outreach ministries in Arkansas, Louisiana, Mississippi and Texas. 
Practices