With an hour and a half drive to her cancer treatments in Springfield, the last thing Kristy Blanchard felt like doing was driving even farther to shop for things like wigs and scarves. Luckily, she didn't have to.
That's because the American Cancer Society and Mercy teamed up 25 years ago to open the Cancer Resource Center, which is located inside Mercy's C.H. "Chub" O'Reilly Cancer Center. "My doctor's office told me about it," Blanchard said. "I actually went in before I started my chemo and got a few things. It really helped me feel prepared."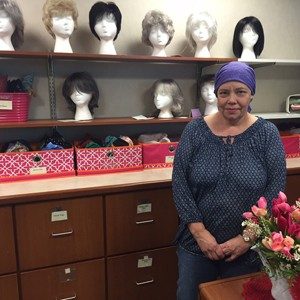 Kristy Blanchard got supplies like head scarves at the Cancer Resource Center inside Mercy's O'Reilly Cancer Center.
The center is open Monday through Friday, 8:30 a.m. to 4:30 p.m. It's staffed by volunteers and provides cancer patients with everything from wigs and turbans to support, one-on-one guidance and educational information.
"You start out knowing nothing about having cancer," explained Sue Carter, who was diagnosed with breast cancer after her routine mammogram in November 2015. "They are so helpful and help you learn what to do to take care of yourself." Like Blanchard, Carter went into the center before her chemo started so she could feel prepared for what was ahead.
"A critical step in understanding this disease and deciding how to overcome it is having all the facts," said Nikki Leake, health systems manager for the American Cancer Society. "We are so thankful for this partnership and excited to celebrate 25 years of making a difference in the community." Volunteers at the Cancer Resource Center can even connect patients with community resources to help them with things like lodging and transportation.
"It's so convenient," Carter said. "You walk in to see your doctor and the Cancer Resource Center is right there, along with the library."
Mercy, named one of the top five large U.S. health systems in 2017 by Truven, an IBM Watson Health company, serves millions annually. Mercy includes 44 acute care and specialty (heart, children's, orthopedic and rehab) hospitals, more than 700 physician practices and outpatient facilities, 40,000 co-workers and more than 2,000 Mercy Clinic physicians in Arkansas, Kansas, Missouri and Oklahoma. Mercy also has outreach ministries in Arkansas, Louisiana, Mississippi and Texas. 
Practices