ST. LOUIS - Patients with high blood pressure are kept in better control at Mercy Clinic offices in the St. Louis metro area than other providers according to The Centers for Disease Control and Prevention. Mercy Clinic in Mercy's eastern Missouri region is one of only 18 health care groups across the country recognized by the CDC as Hypertension Control Champions for success in achieving blood pressure control rates at or above the Million Hearts® target of 70 percent of adult patients with hypertension.
Nearly one in three American adults has high blood pressure, but only half of those have it under control. Uncontrolled high blood pressure can lead to heart attacks, stroke and heart failure, and contributes to nearly 1,000 deaths a day.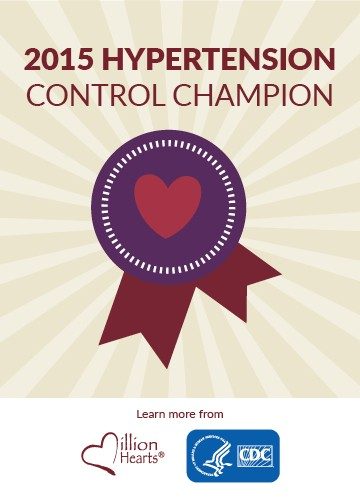 One way Mercy Clinic is leading the pack is the use of predictive analytics. As health care begins the shift from a fee-for-service model to focus on keeping patients healthy and out of the hospital, more attention is centered on data. Mercy is also engaging specialty providers to intervene when blood pressure is high.
"We have been reporting on our physicians' blood pressure control rates for years but we are now looking closer at these metrics to find gaps in care for patients," said Dr. Carolyn Koenig, internal medicine physician and chair of Mercy Clinic's quality department. "We are also making sure each specialty office is accurately recording blood pressures and referring back to primary care when a patient's blood pressure is elevated."
Mercy Clinic's quality team now uses the EHR data to proactively reach out to patients with high blood pressure and other chronic conditions. It allows our care management team to know who is managing their disease and who needs more assistance.
"Physicians often think they are doing a better job managing conditions than they are," Dr. Koenig said. "But the data can help identify where we can improve and hopefully keep those patients from developing complications of high blood pressure such as heart attacks and strokes."
To be eligible, CDC Million Hearts entrants shared verifiable high blood pressure control data and highlighted successful strategies and best practices adopted by the practice or system, such as the use of health information technology and team-based care. All Champions achieved control rates of 70 percent or greater for their adult patients by using a variety of approaches, including:
Making high blood pressure control a priority
Using evidence-based treatment guidelines and protocols
Using health care teams to increase the frequency of contact with patients
Implementing consistent, strategic use of electronic health records that include clinical decision support tools, patient reminders, and registry functionality
Staying engaged with patients by offering free blood pressure checks and implementing the use of a patient navigator or care coordinator
The CDC Million Hearts recognition announcement falls on Measure Up/Pressure Down® National Day of Action to encourage patients to roll up their sleeps and have your blood pressure checked.
Find information about detecting and controlling high blood pressure at millionhearts.hhs.gov. Make control your goal.
Million Hearts® is a national initiative to prevent 1 million heart attacks and strokes. Million Hearts® brings together communities, health systems, nonprofit organizations, federal agencies and private-sector partners from across the country to fight heart disease and stroke.
Mercy, named one of the top five large U.S. health systems in 2017 by Truven, an IBM Watson Health company, serves millions annually. Mercy includes 44 acute care and specialty (heart, children's, orthopedic and rehab) hospitals, more than 700 physician practices and outpatient facilities, 40,000 co-workers and more than 2,000 Mercy Clinic physicians in Arkansas, Kansas, Missouri and Oklahoma. Mercy also has outreach ministries in Arkansas, Louisiana, Mississippi and Texas.