May 6, 2016
ADA, Okla.– Ada native, Jinger McClure, has a new hat to wear. After more than two decades of managing and directing education programs in Ada and southern Oklahoma, McClure will join Mercy's integrated marketing department as a community relations manager.
In her role, McClure will juggle a number of responsibilities, from acting as a community liaison for the hospital and clinics to engaging and collaborating in meeting the marketing and business development activities for the hospital. McClure will also be responsible for managing media relations, advertising, and organizing hospital events, such as Ada's popular Wear Red For Women event, held each year in February.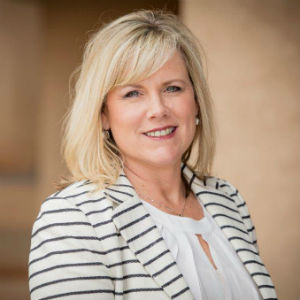 "Jinger is a strong leader who will help further expand our hospital's outreach in the community," said Lori Wightman, president of Mercy Hospital Ada. "She has a proven record for success and is a good reflection of Mercy's mission of providing compassionate care and exceptional service."
Born at Valley View Regional Hospital, now Mercy Hospital Ada, McClure has long served Pontotoc County, first as an educator in Ada, Stonewall and Allen public schools. Most recently, McClure served as the Director of Indian Education for Ada City Schools. She will take the position of Barbara Miller, who will now serve as Mercy's director of marketing planning for Oklahoma.
"Mercy is known across Ada and southern Oklahoma as dedicated to serving the community and patients, and I look forward to continuing that mission," McClure said.
In her free time, McClure enjoys spending time with her four children; three sons ages 13, 18, and 21, and a daughter-in-law.
Mercy, named one of the top five large U.S. health systems in 2017 by Truven, an IBM Watson Health company, serves millions annually. Mercy includes 44 acute care and specialty (heart, children's, orthopedic and rehab) hospitals, more than 700 physician practices and outpatient facilities, 40,000 co-workers and more than 2,000 Mercy Clinic physicians in Arkansas, Kansas, Missouri and Oklahoma. Mercy also has outreach ministries in Arkansas, Louisiana, Mississippi and Texas. 
Media Contacts
Lindsey Treadwell
Ardmore, Healdton, Ada, Tishomingo