Linda Hall considers herself very lucky after a routine CT scan to monitor her chronic obstructive pulmonary disease (COPD) revealed a small mass on her right lung.
A biopsy later confirmed that she had lung cancer, but had caught the tumor early before it could spread to anywhere else in her body.
"I was one of the fortunate ones considering that I had smoked for 66 years," said Hall, 79. "Luckily, the cancer was small but could still be seen" on the scan.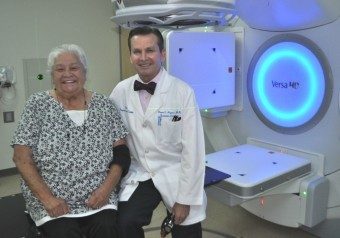 Thanks to Dr. Duane Myers, radiation oncologist at Mercy Hospital Joplin, and a new stereotactic radiosurgery treatment, Linda Hall had only five treatments for lung cancer and has seen her tumor decrease by about two-thirds.
When Hall received her diagnosis, she knew that radiation was the only treatment option she would agree to since surgery was too risky due to her poor lung function and she did not want to experience the side effects of chemotherapy.
She was pleasantly surprised to discover she qualified for a new radiation procedure that would not only spare the lung and tissue around the tumor, it would also mean fewer 100-mile roundtrip drives to Joplin from her home in Southwest City, Missouri.
Fewer Treatments, Great Results
Last June, Mercy Hospital Joplin introduced a new radiation treatment for certain early-stage cancers, including small brain tumors, small lung tumors, vertebral spine lesions and cancer that has spread to the brain from other locations in the body. The treatment is called stereotactic radiosurgery when targeted to treatment in the brain, and stereotactic body radiotherapy for treatment outside of the brain.
"This new technology delivers a highly focused dose of radiation in fewer treatments than standard radiation," said Dr. Duane Myers, radiation oncologist at Mercy Hospital Joplin. "Rather than patients receiving 33 to 45 radiation treatments depending on the site of the cancer, they receive the treatment in about five days."
In lung cancer patients, like Hall, the technology features a component called respiratory gating that uses images from a four-dimensional CT scan to analyze the motion of the tumor as a patient breathes. Physicians can provide the radiation treatments in sync with the patient's breathing cycle to better target the tumor and save the surrounding tissue.
Dr. Samuel Rhoades, medical physicist at Mercy Hospital Joplin, is responsible for ensuring the team delivers the right amount of radiation to the precise location of the tumor so they can spare the healthy tissue around the tumor.
"If we keep radiation away from noncancerous locations now, we still have the ability to utilize radiation if patients need it in the future," said Rhoades.
Calming Fears
Hall was nervous when she went in for her first dose of radiation, but she quickly relaxed thanks to Mercy's radiation oncology team.
"They were just wonderful during the treatment, talking to you and getting you prepared," she said.  
Hall completed her five radiation treatments last October and so far her tumor has decreased by about two-thirds and should continue to shrink. She will have another CT scan this summer to monitor the tumor and decide if she needs any additional treatment.
"My experience was a breeze and if I had to go through it again for five or six treatments, I probably would," she said. "My overall experience was the best that I could ask for."
Myers and Rhoades said they are thrilled to offer the state-of-the-art treatment to patients in Joplin and the surrounding communities.
"Joplin is not as large as St. Louis or Tulsa or Kansas City, but we have the same equipment and capabilities that they do," said Rhoades. "Mercy can treat the same types of cancer just as effectively."
To learn if you or a loved one is a good candidate for stereotactic radiosurgery or stereotactic body radiotherapy treatments, contact the Mercy Radiation Oncology Department at Mercy Hospital Joplin at 417-556-4462.
Mercy, named one of the top five large U.S. health systems in 2017 by Truven, an IBM Watson Health company, serves millions annually. Mercy includes 44 acute care and specialty (heart, children's, orthopedic and rehab) hospitals, more than 700 physician practices and outpatient facilities, 40,000 co-workers and more than 2,000 Mercy Clinic physicians in Arkansas, Kansas, Missouri and Oklahoma. Mercy also has outreach ministries in Arkansas, Louisiana, Mississippi and Texas. 
Practices