Courtesy Mid-America Transplant Foundation
Dr. Robert Saylor's legacy will live on at Mercy Hospital Springfield. On Tuesday, Mid-America Transplant Foundation presented a $25,000 donation in memory of Dr. Saylor, a long-time board member. The nephrologist, who more recently served as the director of ethics at Mercy, passed away in December.
"Dr. Saylor [was] instrumental in elevating Mid-America Transplant as a leading organ and tissue procurement organization," said Diane Brockmeier, president and CEO at Mid-America Transplant. "[He was] deeply passionate about our mission to save lives through excellence in organ and tissue donation, and shared that message with patients and communities."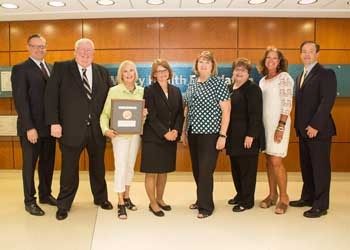 Pictured left to right: Dr. Alan Scarrow, president of Mercy Springfield Communities; Robert Bezanson, chairman of the board at Mid-America Transplant; Marcie Saylor, widow of the late Dr. Saylor; Linda Bollenbach, consultor for Mercy's ethics department; Jean Gruetzemacher, vice president of the Mercy Health Foundation in Springfield; Diane Brockmeier, president and CEO at Mid-America Transplant; Judy Phillips, board member.
Mid-America Transplant worked alongside Mercy to identify the best use for funds donated in the doctors' honor. Tuesday's donation will be used to create the Saylor Educational Program to provide training for physicians, nurses and hospital leadership in the area of healthcare ethics, furthering Dr. Saylor's own work. 
"With his comforting manner, Bob Saylor could always lead our patients' families through the tough decisions that come with critical diagnoses," said Dr. Alan Scarrow, president of Mercy Springfield Communities. "He was a mentor to numerous co-workers who knew they could count on him for solid advice that put our patients' welfare first. We're so pleased we will have a designated fund that will continue offering the training he was so skilled at providing."
Dr. Saylor spent many years caring for patients with end-stage renal disease at Springfield Nephrology and later led Mercy's ethics department. In this role, he worked closely with doctors and nurses, as well as directly with patients and their families, to address challenging questions about life, death and the role of medical intervention. He saw firsthand the lifesaving impact of kidney transplant, and developed a deep passion for organ donation. He joined the board of Mid-America Transplant in 1992 and served as part of the executive committee from 2001 until his death on Dec. 28, 2015. While his aggressive brain cancer made it impossible to donate his organs, he was able to donate his corneas to provide the gift of sight to a patient in need. 
Mid-America Transplant enables adults and children to receive lifesaving gifts through organ and tissue donations. For more than 40 years, it has facilitated and coordinated organ and tissue donation, and now serves 84 counties covering eastern Missouri, southern Illinois and northeast Arkansas that together are home to 4.7 million people. It saves lives by providing expert and compassionate care for organ donors, recipients and families, and transforms the clinical processes required to recover and transplant organs and tissues. Mid-America Transplant was the first such organization in the U.S. to use an in-house operating room for organ recovery and pioneered innovative models of increasing donor registry enrollment in an effort to provide organs and tissues to those in need. It is federally designated as one of 58 such organizations in the U.S., and is the first organ procurement organization to be recognized as a recipient of the Malcolm Baldrige National Quality Award for Performance Excellence. 
The Mid-America Transplant Foundation seeks to reduce the need for organ and tissue transplantation; increase the availability of organs and tissues for those who need them; and to improve the lives of recipients and donor families.
Mercy, named one of the top five large U.S. health systems in 2017 by Truven, an IBM Watson Health company, serves millions annually. Mercy includes 44 acute care and specialty (heart, children's, orthopedic and rehab) hospitals, more than 700 physician practices and outpatient facilities, 40,000 co-workers and more than 2,000 Mercy Clinic physicians in Arkansas, Kansas, Missouri and Oklahoma. Mercy also has outreach ministries in Arkansas, Louisiana, Mississippi and Texas.