July 6, 2016
By Mercy's Jennifer Harutunian
Finding quick answers among millions of patient records has been a challenge in health care. Today, Mercy's ability to pull together data from many sources, including its electronic health record (EHR), and provide immediate answers – for leaders needing business insight and care teams needing lifesaving, proven results – has once again earned Mercy distinguished honors.
For the 13th year, the American Hospital Association (AHA) Health Forum has named Mercy a Most Wired health system, and for the second time in three years since the AHA began handing  out special honors, again placed Mercy in the "Advanced" category for exceeding core criteria along with only 19 others.
The AHA honors health systems that use technology in innovative ways to make improvements in clinical quality and safety, health care business and administrative management and to support the clinical integration of many different treatment settings.
"Today, we're much smarter with data, using it not just to tightly integrate care across locations and specialties, but also to quickly compare costs and results for the products and methods of care used across Mercy, instantly revealing the best, most cost-effective treatment for patients," said Gil Hoffman, Mercy's chief information officer.
Mercy's Most Wired Advanced designation comes on the heels of several awards for Mercy's IT organization, Mercy Technology Services, including InformationWeek's Elite 100 Innovator award, the CIO 100 award for IT Excellence and being named an "Analytics Wizard" by software giant, SAP.
Since Mercy's strategic decision to implement an integrated EHR in 2008, Mercy has been finding ways to improve patient care with data, and now provides EHR and analytics services to other hospitals and health systems looking to do the same.
"Mercy's shift from capturing data to delivering instant intelligence represents real transformation in health care – a change we continue to pursue for the patients and families whose lives are positively impacted thanks to lower costs and better care," Hoffman said.
Health care's Most Wired survey, published annually by Health & Hospitals Networks (H&HN), is a leading industry barometer measuring information technology (IT) use and adoption among 680 participants, representing nearly 35 percent of all U.S. hospitals.
For a full list of winners, visit www.hhnmag.com.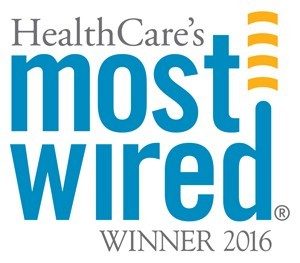 Media Contacts