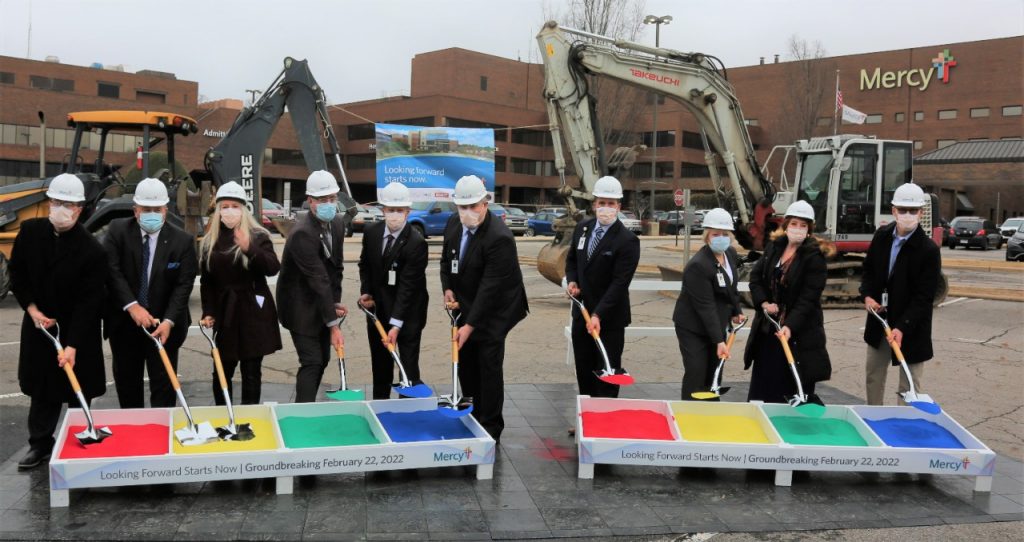 Mercy leaders hold ceremonial shovels during the groundbreaking for the $162.5 million ER and ICU expansion in Fort Smith.
Fort Smith officials and Mercy co-workers took a step into the area's health care future on Tuesday as hospital and community leaders broke ground on a $162.5 million ER and ICU expansion at Mercy Hospital Fort Smith.
Plans for the expansion were announced in June 2021. During a gathering outside the hospital Tuesday morning, Ryan Gehrig, Mercy Hospital Fort Smith president, said Mercy co-workers, patients and families in the region have been eagerly anticipating the hospital's growth.
"We are blessed to have such supportive community members and co-workers helping us look forward to improved health care in the River Valley," Gehrig said. "Today marks a huge milestone and a huge step forward." Gehrig also acknowledged the hard work and sacrifices made by Mercy co-workers, especially the past two years during the pandemic.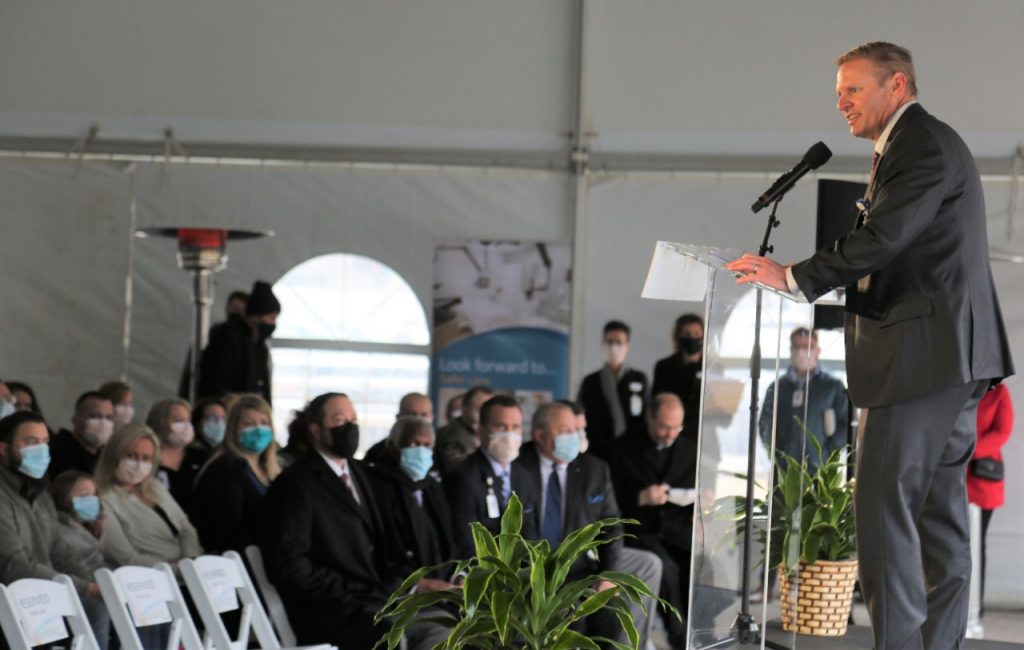 Mercy Hospital Fort Smith President Ryan Gehrig speaks during the groundbreaking ceremony for a $162.5 million ER/ICU expansion.
Mercy Fort Smith will expand its Emergency Department from 29 to 50 rooms and increase capacity in the intensive care unit from 38 to 64 in a design that provides better workflow and flexibility. The new ER will allow for approximately 25,000 more patient visits per year and include special considerations for infectious disease and behavioral health patients. An additional 140 parking spaces will accommodate the expansion, with parking closer to the new ER entrance. 
In addition, the increase in ICU beds will more than double the number of rooms capable of supporting ventilators. The building's automation system is being designed to allow floors or pods to be turned into isolation areas as needed. 
"We've been dreaming and working on this design for the past year or more," said Ryan Geib, chief operating officer at Mercy Hospital Fort Smith. "This project will change the face of the building you see behind me. It will also change the way our community experiences care."
The ER expansion includes a five-room secured area for behavioral health patients that is designed for patient and co-worker safety. Additional plans include a 22-bed observation unit requiring no renovation in the former ICU space​, helipad relocation that will improve the patient transport process​ and new gift shop and meeting room space.
ER Medical Director Dr. Aaron Bull discusses the impact of the ER/ICU expansion at Mercy Hospital Fort Smith.
Incoming Mercy CEO Steve Mackin acknowledged the almost 170 years that Mercy has had a health care presence in Fort Smith.
"This year marks 195 years of Mercy ministering to others — 195 years since the Sisters of Mercy began their work in Ireland," he said. "And Fort Smith is the community we've been privileged to serve the longest, for nearly 170 years. When the Sisters arrived here on a steamboat in 1853, their bravery and can-do spirit taught us what it means to answer the call and go where the need is. While the city has certainly grown and changed, that determination is as real now as it was then. It's who we are as Mercy, and it's a privilege to continue to invest in and serve this community in both traditional and innovative ways."
Dr. Aaron Bull, emergency department medical director at Mercy Fort Smith, acknowledged the challenges the staff has faced over the past two years.
"As most of you know, emergency rooms across the country continue to stay filled up day and night, which often means patients are waiting hours at a time to be seen," he said. "We owe it to our patients to improve on this, and this expansion project is what's needed to help us fulfill our promises to do everything we can for our patients."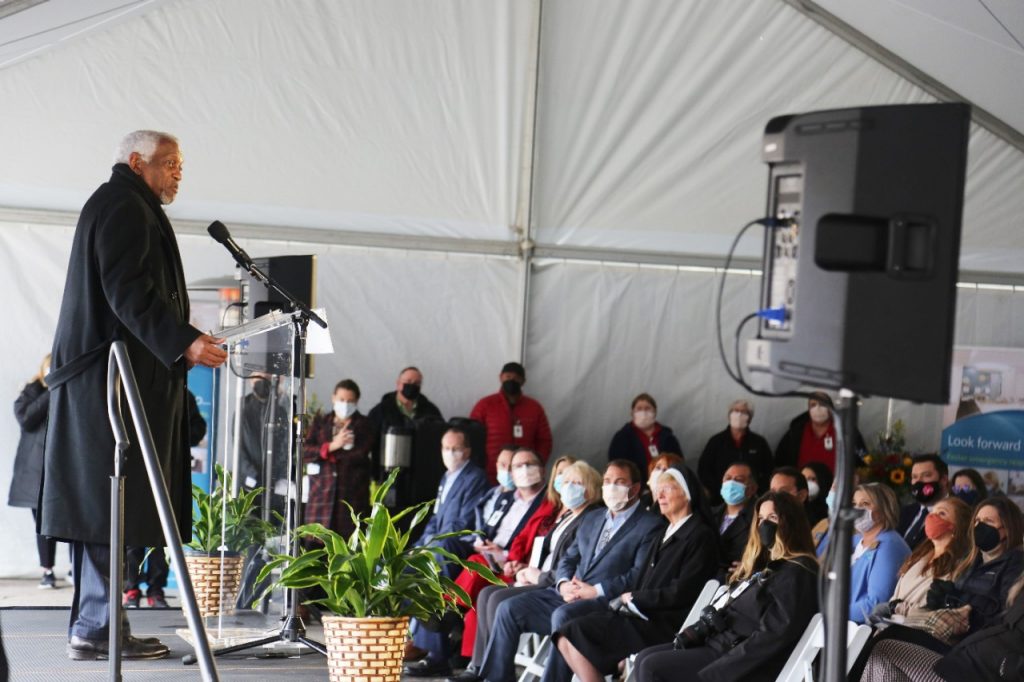 Fort Smith Mayor George McGill describes the impact of Mercy's $162.5 million ER/ICU expansion.
The new additions at the hospital will help Mercy expand its care for patients throughout the River Valley, said Fort Smith Mayor George McGill. Quality health care is the reason people come to Fort Smith, he said.
"All of us enjoy getting a phone call from Ryan (Gehrig), because we know it's something good," McGill joked, citing the recently opened Ronald McDonald House at Mercy Fort Smith in addition to the current hospital expansion. "These projects are some of the good things happening in Fort Smith."
Father Paul Fetsko, vice president of mission at Mercy Fort Smith, offered a blessing for the new space against a backdrop of Mercy co-workers from the ER and ICU. Cherokee Nation Deputy Chief Bryan Warner also was on hand to discuss the tribe's focus on health care and the importance of working with Mercy to improve wellness throughout the region.
Construction on the expansion is being managed by McCarthy of St. Louis. Construction is expected to be complete in late 2024. Plans are being developed to minimize the impact to Mercy patients during the construction process.