From large gifts to smaller donations, the dollars are adding up for the renovations to Mercy Kids children's hospital.
Already, donors have helped Mercy completely renovate the neonatal intensive care unit (NICU) to provide families with individual rooms that have enough space for babies and parents to spend time together. Also, the Jane Pitt Pediatric Cancer Center relocated to the first floor of Mercy Kids and now gives kids the choice between receiving their infusions in a private room or while playing with friends.
"These renovations have focused on improving the overall experience for our young patients and their families," explained Dr. John Burson, Mercy pediatrician and vice president of Children's Services. "When we can help children relax, we can help them heal faster with a lot less stress. That's good for their parents, too."
So far, donors have given a total of $10.5 million toward a $20 million dollar goal. With additional funding, Mercy plans to do things like move and expand both the pediatric unit and pediatric intensive care unit, as well as add a test and treatment area that's just for kids.
Having a children's hospital with local pediatric specialists is imperative when kids need help. Gabriel Cotter's family knows that all too well. Gabe had just turned 11 when an ATV accident near his family farm in West Plains, Missouri, nearly killed him.
"He and his sister were riding down the gravel road," said Gabe's dad, Josh Cotter. "He turned to say something to her over his shoulder and apparently turned the wheel at the same time he hit a big rock. The ATV flipped and landed on him."
Cotter is a nurse, so he knew it was bad when he got to the wreck. Gabe had five skull fractures, a bruised brain stem, a fractured shoulder blade and two crushed cranial nerves. He was flown to Mercy Kids, where the trauma team and pediatric neurosurgeon Dr. Sami Khoshyomn were waiting. After surgery, Gabe spent the next two and half weeks in the pediatric intensive care unit.
"For the first week and a half, he had a nurse assigned just to him," Cotter said. "Plus, they have a pediatric intensive care doctor in that unit at all hours of the day. It's very comforting to know that level is care is literally feet away."
For those first weeks, Cotter hardly left his son's side, except to grab a quick shower at the Ronald McDonald House, which is located inside Mercy Kids. "It's a big benefit," Cotter said. "You don't feel like you're abandoning your child when you run out to go change."
As Gabe moves through recovery, he's seen Mercy specialists for everything from physical rehabilitation to plastic surgery. "Overall, our care has been absolutely fabulous," Cotter said. These days, Gabe still has little use of his left arm and leg but continues to make progress in therapy.
"Stories like Gabe's are why we continue to raise funds to support Mercy Kids," said Jean Gruetzemacher, vice president of Mercy Health Foundation Springfield. "We want the facilities, specialists and services available right here in the Ozarks when our patients need them. We hope the community will continue to partner with us to reach our goal."
For more information or to make a donation to Mercy Kids, just call 417-820-6111.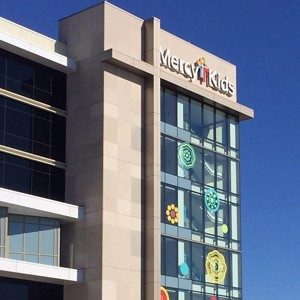 Fundraising for Mercy Kids has reached the halfway mark